Manolo Blahnik. Jimmy Choo. Prada. Dolce & Gabbana. Just some friends with whom you walk the streets when you live in Manhattan.
There's no other city in the United States that embraces glitz more than New York City. From legendary nightlife, to high-end fashion, to world-class dining, to glittering entertainment venues ― the whole world exists inside New York City. And so, crazy/sexy/cool penthouse living is no surprise. Such a lifestyle brings home that Sex And The City swank by flirting with the Manhattan skyline, flaunting provocative amenities and stripping down to bare clean-lined, contemporary living. In the most seductive locations, of course.
If you're living the high life in NYC, spend your money where you can live it: in a grand scale apartment that will bring a hassle-free NYC home to you.
---
TRIBECA: 56 Leonard St., #53-54
This home is no urban penthouse myth. It's a Manhattan luxury lush landmark built in 2015.
Nineteen rooms with an interior just under 12,000 square feet. Multiple grand terraces, multiple fireplaces, 14-foot ceilings and seamless floor-to-ceiling windows with stunning panoramic views of the city. This home is the new, new modern that defines NYC-style luxury living at its most elegant.
Inundated with natural light, this home-in-the-sky also provides a serenity and soft slumber -when so desired- in the city that never sleeps.
The most stunning sunrises and sunsets imaginable are experienced daily.
The building itself provides full services and amenities including a 75-foot swimming pool, a fitness center, a 24-hour attended lobby and much more. This is an unreal, real estate opportunity to live like Mr. Big in an ultra de luxe, 21st-century penthouse that is like no other. Anywhere.
---
MIDTOWN WEST: 635 West 42nd St., #41H
Sweeping skyline views! 41H is a perfectly situated apartment on an exceptionally high floor overlooking the city, with jaw-dropping unobstructed views of the Hudson River. And it's located in that part of the city that is ideal – allowing effortless access to any other part of the city in less than a New York minute.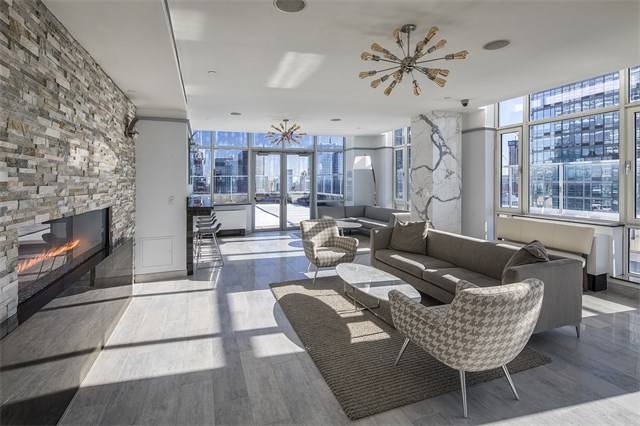 And the hotel-like amenities are insane: 24-hour concierge/valet, tennis court, golf driving range, large lap swimming pool, sauna, residents' multi-media lounge and billiards room on the 47th floor, valet services (laundry and dry cleaning on site), state-of-the-art fitness center, yoga/pilates studio, fully-landscaped terraces/sundeck, bike storage, valet parking available, basketball courts, bocci ball, BBQ grills, free daily breakfast and a cross town shuttle bus for commuting purposes. It's a mini city within the city.
At the end of your work day, you can also occasionally grab a bite to eat and glass of wine nearby at Da Marino Restaurant, the Italian restaurant on 49th and Broadway where Ms. Carrie Bradshaw was serenaded by Mr. Big.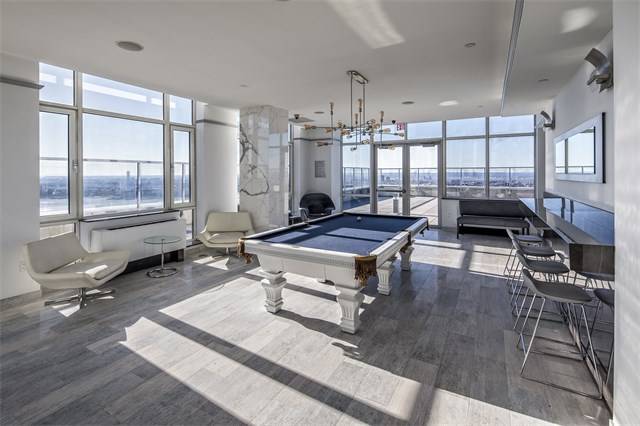 If that's not enough, this rolling apartment also has an expansive rooftop terrace that Mr. Big would appreciate, being the cigar aficionado that he is. A high-end pool table also patiently awaits some evening shenanigans. Would Mr. Big be happy living here? As only Mr. Big can say in that sexy, cool monotone voice of his: "Abso-effin'-lutely."
Top Image: Courtesy of 56 Leonard St