Although the temperatures are barely above freezing in Moscow, the scene inside Manège, the events center steps away from the famed Red Square, was smoking hot over the weekend as the 35th season of Mercedes-Benz Fashion Week Russia (MBFWR) got underway. MBFWR is the largest fashion-centric event in eastern Europe and features over 120 designers who are based in Russia, Georgia, and Kazakhstan. Over the course of seven days, there are 70 designer shows and presentations along with countless events, dinners, and after parties. MBFWR is promoted by the local Moscow government—the city believes that having a strong fashion community will entice outsiders to visit and increase its visibility as a cultural capital of Europe. After just three days of shows, it's clear that Moscow is well on its way to achieving its goal.
Photo Credit: Oleg Nikishin/Artefact
How does MBFWR promote the future of fashion in Russia? By reconnecting with the past. Saturday started with an artistic crafts show called Linen and Lacework. 19 Russian folk artists presented collections of traditional linens, handwoven lacework, embroidery, kerchiefs, and everything in between. Authentic and ancient techniques that may have been lost during the 75 years of Soviet rule are becoming popular. Russians hope to take back all aspects of their individual heritage and fashion plays a huge role in this. The deputy minister of industry and trade, Gulnaz Kadyrova, was among the guests at the show. After this, it was a series of lively fashion shows of the 2018 spring collections.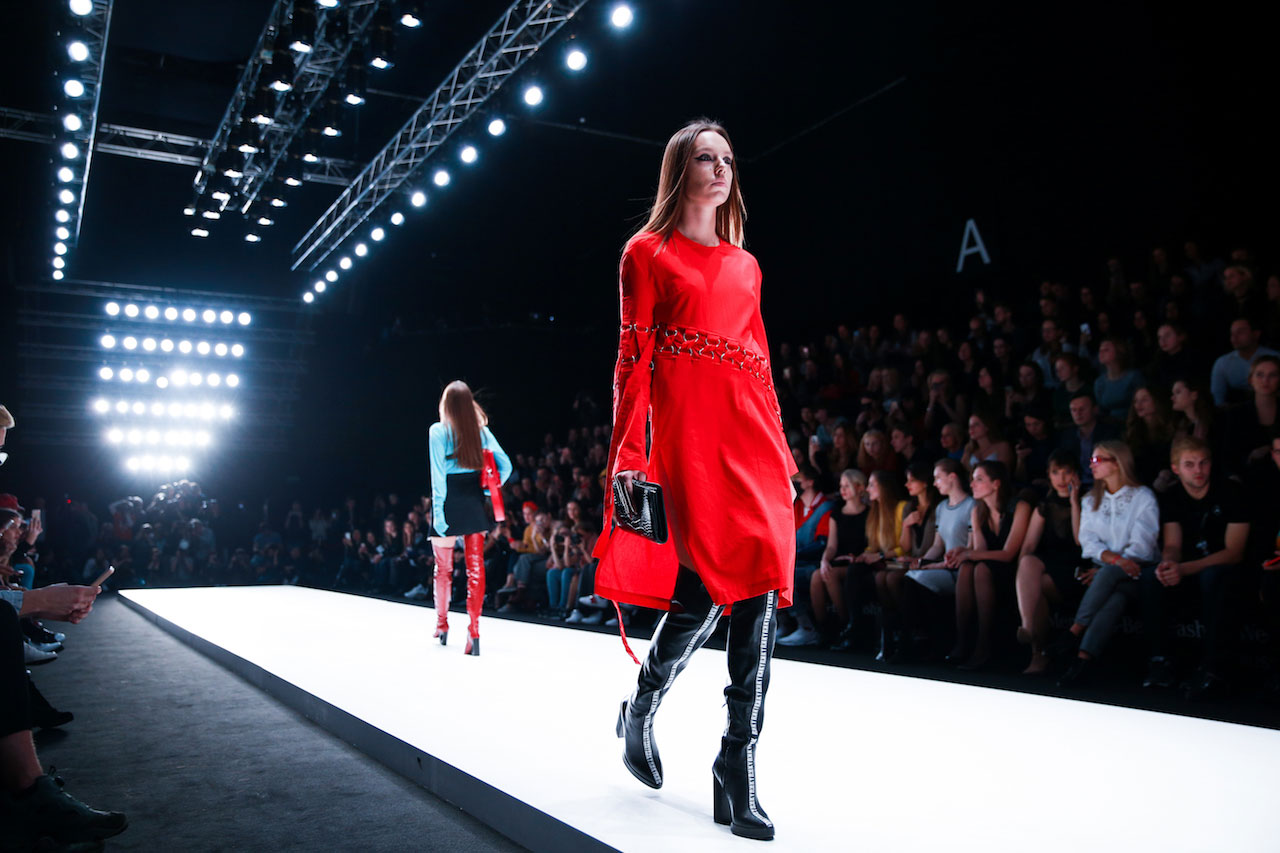 Unlike fashion weeks that take place in clothing capitals such New York and Milan, MBFWR occurs in the evening with the best shows starting at 10 p.m. It's also incredibly easy to attend all of the shows because they happen in the same building. Fashion editors and street style bloggers don't have to run all over the city trying to get to a certain show on time. Instead everyone gathers at Manège, a convention center that's been transformed into a chic multi-level lounge.
Photo Credit: Oleg Nikishin/ArtefactVIP guests have access to multiple bars that offer specialty cocktails, champagne, and snacks. It's like a lavish soirée that happens to feature inspired looks from different designers. There are two halls at the back of the building that are set up with stadium seating for the shows. One show occurs in the hall on the right, everyone watches it, heads to the lounge for a glass of bubbly, then goes to the hall on the left. It continues like this—show, bubbly break, show—for the entire evening.
Photo Credit: Oleg Nikishin/Artefact
Each of the shows are unique and lively. Designer Julia Dilua was inspired by a trip to Los Angeles where she hobnobbed with celebrities and their stylists, so she turned her runway into a movie set. Models walked the catwalk in gold suits and extravagant furs carrying the only accessory a fabulous woman ever needs—a glass filled with champange (as illustrated by Rihanna).
Photo Credit: Oleg Nikishin/Artefact
Yulia Nikolaeva presented a minimalist collection of structured drop waist dresses, cotton button downs, and black flat sandals. Although it was clean and crisp, the underlining tone as illustrated in the Russian text that covered clutches was 'I am not going to sleep.'
Photo Credit: Oleg Nikishin/Artefact
Menswear master Artem Shumov's show had a frenetic energy that kept viewers on the edge of their seats. The models marched past at a breathtaking speed in time to the rap music that played loudly. Shumov is a charming and smiley Russian with floppy hair who is based in Shanghai. His collection had subtle Asian influences, simple shapes, and colorful socks. It was a thrilling 72 hours of fashion and we can't wait to see what else MBFWR has in store.
Haute Living is on the scene at MBFWR, so stay tuned for more of our exclusive coverage of this groundbreaking fashion event.