Photo Credit: Mandarin Oriental
When you spend the weekend in Atlanta, and you want a stay that's in line with anything you'd find in Beverly Hills—storied, luxurious and private—there's only one hotel that checks all boxes, and that's the chic Mandarin Oriental, Atlanta. The hotel is housed in an iconic building designed by celebrated American architect Robert A.M. Stern in the city's upscale Buckhead neighborhood, soaring 42 stories above the Atlanta skyline, within walking distance of three awesome shopping destinations—Lenox Square, The Shops Buckhead Atlanta and Phipps Plaza—and attractions including the Atlanta Botanical Garden, Georgia Aquarium, the High Museum of Art and Piedmont Park. In addition to a warm ATL welcome from its more than accommodating staff (seriously, the MO employees aim to please, and do so in a completely organic, warm way), here is what you should expect during a stay at the Mandarin Oriental Atlanta.
---
STAY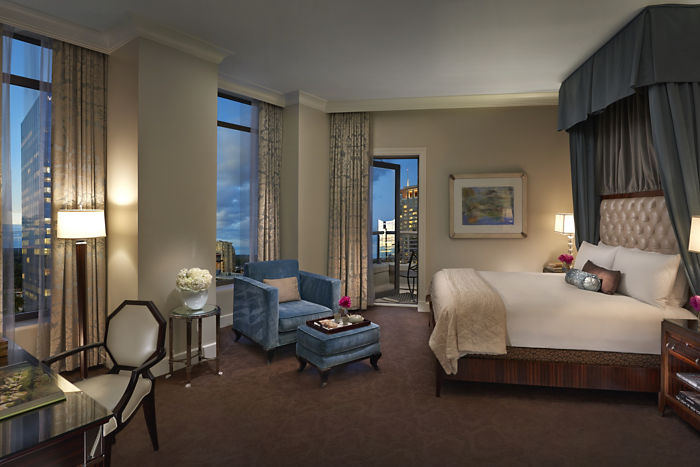 Photo Credit: Mandarin Oriental
While all the guest rooms here are elegantly appointed as befitting the brand's DNA, the Mandarin Suite is your best option if you're a luxury enthusiast and used to enjoying the creme de la creme of, well, just about everything. This 2,340-square-foot suite features a dressing room and balcony, a living area, pantry, dining room for eight and a powder room. The bathroom boasts a marble, egg-shaped bath…that has—no joke—it's own balcony. While all guest rooms are equipped with a CubieBlue Charging Alarm Clock with Bluetooth Speaker and high speed Internet access, only the Mandarin Suite offers its own butler. Yes, you read that right.
---
DINE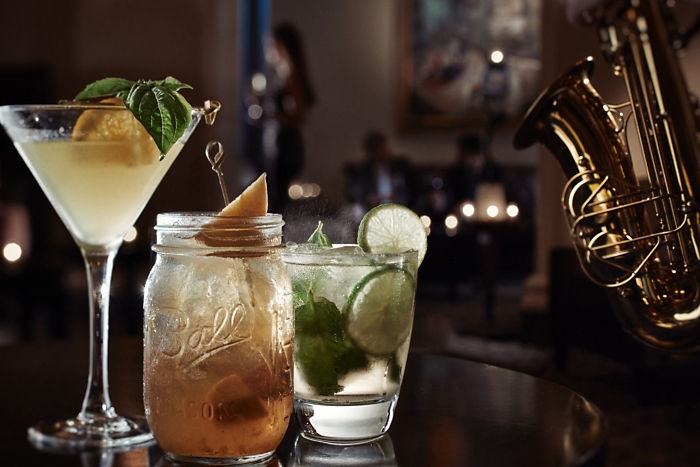 The Café & Bar is the hotel's dining option, and it's fabulous for power breakfasts, among other meals. Make sure to try the new South meets East-themed food and drink at the SouthEast Terrace, which offers a private meal for up to ten people surrounded by the hotel's herb gardens and fruit trees. Here you can indulge in a taste of South meets East in dishes such as fried chicken bites with basil aioli, brisket with Thai green papaya salad and pulled pork spring rolls with hushpuppies and buttermilk aioli. Cocktails are on the same track: Shades of Peach blends Jean Luc Colombo Cape Bleue Rosé, Aperol, Combier peach liqueur and soda water, while the Mandarin Mule combines Nikka whiskey with vanilla basil syrup, lemon juice and ginger beer.
There is also a cool cigar menu, that can be enjoyed by just about any aficionado: it includes My Father Cigars which are patiently blended by legendary cigar-maker, Jose 'Pepin' Garcia and Louis XIII presented in a sleek Baccarat bottle.
While the hotel has its own superb and unique offering, it's going one step further this year by offering up its Atlanta Foodie package. Lead by partner Food Tours Atlanta, guests will explore the culinary offerings of the historic Inman Park neighborhood. Guests will then have the option to select which of the two Ford Fry restaurants—King + Duke or St. Cecilia—they wish to experience a three-course dinner for two.
---
RELAX
The spa isn't just any old den of relaxation: the MO Spa wants you to truly disconnect. Those who can't separate themselves from their cell phones NEED to head to this 15,000-square-foot haven to cut the cord from their digital addiction and experience the Digital Wellness Escape.  This 80-minute treatment begins with a Wellness Bath in Shungite-charged water to relieve fatigue and revitalize the body. A massage concentrating on the head, eyes, neck, shoulders, hands and feet follows, restoring the body and mind with purifying Shungite (a stone containing Fullerenes, which work to neutralize negative energy and exposure to harmful radiation from mobile devices) crystals and a soothing paraffin hand treatment. Those who book the full Wellness Retreat package will experience a private Mindful Meditation class with psychotherapist, Lena Franklin, who integrates Eastern philosophies of Buddhist Meditation, Chinese Energy Medicine and Yin Yoga into the practice to create a healing environment for transformation. Here, participants learn how to cultivate a mindfulness meditation practice in addition to acquiring mindfulness skills to weave into their daily life. Guests will receive a phone sleeping bag and healthy lifestyle tips, as well as VitaJuwel gems—vials made from lead-free glass and hand-picked gems to provide homemade, natural gem water—are gifted to guests upon their departure.
---
THE EXTRAS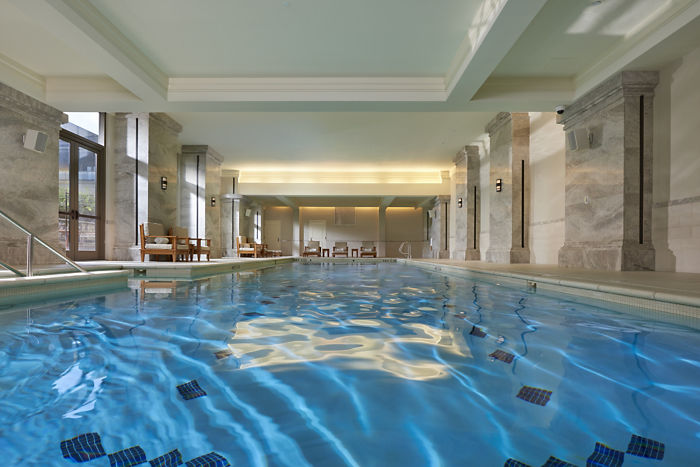 The powers-that-be at the Mandarin Oriental Atlanta truly want their guests to have all the comforts of home, and then some. A few additional amenities and experiences on offer include:
A state-of-the-art fitness center with a vast array of TechnoGym treadmills, seated bikes, free weights and weight machines.
A sixty-foot, climate-controlled swimming pool that resides next to tall French windows opening up onto views of the private garden.
Yoga studio (private classes are also offered)
Personal training
A pet friendly program. 'MOpup', as it were, ensures that your furry four-legged friends are given the same luxurious amenities that they're owners are offered. Pets receive organic bone-shaped cookies prepared by the hotel's pastry team, as well as a cozy bed, water bowl, doggie dental kit and play toys. The in-room 'MOpup' dining program offers a selection of special pet-friendly dishes, such as grilled steelhead salmon with roasted asparagus and glazed carrots, and dry aged beef tenderloin with blue cheese mashed potatoes and peanut butter biscuits. Where else can your pooch enjoy a non-alcoholic peach flavored 'MOcktail' or a coconut water-infused 'Melon Puptail' while you yourself indulge in the real deal? Pet owners will also receive an 'Explore FANtastic Atlanta' map to discover the best pet-friendly places in the city, including the popular walking trails in nearby Chastain Park. The hotel's concierge team can provide recommendations on Atlanta's top dog-sitters, grooming services, 24-hour veterinary services, pet hot spots and pet retailers.


---
IN SUMMARY
This haute hotel offers everything you need, and more, in the most elegant of settings. A must-stay.
Mandarin Oriental Atlanta, 3376 Peachtree Road NE, Atlanta, GA 30326,  404-995-7500
Mandarin Oriental Atlanta 1
Mandarin Oriental Atlanta exterior
Mandarin Oriental Atlanta 2
English Garden
Mandarin Oriental Atlanta 3
Suite Living Room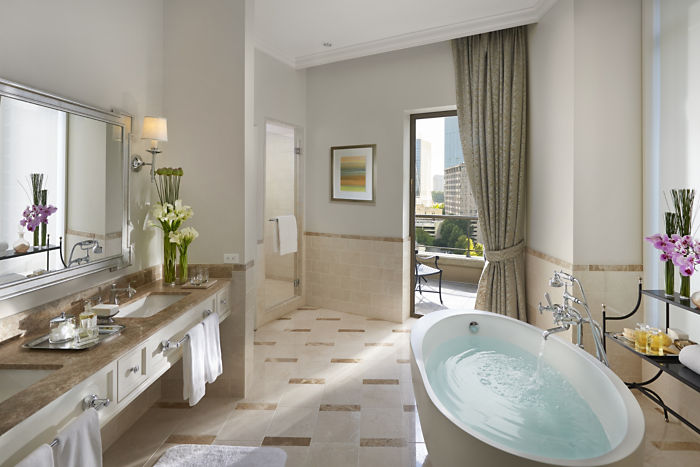 Mandarin Oriental Atlanta 4
Suite Bathroom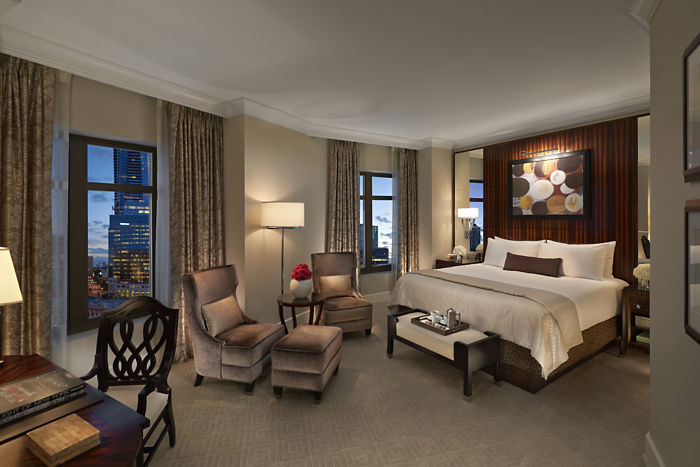 Mandarin Oriental Atlanta 5
Hotel room
Mandarin Oriental Atlanta 6
Hotel Room
Mandarin Oriental Atlanta 7
Deluxe Bathroom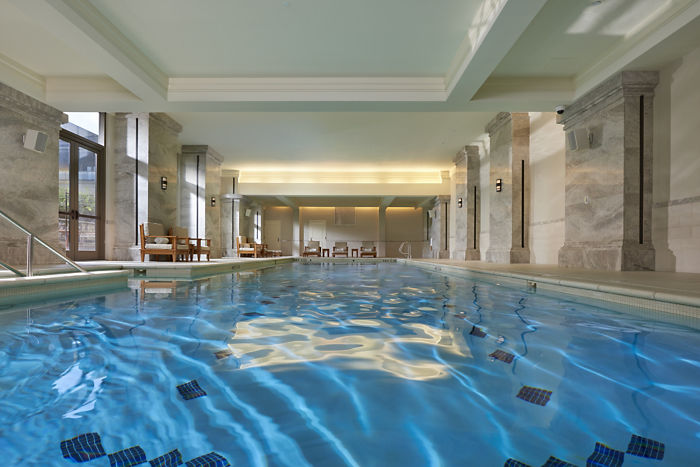 Mandarin Oriental Atlanta 8
Swimming Pool
Mandarin Oriental Atlanta 9
Fitness Center
Subscribe to discover the best kept secrets in your city