If you are spending your weekends out east in New York this summer (or any summer really) then Gurney's Montauk is probably at the top of your list of can't miss destinations. Gurney's opened their doors 90 years ago and continues to upgrade and update their luxurious property, expertly keeping up with the times and crowd.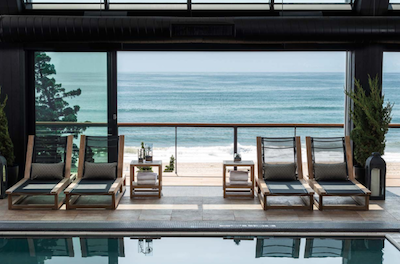 You can feel the history as you venture through the grounds.
"In 1926, Maude Gurney opened the property as an inn. In the early 1950s, Gurney's was a modest, 20-unit summer hotel similar to many others dotting the South Fork of Long Island. In 1956, it was purchased by restaurant owner Nick Monte, who would ultimately transform it into a celebrated resort: he added buildings and facilities, began operating Gurney's year-round in the 1960s, and opened the spa in 1979.
In 2013, under new ownership, Gurney's began a multi-phase, multi-year refresh. In 2014, we unveiled 38 renovated oceanfront rooms as well as a new indoor seawater pool. The following year, we began a partnership with LDV Hospitality, including the opening of five new outlets: Scarpetta Beach, Tillie's, Corso, The Beach Club, and The Regent Cocktail Club. In 2016, we started managing and renovating the property next door, the Panoramic View Resort, as Gurney's Residences," according to the site.
The Beach Club at Gurney's is open from May through September drawing a packed crowd the majority of summer weekends. Redefining the Hamptons day experience, come and enjoy 2,000 feet of private beach where you can rent beach chairs, umbrellas, and beautiful canary yellow and cream king-size daybeds.
Gurney's can be found at 290 Old Montauk Hwy., Montauk. Check out their site for more info here.
Subscribe to discover the best kept secrets in your city