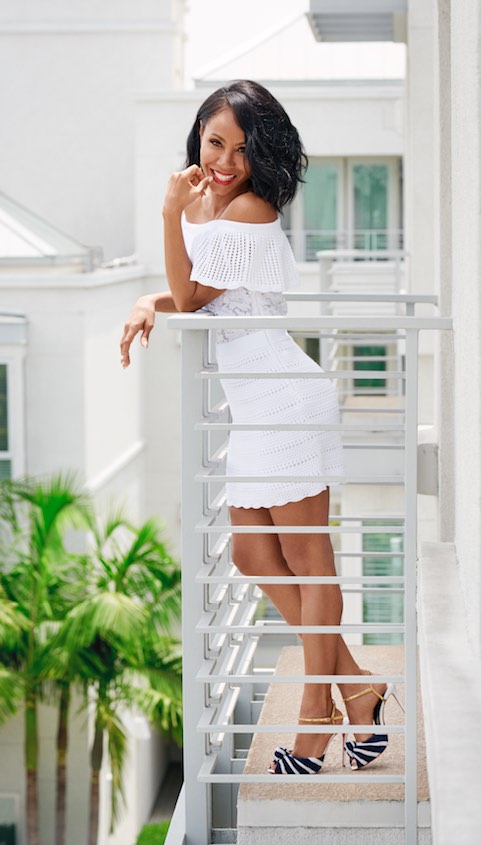 Photo Credit: Don Flood
Interview by: Haley Willard
Written by: Paige Mastrandrea
Photography by: Don Flood • Styling by: Law Roach for TheOnly.Agency
Makeup by: Steven Aturo for TheOnly.Agency • Hair by: Gracie Odoms for TheOnly.Agency
Shot on location at AKA Beverly Hills
Jada Pinkett Smith is the ultimate alpha female. From playing the sexually charged Rome in Magic Mike XXL to villain Fish Mooney in Gotham, Jada has always morphed into her badass characters naturally, honing in on her own dominant traits to bring a feisty and tough persona into each role. However, in the star's upcoming movie Girls Trip, with co-stars Queen Latifah, Regina Hall and Tiffany Haddish, we're seeing another dimension to the actress.
The typical spirited energy that Jada splashes into every part takes a bit of a backseat and is replaced with a more quiet presence, ushering in a new facet of the actress' craft. And while her overt dominance is slightly relinquished, her power is not—Jada's refreshing role in Girls Trip exhibits her versatility, bringing a sense of energy in itself.
Taking on the character of Lisa, a reserved, recent divorcee who is coerced into going on a girls trip to New Orleans for the legendary Essence Festival with three of her best friends after a five-year hiatus, Jada takes on a new personality—one that is shy, reserved and resistant to pushing the boundaries—something that we are not familiar with seeing from her in roles past. Her rowdier counterparts embark on the trip with the sole purpose of getting Lisa's groove back.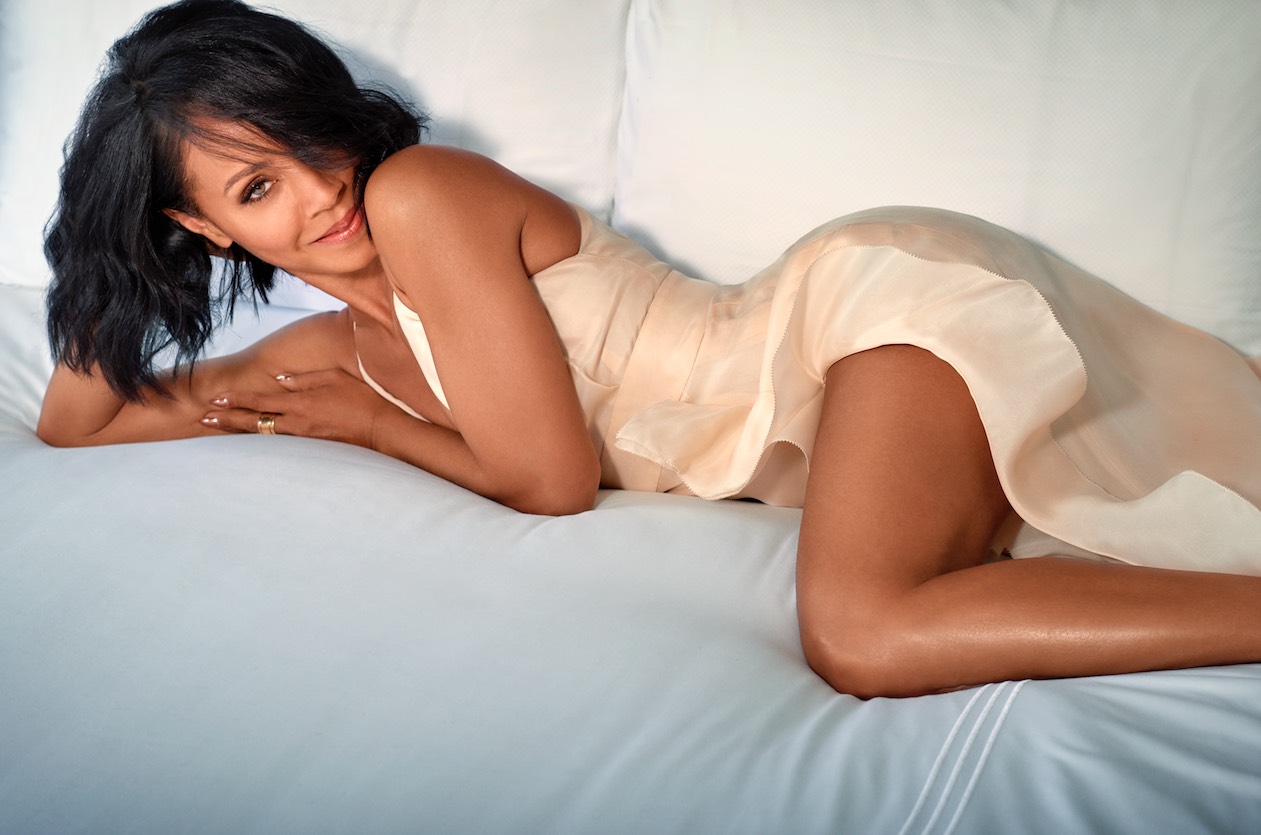 Photo Credit: Don Flood
"Lisa is certainly less dominant than my characters in the past. But I took the role because it was a comedy, and I'm always looking to challenge myself in different roles and different aspects of a role. I never want to do the same thing over and over again, and even having played strong characters in the past, it has always been different variations of them," she explains.
The Will Packer production, releasing in mid-July, is an action-packed comedy with boundary-pushing scenes of the women letting loose in the city of New Orleans. Described as "a beautiful merge between The Hangover and Bridesmaids," the film brings to light the need for women to just have fun. From the sneak peeks of the trailers and tidbits from Jada, viewers can expect to see R-rated hilarity ensue, from Jada zip-lining across the streets of New Orleans while wetting her pants, to a physical brawl (which she notes was definitely the craziest and most memorable scene of filming), to one of the film's most infamous and talked-about moments, which involves the girls explaining a sex act using a grapefruit, showcased by Haddish's character.
The film's unique nature speaks for itself—women hold great power in expressing their more exuberant and their more reserved sides alike. "The film is really just fun. And it's about women taking control of their lives in a way that they see best for themselves. It's about girls getting together and having a good old time, and I think women need that just as much as men. It's definitely a movie where I think women can feel that it's okay again to cut loose," she explains. Rather than being judged for lascivious and uninhibited behavior, the women let go of their reservations to simply have fun with each other. "Sometimes you just need that because I think a lot of the time we aren't necessarily given permission to do so," Jada adds.
While the movie takes on a light, comedic tone, she explains that there's also another element to the story—one that primarily drew her to her role—and that is about the importance of friendship: "As crazy as it can be, the movie has a lot of heart, and it really shows that when shit hits the fan, you've got your girls there that have your back and how important that is in life. You need to have women that understand your challenges and obstacles and can simply be there to support you." Taking on the persona of a woman who has cut back on letting loose and doing things for herself following her marriage, first child and presently, her divorce, Jada's character really feels that element of friendship and encouragement throughout the film as she grows and finds her true self again.
Noting the tendencies of Hollywood women to resort to cattiness and competition, she revels in the movie's ability to show women supporting each other. "I definitely think we need more of that," she says. "We talk a lot about how society treats us and men treat us, but we don't focus enough on how we treat each other." She believes that the way women treat each other reflects on how men treat women. "Rather than fighting each other and pushing each other down, we need to be promoting each other!" she exclaims. "As far as female empowerment goes, it'd be nice to pay a bit more attention to that."
The love between the cast of women is pervasive both on and off the set, with a group full of strong proponents of women's empowerment. "We were so lucky to find four women who are all girls girls," she says. "We're all women who love other girls—you don't find that a lot in Hollywood."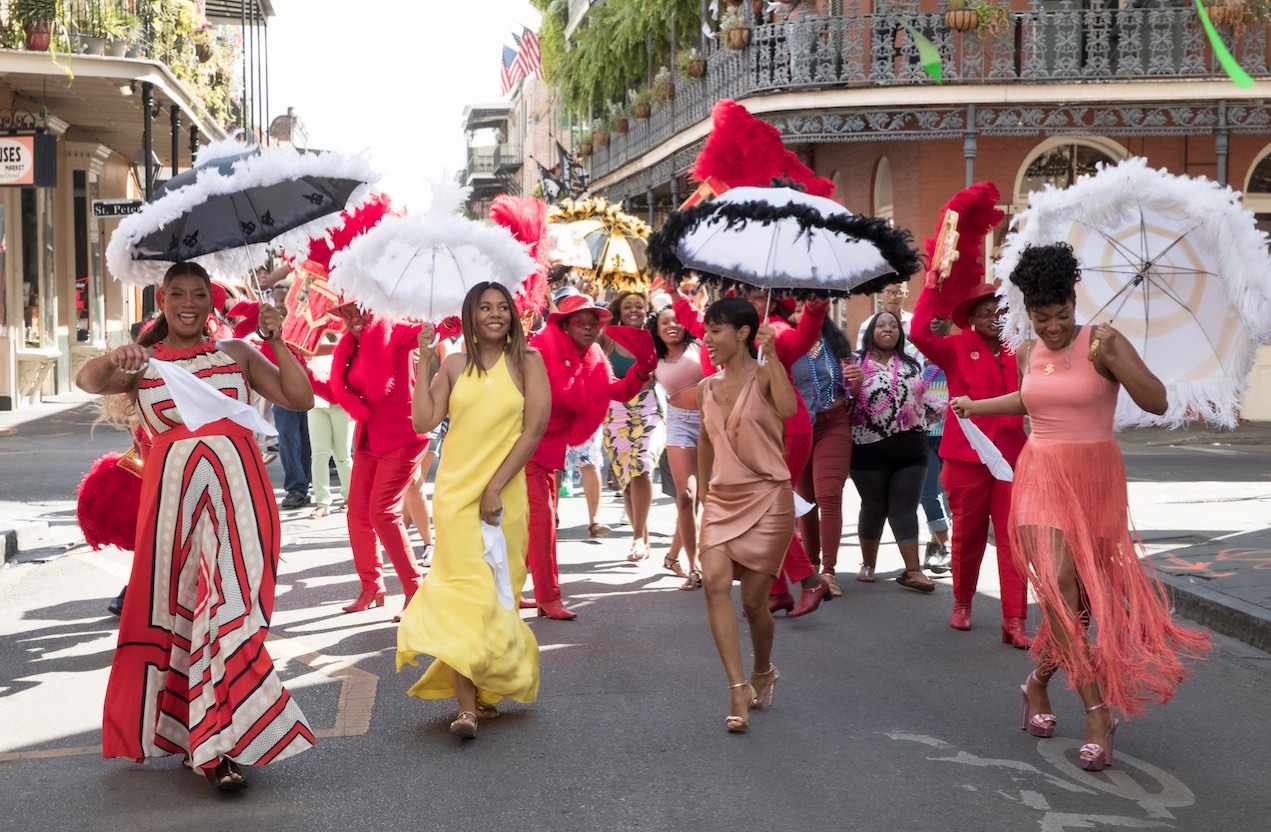 Photo Credit: Michele K. Short/Universal Pictures
Starring with longtime sidekick Queen Latifah was just one of the many perks of the movie. Marking the first time the pair has starred in a movie together for 21 years since the debut of Set It Off, the chemistry between the best friends made the scenes all the more real. She notes that working with newcomer Tiffany Haddish and protagonist Regina Hall reinforced the ride-or-die friendship instilled throughout the film. "We weren't afraid to allow each other to shine. We supported each other in that way, especially for Tiffany as a newcomer—we left a lot of room for her to do her own thing. She's so talented and so freaking funny. We had the best time filming together," she remarks. On the thoughts of her own ideal girls trip, Jada mentions that she has been thinking about taking a trip to Rio.
"Latifah and I have been talking, and she's trying to get me to go with her. It's funny, [husband] Will's been there so many times, and I've never been able to go with him, and La's like, 'Don't go with him, go with me!'" she laughs. She shares that they've talked about going with the whole cast of women who have now become so close. "Maybe we'll do a Girls Trip 2 in Brazil," she quips.
Similar to her character, Lisa, Jada's circle of friends is pivotal to her. As her kids have grown and blossomed into their own careers, the mom of two notes how she now has a newfound appreciation of free time, which she dedicates to her "me" time and friend time. When unwinding down from filming, she shares that she always needs her dose of comedy, taking to Two and a Half Men or The Golden Girls for some relaxation, easy laughs and "happy thoughts." During the day, she dedicates her time to hanging with her close friends—an expanding circle now that her kids have grown.
But like all moms, her kids still need her, whether they're present or not. "It's funny," she laughs, "they're not around, but they are!" With Trey living five minutes away from Jada and Will, and the others traveling around for work, you can guarantee to find the children at the Smith home when they're in town. Although the two are now grabbing headlines through their own endeavors, whether it be acting, singing, modeling or creating art, at the end of the day they have a soft spot for their superstar parents. When they're not with her, she can expect a phone call from them. "I don't even have time to miss them! Willow loves to call me every day, and even Jaden, when he's away on set, still needs to see Will and I when he gets homesick," she notes as the young star has been away filming Life in a Year up in Toronto.
The Smith family is no stranger to the spotlight, and all members of the family have maintained their unique independence in whatever it is they're doing—however, they make sure to always make time for each other. In a previous interview with Haute Living, the loving mother explained, "A woman needs to be deeply connected to herself and her family, and has got to trust herself. It's about staying present and adjusting the formula, which comes in a million forms… Women need courage to be able to step out of the box and be who they are meant to be."
And this is a statement that Jada has certainly lived by. Maintaining her ethos for prioritizing family but also leaving time for herself to grow as an artist, Jada continues to evolve creatively, whether it be acting on-screen or off or promoting causes near and dear to her heart like anti-trafficking and women's empowerment. Looking past Girls Trip and her upcoming debut of the series finale of Gotham, Smith notes that she has some other projects in the works coming to fruition within the next few months. Although what they are exactly has not yet been revealed, we can safely assure that whatever it may be, it will be uniquely Jada—every time, she continues to grow and stun, scouting out the unfamiliar, and bringing curiosity, brilliance and meaning to each diverse role.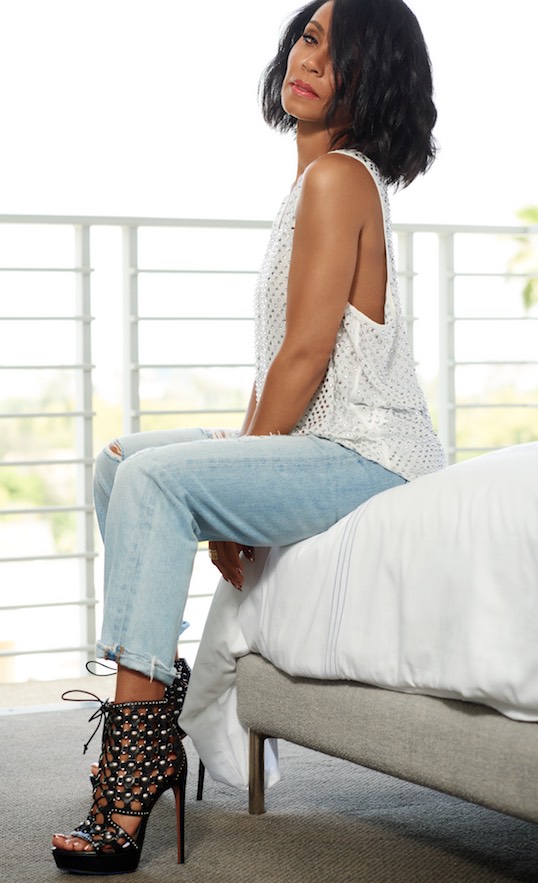 Photo Credit: Don Flood
Subscribe to discover the best kept secrets in your city