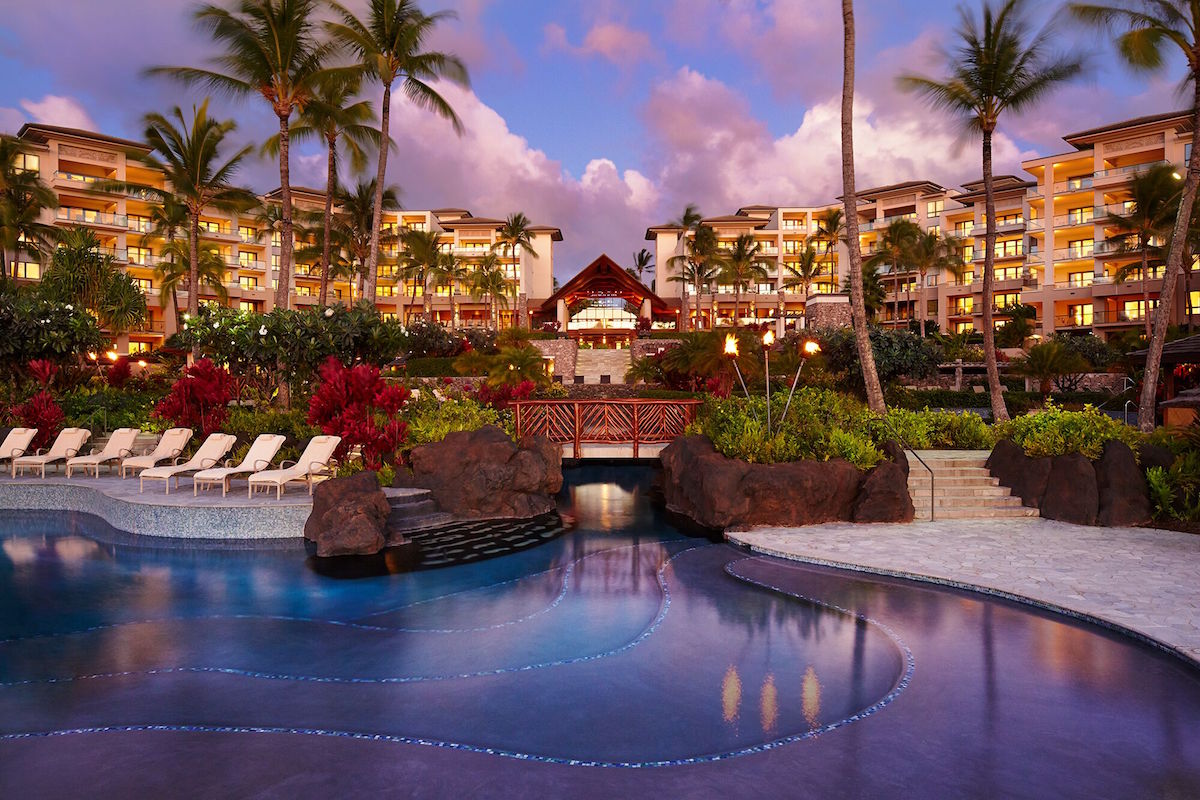 Stay
The second you land on Maui, the world instantly slows down. Walk off the plane and it's almost as if you've stepped back in time to a place where sipping mai tais while watching the sunset is more important than answering emails. There is no rush and as you're transported to the Montage Kapalua Bay—your home away from home for the next week—you can't help but feel instantly relaxed. The weather is a perfect 78°F and the air is thick with the scent of plumeria and pikake, two tropical blooms that flourish on the island.
The landscape is stunning: the pristine sapphire waters of the Pacific Ocean glitter in the sunlight, ancient volcanic mountains, flush with vibrant greenery, loom ominously in the background, and there is not a cloud in the sky. It's no wonder that savvy San Franciscans have been flocking to the tropical destination in droves. It's the perfect place for a stress-free and low-key vacation—and with California being three hours ahead of local time, it will be your most productive getaway ever. On the agenda? Morning walk, yoga, ocean swim, read poolside lunch, snorkel, spa, sunset cocktails at the beach bar, dinner, sleep, repeat.
With its deluxe all-suite residences and close proximity to several different beaches, Montage Kapalua Bay is the ideal place to stay on Maui. The 24-acre resort has 50 one-to-four bedroom suites that each have a spacious and comfortable living room, private patio, elegant master bedroom, and fully-equipped kitchen. There are 54 other residences that are privately owned, so when you walk around the meticulously landscaped property you may come across in-the-know locals who will tell you that Henry makes the best mai tais at the pool bar—and if you're nice to him, he'll let you borrow his trusty binoculars to search the sea for spouting whales. The staff aims to please and whether you're in need of a ride to a nearby grocery store or want a lei made for that special someone, the Montage Kapalua Bay has got you covered.
From tidepool exploration to mat pilates, there is much to do at the resort. Group fitness classes are offered every day in the morning and there are a variety of activities geared toward children and teenagers. The pool is a massive series of tiered waterways with plenty of intimate spaces, gurgling waterfalls, and an adult-only area. Daybeds and chaise lounges surround the pool, so there are plenty of places to chill and read a book. During sunset, the staff sets up games—a putting green, corn hole, giant Connect Four, etc.—for guests to play.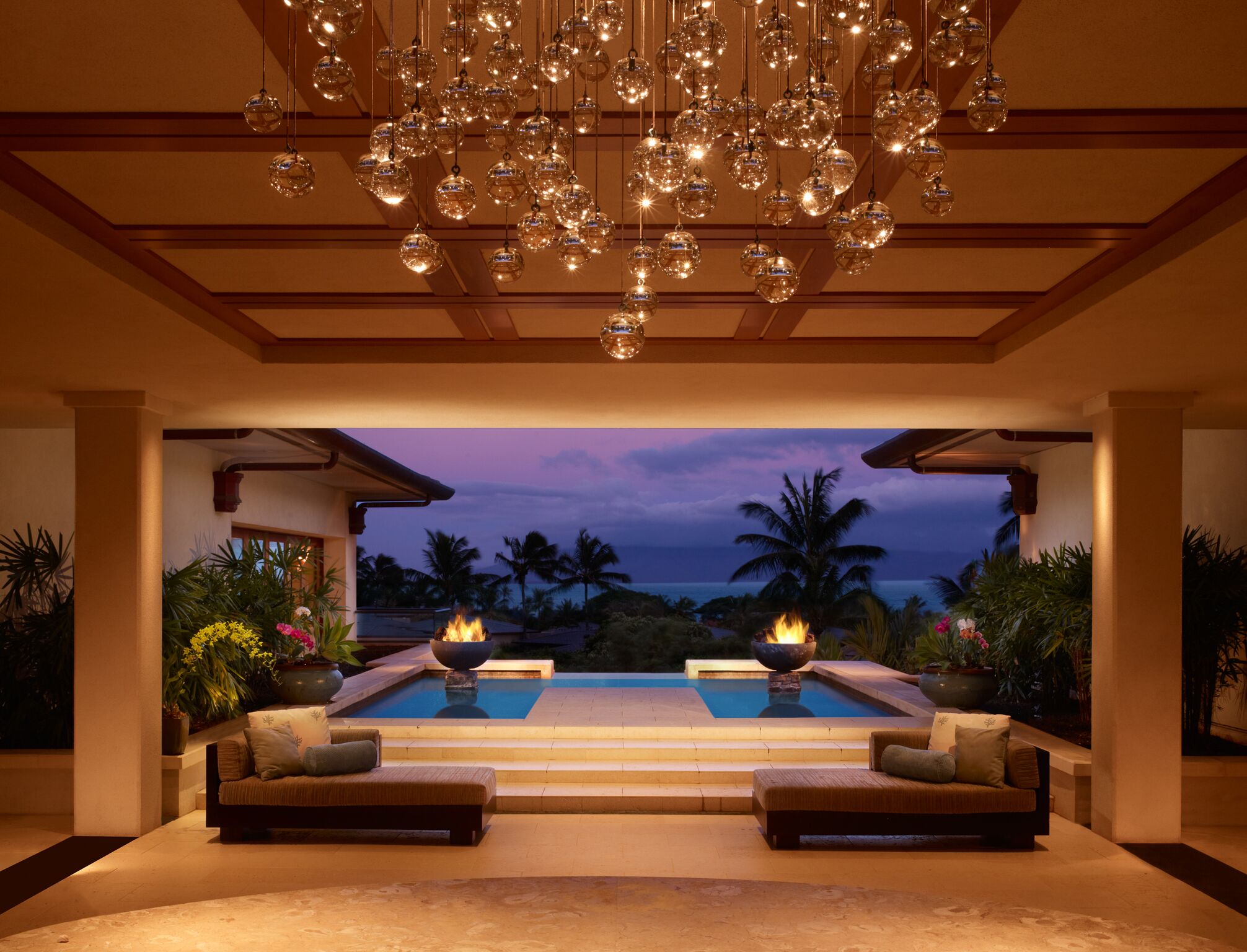 An afternoon at the 30,000-square-foot spa at the Montage is a must. Here is where you'll find state-of-the-art fitness equipment and a team of personal trainers. There is also a full-service beauty salon for blowouts and manicures, a barbershop, well-stocked boutique, juice bar, and private rooftop infinity pool. The spa has nine indoor treatment rooms and 10 outdoor huts that are ideal for romantic couple's massages. A variety of island-inspired therapies are available—the Awa Cacao Hawaiian Cocoon is a superb 90-minute body experience that involves a soothing scrub and polish with a massage and lotion application; and the Royal Renewal consists of a bamboo enzyme polish, ginger oil rub, and rejuvenating customized facial.
Everything about the Montage is sophisticated and luxurious. There is a typically Hawaiian, indoor-outdoor quality to the communal spaces with the inviting blue waters as a constant backdrop to the calm, quiet, and enveloping resort.
Eat and Drink
While you could cook up a feast in your residence's kitchen, the Montage has a number of delicious dining options. Breakfast at Cane & Canoe, the hotel's open-air restaurant is a must. Chef David Viviano specializes in classic Hawaiian fare with Asian influences. For a hearty start to the day, consider the loco moco, an island specialty that consists of a Kobe beef burger patty, fried egg, white rice, local mushrooms, and brown gravy. Chef also makes sensational huevos rancheros and innovative breakfast specials like panzanella with poached eggs and mozzarella cheese, and an egg sandwich on housemade brioche with pesto aioli. The oceanview bar serves up satisfying salads, nachos with a creamy chipotle cheddar sauce, and excellent fish tacos with citrus cabbage slaw and blackened fresh-caught flaky white fish.
For a memorable meal just a stone's throw from the resort, head to Merriman's for dinner. The restaurant was opened in 2009 by Peter Merriman, a chef who was instrumental in pioneering regional Hawaiian cuisine. Before Merriman came along, most restaurants served imported foods and ingredients, but thanks to his relationships with local farmers and fish catchers, the food native to Maui can be found all over the island. Merriman's is a lively and large open-air restaurant with a different musical act nightly, and there you can indulge in fresh ahi poke with crushed avocado and sweet potato chips; macadamia nut-crusted mahi mahi with spicy garlic broccoli; or pan-seared diver scallops with watercress and Hawaiian ginger. Don't forget cocktails and dessert—Merriman's doesn't skimp on any details. The libations are refreshing and balanced. And the homemade vanilla bean ice cream? Absolutely divine.
A short walk from the Montage is the Ritz-Carlton, Kapalua which is celebrating its 25th year as a resort. At its signature restaurant, the Banyan Tree, you'll have one of your best dining experiences on the island. Chef Alvin Savella is a Maui native and his extensive knowledge of local ingredients, Hawaiian culture, and international techniques combine to culinary perfection at the indoor-outdoor eatery. Order a garden-to-glass cocktail—the superb mai tai comes shaken in a martini glass—and the ahi tuna poke. It's not your traditional poke, but an unusual mixture of flavors and textures. Chunks of pink tuna flesh are nestled into a bed of creamy togarashi aioli, covered with crispy Maui onion, and piled high with coconut cilantro foam—it sounds overly complicated, but it works. Other standouts on the Kitchen Assassin's (that's Savella's nickname—check out his Instagram, he has over 45K followers) menu? Grilled octopus served with kale-macadamia nut pesto; smoked ribeye steak with local mushrooms and bone marrow; and the signature Hawaiian sweet bread, a melt-in-your mouth doughy treat that comes with strawberry foie gras and whipped butter.
Mala is an ocean-front tavern frequented by local in-the-know foodies. The restaurant is a part of the Ellman family's culinary empire—Mark Ellman and his wife Judy have opened 18 different eateries in Hawaii. At Mala, the food is organic and grown at the Ellman's nearby five-acre farm that has over 150 fruit trees, 17 goats, and a flock of chickens. The menu features something for everyone with Mediterranean, Pacific Rim, and Latino influences. Order coconut shrimp, spicy lamb pita, ahi bolognese pasta, or hoisin-glazed baby back ribs. Mala is also open for brunch on weekends offering everything from shakshuka Israeli eggs in spicy tomato sauce to smoked salmon tartine.
Explore
While you can tour pineapple farms and scour the seas for whales, the best way to enjoy the island is to simply explore the beaches with a towel, good book, snorkel goggles, and fins. If a week of doing nothing terrifies you, consider spending a day driving the road to Hana. It's an extraordinary 64-mile stretch of highway that extends along the eastern coast of Maui. Rent a flashy 1957 Porsche 356 Speedster convertible from Maui Roadsters and race around the twists and turns of the memorable road. Along the way, you'll come across stunning vistas, glistening waterfalls, inviting swimming pools, red and black sand beaches, and fragrant greenery.
Island Hop
Want to move beyond Maui? Book a few nights at the Four Seasons Resort Lana'i, which is easily accessible from Maui by a 45-minute boat ride. Here, you'll experience a secluded wild island that was once a massive Dole pineapple farm. Today, the 140.5 square-foot Lana'i is 98% privately owned by Larry Ellison and inhabited by about 3,000 locals, 700 of whom are employed by the hotel. The lush and luxurious 213-room resort overlooks Hulopo'e Bay and the Pacific Ocean. Everything is open to the balmy tropical sea air and it doesn't matter which way you look, you'll always be met with a breathtaking view. The property is meticulously landscaped with dramatic foliage and island flowers. The rooms are outfitted with the latest technology: 75-inch platinum bezel LED televisions, room darkening shades that move up and down with the flick of a switch, smart toilets, and customizable bathroom lighting. No keys are necessary, instead each guest is given a Fitbit-like wristband to wear while roaming the resort. Simply press it to your door and it unlocks. The spacious rooms are decorated with dark teak finishes, Polynesian-inspired textiles, rich fabrics, and gold abstract art.
There is plenty to do at the Four Seasons Resort Lana'i. Play a round of 18 holes at the signature Jack Nicklaus Manele Golf Course, where every hole has an ocean view. Relax by the pools—there are a series of different pools with soothing fountains and semi-private reclining chairs. A short five-minute walk takes you to the resort's beachfront. It's a pristine white sand beach with rolling waves, clear waters, and an accommodating staff that sets up chairs and umbrellas and provides you with a cool carafe of water. Take a horseback ride tour of the nearby countryside—it's a fantastic way to learn more about the history of Lana'i while taking in the view. Why not visit the adventure center? Guests can shoot clay on the 14-station course, drive an ATV along the island's dusty roads, practice archery, hike an ancient Hawaiian fisherman's trail, take a catamaran for a snorkeling trip, embark on a deep-sea fishing excursion, or tour the rock formations and waterfalls of Lana'i by helicopter. Not into dangerous pastimes? The Hawanawana Spa is the ideal place to relax and be pampered. There are eight treatment rooms including four couples suites and a salon that offers nail, hair, and makeup services. The signature treatments incorporate the local flavors of the island: there is a algae tea leaf wrap, pineapple citrus body polish, and Osea Royal Hawaiian age defying facial.
Hungry? There are five different dining options at the resort, including Nobu, chef Matsuhisa Nobu's haute Japanese restaurant. One Forty is the resort's main dining room and is open for breakfast and dinner. Enjoy surf and turf made from ingredients grown on Lana'i. For lunch poolside, there is Malibu Farm, the beloved Los Angeles eatery which has a upscale shack at the resort that serves chopped salads and grilled cheese sandwiches. The Sports Bar & Grill is a more casual dining spot that has television screens and a variety of table and pub games, and they serve a delicious flatbread topped with local venison sausage. Wherever you dine, rest assured that your visit will be a memorable, relaxing, and delicious experience.
Subscribe to discover the best kept secrets in your city