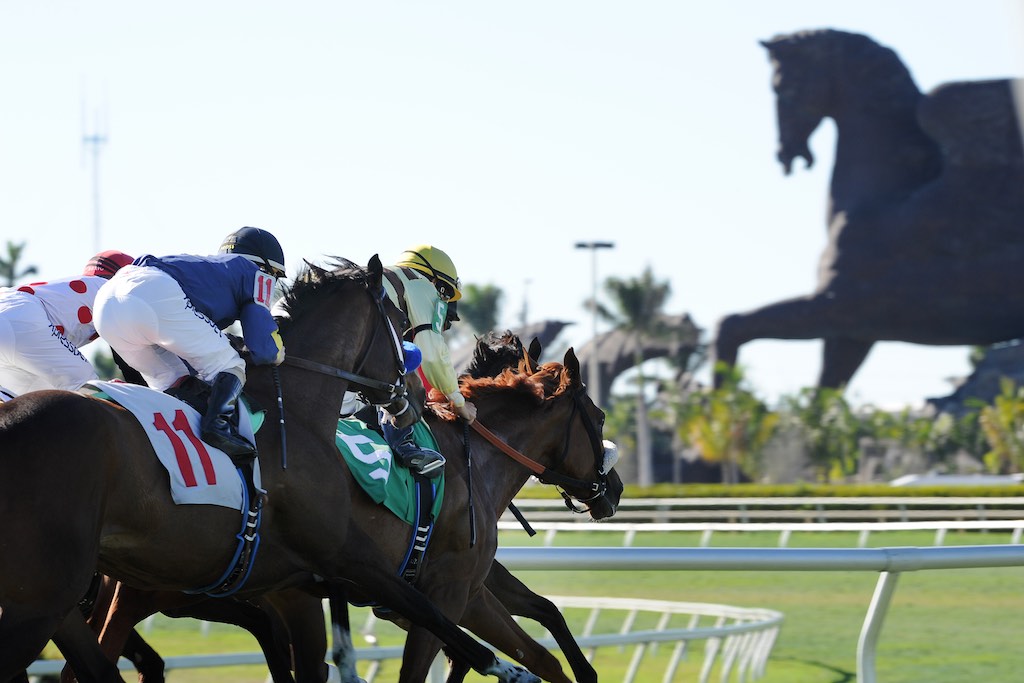 Photo Credit: Gulfstream Park
As is with everything else in South Florida, the sport of horse racing will reach a new level of over-the-top in the upcoming Pegasus World Cup Invitational, where 12 stakeholders have shelled out $1 million USD a piece for their horses to compete in the race that will break world records as the richest event of its kind. Produced by the Stronach Group, the $12 million race will take place in Hallandale Beach and bring viewers from all over the globe to place a wager on the world's best thoroughbreds or simply enjoy the lavish amenities of Gulfstream Park amongst all the action. Whether you're a seasoned spectator or a newbie at the races, we've put together some of the best spots to watch the race.
Luxury Suites The spacious luxury suites promise one of the highest quality viewing experiences, making them ideal for corporate events or just as an opportunity to take advantage of the best Gulfstream Park has to offer. Conveniently located inside the Park's third-floor restaurant, Christine Lee's, the suites are catered with the venue's eclectic menu of Asian and European cuisine and the promise of impeccable service. The suite also offers an array of other amenities, from clubhouse access and personal paddock tours to live tellers on the suite concourse.
Finish Line Boxes Positioned above the finish line, watching the race from a box guarantees the edge-of-your-seat excitement of a close race without the chaos of the crowds below. These premier viewing options are also located just outside Gulfstream Park's second-floor restaurant, Ten Palms, which offers an even more extensive view of the 1⅛ mile race-track and a swankier alternative to the food stands in the general area.
Stretches Tiki Bar If you aren't ordering concessions to your private suite or box, sipping on a cocktail at the world's largest trackside Tiki Bar is another option with a stellar view of the track's homestretch. Tickets for both general admission and VIP bar seating are available for purchase.
Adena Grill & Wine Bar Located on the South side of Gulfstream Park, Adena Grill & Wine Bar offers a limited open bar as well as a full menu of food and cocktails. Though the venue does not have a direct view of the track, the restaurant is equipped with several big screen TVs to keep their guests updated all day long.
Even if you opt to buy a seat in the general area, the amenities at Gulfstream Park still ensure a luxurious experience for all attendees. With more than 20 restaurants and bars, an extensive shopping mall, casinos and theatres, the venue is truly the perfect backdrop for the richest horse race in the world.
The race will take place on January 28th, 2017. Tickets for The Pegasus World Cup Invitational are available online at www.pegasusworldcup.com and range from $100 to $765+ USD per person.