Photo Credit: Claiborne Swanson Fox
When Aerin Lauder, heiress to one of the world's great cosmetic fortunes (she made it on to the Forbes Billionaire list three years ago) and a much-photographed Manhattan tastemaker, launched her own brand AERIN in 2012, she began with a beauty line. It was a natural segue for Lauder, who had worked for two decades as a senior creative executive in the company her grandmother, Estée Lauder, founded 70 years ago.
But as Lauder is fond of saying, beauty may be her heritage (she still serves as Estée Lauder's image and style director), but the home is her passion. Soon after debuting that first cosmetics line, Lauder followed quickly with tabletop and gift items. In the last four years, she has brought her refined sense of contemporary chic, one that references a blend of period styles and global cultural influences, to a number of interior lines, ranging from fabrics, rugs and furniture to lighting and, most recently, scented candles—perhaps the decorative item that most readily straddles the worlds of beauty and the home.
We recently caught up with Lauder to talk interior style and all the news from her fast-growing global lifestyle brand.
Chanel famously said, "Before leaving the house, a woman should look in the mirror and remove one accessory." Is that a principle to follow with decorative accessories, as well?
I believe in editing, but I don't think there can be a hard rule when it comes to accessorizing one's space. A home should be reflective of the people who live in it, be full of memories and personal style, with a mix of the new and old.
Which interior designers, past or present, influence your work?
Jacques Grange is an incredibly talented decorator I've been lucky enough to work with for many years. His beach house in Portugal is the ultimate escape—a beautiful space designed to be comfortable and lived in, which is something I strive to create across all categories of my brand. We worked together on my Upper East Side apartment and my office. What I appreciate most about Jacques is how he gives a room an underlying structure that's clean and inviting, and then builds on it with colors, fabrics and textures to make it look very personal and warm, while still being elegant.
What were the most important decorating and design lessons you learned either from other designers, or through your own experimentation?
Both my grandmother and my mother loved to decorate, and I inherited much of my passion and design aesthetic from them. As a child, my dollhouse was my favorite toy. I love mixing combinations of fabrics, furniture, antiques and lighting. I inherited my mother's fondness for classic pieces, but I translate it in a less formal way, for a more effortless look. My grandmother also taught me that gold is the ultimate neutral. When we started to develop home collections, we incorporated it as a brand staple, and it's present in each new launch.
How has contemporary art influenced your home design work?
I have always been drawn to contemporary art, that sense of the unexpected. I have a lot of favorite artists, but right now, I'm attracted to Robert Mangold's color sensibility. James Turrell's work is amazing; it is so simple but powerful. I love Richard Dupont's series of all-white canvases. Clifford Ross really captures the strength and power of the sea and nature. Brice Marden is extraordinary and a wonderful personality. I like mixing a room with recent works as well as traditional art.
Has your work in the beauty industry informed your home collections?
Although beauty is my heritage, home and accessories are my true passion. After over 25 years at Estée Lauder, I felt I could take my understanding of the business and apply that knowledge to other categories where I saw opportunities in the market.
Do you change the décor in your homes often?
They're constantly evolving. I am always looking for new finds, but I also have items in my homes that have been in my family for years. What makes a home is having that combination of old and new. But even small additions—a picture frame with a beautiful memory, a new light fixture or a new vase can completely change the mood of a space.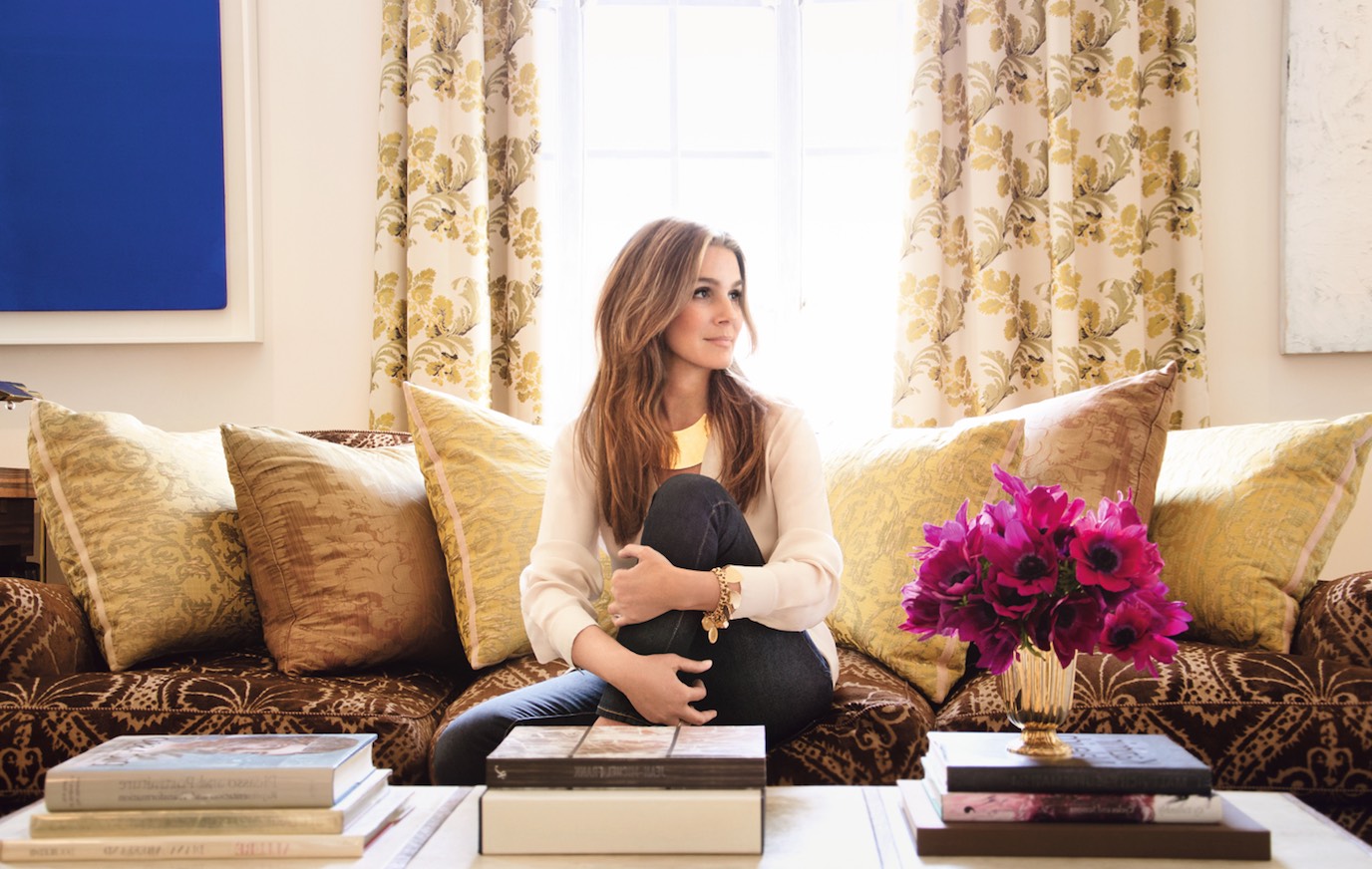 How have your homes in New York, Aspen and the Hamptons informed your decorative accessories collections?
I design for someone like myself, who wants modern yet timeless designs that also feel effortless and edited. I draw inspiration from my travels—experiencing new cultures and a place's colors and energy—as well as the cities I call home. I grew up in New York, lived in Vienna for a few years when I was a teenager, and spent a lot of time traveling throughout Europe. In my New York apartment, you'll find family heirlooms mixed with modern pieces. In Aspen, my home is centered on the view. I wanted to focus on that and the simplicity of nature, so it's decorated in white and wood with fur blankets and throws for a modern, mountain sensibility.
Wherever I am, I find it thrilling to discover one-of-a-kind pieces to incorporate into my décor. For example, in Sag Harbor, there's a vintage shop called Neo Studio that I always visit. I'm also constantly inspired by textile prints and beautiful chandeliers.
Give us an example of how you blend different design periods.
I like the contrast of a contemporary photograph paired with a 1930s lamp and a 1970s table. A mix makes a room feel more personal and curated, and epitomizes my style.
Your most recent home accessories line (Collector's Retreat) involves a neutral palette. Is this a move away from the blue-and-white you've worked with in the past?
Blue and white is part of my decorating DNA, not just with home accessories, but across the brand. The crisp blue and white palette are life essentials to my eyes. It's classic and clean and works in any style of home. But each season, we look to expand our shagreen collection into a new color palette. So neutrals like a light dove gray and rich, deep chocolates can carry from season to season. We also just introduced black-and-white marble objects, as well as black agate, which bring more depth and contrast to the home collection.
For Collector's Retreat, what was your design inspiration?
My father [Ronald Lauder] is a collector and this is where the idea grew from. I started with essentials like a magnifying glass, letter opener and the candle snuffer with the intent of adding new collector pieces that have personality but also live beautifully together.
What's the style of lighting in your homes?
When designing a room I always start with the lighting, which can animate even the smallest spaces. Light fixtures transform a space and are an easy way to update from season to season. They can also help convey different moods. For example, in all my homes, my kitchen is a shared family space, so having natural light to keep the space feeling open, comfortable and airy is important to me. In a bedroom, I prefer table lamps to give a nice glow as opposed to harsh overhead lighting. I think it creates a more tranquil ambiance, ideal for lounging and resting.
What are the silhouettes or design periods that have influenced your lamp design?
For the new fall lighting collection I drew heavily from vintage pieces as well as European and Mid-Century Modern designs by incorporating new hammered metals (a staple finish in our decorative accessories) and plaster-like finishes. An antique chandelier from an Austrian café that I found at a little store in the Hamptons when I was in my early 20s has inspired much of my lighting aesthetic. It was the inspiration for the Renwick Crystal Chandelier that was introduced in 2014.
When designing a new lighting collection, I keep in mind that people often shop for more than one fixture, so I try to create pieces that can work together. For each collection we expand off of popular styles. This season, we have a new buffet lamp, which is great for entry halls and narrow spaces. We also developed elongated sconces for fall.
Do you look to classic shapes when designing your ceiling fixtures?
The entire brand is truly about classic shapes, with a modern yet unexpected twist, whether in color, texture or fabric.
How would you suggest pairing a scent to a room?
Scent is a simple touch that can have a huge impact on a room. Decide on the feeling you are trying to convey. We recently launched a new line of travel-inspired candles that transports me to some of my most cherished vacation spots.
Where do you see your company heading in the next two to three years?
We are continuing to expand our collections in home, beauty and fashion accessories. Each decision underscores how AERIN is a lifestyle brand and how all the components can work together. This fall we are launching a new line of fashion accessories that will include handbags, shoes and scarves. This past summer we introduced a second collection of fabrics with Lee Jofa and introduced our first line of wall coverings. Expanding the brand into international markets is also a priority for us in the next few years.