Photo Credit: Christian Horan Photography
if you're looking for a beachy hideaway that's the embodiment of approachable luxury, the Fairmont Miramar Hotel & Bungalows is the place for you. This haute hotel offers the only bungalow-style luxury suites in West Los Angeles, just steps away from the beach in Santa Monica. Originally added to the historic hotel in 1938, the secluded and private bungalows were a home away from home for some of the most iconic stars of Old Hollywood including Jean Harlow, Marilyn Monroe and Greta Garbo. As of August, these suites have a whole new, modern vibe, while still managing to pay homage to the past. Here, find out you need to stay at this haute Santa Monica hideaway.
Photo Credit: Christian Horan
NEWLY RENOVATED, UBER-BEACHY DECOR. As of August, the Fairmont's rooms and suites have a whole new vibe. The new look was designed by L.A.-based residential interior designer Michael Berman in a beach house chic meets modern surf lodge style. The 32 bungalows, including four bi-level suites, incorporate a fresh mix of mid-century modern design, Southern California oceanfront style and natural textures. Guests will dig the oceanic-themed blue and grey color palette, custom lighting, locally-inspired, Santa Monica vintage artwork, seagull-shaped light fixtures and wallpaper that creates the illusion of wood paneling. All bungalows offer private patios, access to the Bungalow Concierge Service and a fully stocked mini bar. Also recently renovated is the 10-story Ocean Tower, which have been restored by LA-based designer Lynda Murray to reflect the original mid-century design, with custom-built walnut grain wood desks, dressers and media units as well as custom upholstered beds all created by craftsmen. Each guest room has a distinctly Southern California feel with LA-sourced items, from the fabrics to the lamps. The colorful photography depicts a Santa Monica, Palisades or Malibu beach scene from the mid-century era. The big daddy though—a must for those who value true luxury—is Bungalow One, a customized three-bedroom suite with the same beach-inspired feel that features ViSpring Beds designed with Shetland wool, raw silk and cashmere bamboo; Scandia Linen bedding, 300 thread count, 100% Egyptian cotton; Michael Berman limited custom designed furniture throughout; switchable privacy glass in master bath; a cereal bowl style La Cava tub; a True Beverage center; four Samsung Smart TVs; art collections curated by Joanna Burke of Joanna Burke Art Consultants; and Molton Brown amenities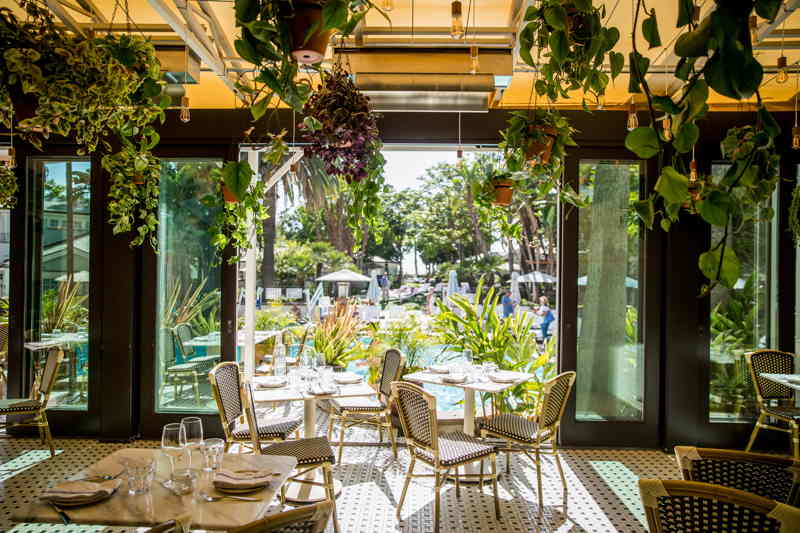 Photo Credit: Christopher Miller
2. AN AWESOME RESTAURANT WITH A NEW CHEF, NEW MENU AND NEW VIBE. FIG, the signature eatery at the Fairmont, is a spot that is beloved by both locals and hotel guests—no mean feat. Chef Yousef Ghalaini has created a more seasonally-inspired, Mediterranean-influenced menu that perfectly pairs with the restaurant's bistro-like setting. Fans of the previous menu will have no complaints: each dish is fresh and flavorful, diverse, and authentic. A new wood-burning oven and grill allows Ghalaini to create mouth-watering items like a bread balloon: literally, just that, which he pairs with a variety of spreads from hummus to chili eggplant to roasted red bell peppers. Pizzas and Mediterranean-inspired mezze plates are perfection, while entrees are like the coffee rubbed prime NY strip with duck fat potatoes are inspired.
Photo Credit: Christopher Horan Photography
3. POOL + BEACH = YOUR PICK OF WATER-BASED ACTIVITIES. Let's not forget, you're steps away from the beach. Also keep in mind that there's a delightful pool on site (with unicorn-float toys perfect for Instagramming). In a perfect world, you can hit both in one day, and for the true vacationer, that's pure bliss.
Photo Credit: Christian Horan
4. HAUTE ON-SITE SHOPPING. The Fairmont is home to the first-ever in-hotel Vilbrequin boutique. The iconic French swimwear company isn't the only game in town, though: ZenBunni, a locally made luxury chocolate company, is also sold at this haute hotel. ZenBunni uses stone ground cacao to produce the world's only biodynamic chocolate – free of dairy, gluten, soy and refined sugar. By sourcing natural ingredients from farmers that use ancient methods to grow their food, ZenBunni creates chocolate that not only tastes good, but initiates a wider conversation around health and the wellbeing of the earth.
Photo Credit: The Bungalow
5. THE HOTTEST SPOT IN SANTA MONICA IS HERE: THE BUNGALOW. The Bungalow is your home away from home. You might have to wait in line for a few hours, but once you do, this place is magic. Brent Bolthouse's Santa Monica hideaway boasts fire pits, pool tables, a house you can get lost in, twinkly lights, ping pong, a secret garden, dark corners and all the essentials you need for the best house party ever—give or take the runway models and celebrities you'd normally only see on TV.