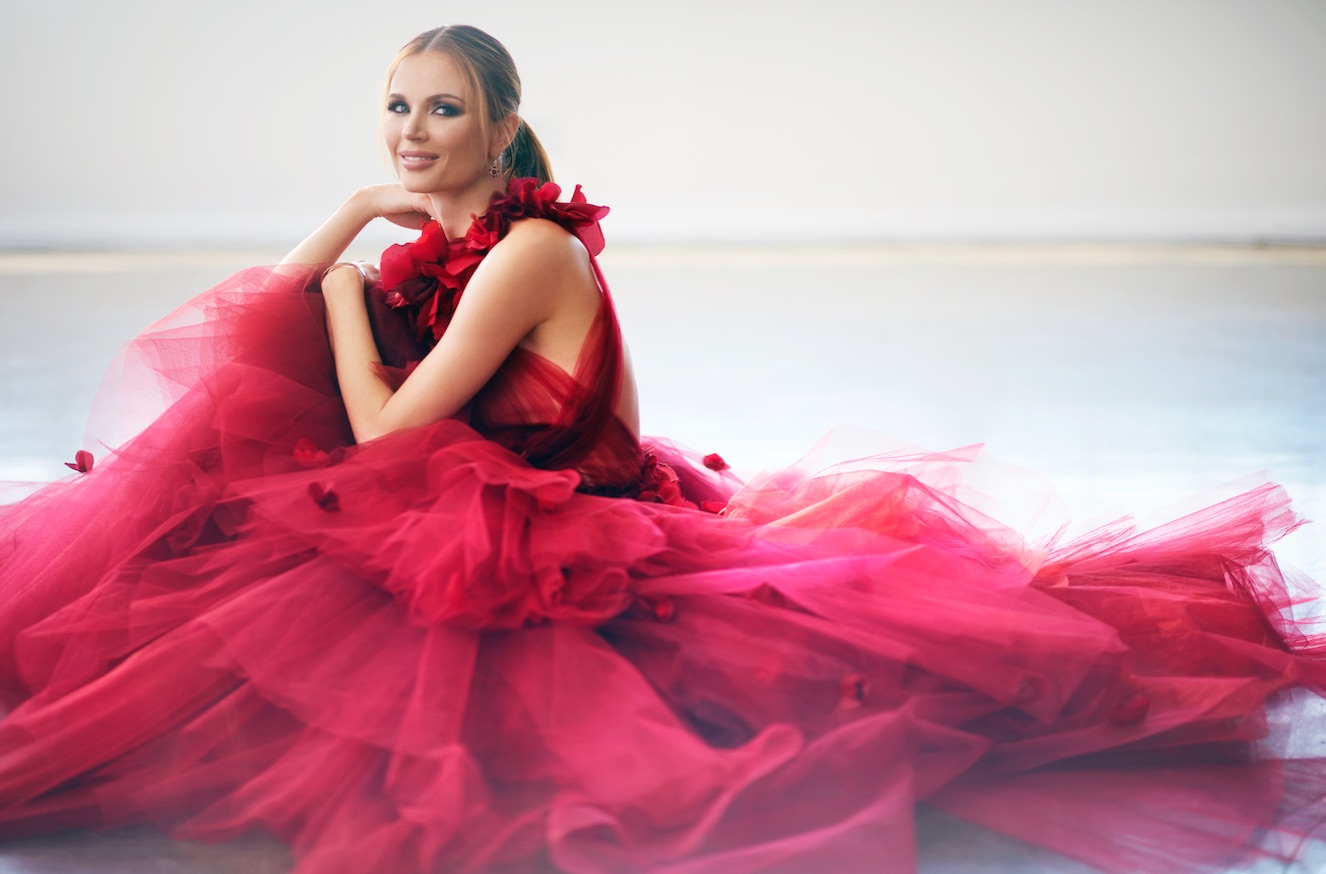 Photo Credit: Scott McDermott
Photography: Scott McDermott
Makeup: Ashlee Glazer
Hair: Eloise Cheung at Kate Ryan Inc for Aveda
Photographed at Canoe Studios
The 14th floor of the Starrett-Lehigh building, the West Chelsea landmark, is buzzing on a bright summer morning. There are numerous fashion shoots in progress with clothing racks swooshing from place to place, caterers delivering vegan nibbles to crews who will barely touch them and models in white robes waiting for their close-ups. But this block-long behemoth houses more than loft-like studios for photographers who come for the abundant natural light and cinematic West Side views. Starrett-Lehigh is also where top fashion brands, the starchitectural firm Diller Scofidio + Renfro, as well as Martha Stewart Living Omnimedia, command central for the good life, base their businesses and go about "manufacturing creativity," as the building's slogan describes what its occupants do so well.
A slim woman, long hair freshly washed, wearing a boho chic beaded jacket and black cropped pants, walks along the lengthy hallway. When you first spot her, you think, "She must be another model looking for one of the studios." But she continues walking toward us. "Hello, Georgina Chapman," she says. "How are you? Thank you so much for doing this."
Chapman, of course, is the co-founder of red-carpet favorite Marchesa, the brand she started with Keren Craig 12 years ago, as well as the much-photographed half of one of New York's most powerful, power couples (her husband is the movie mogul Harvey Weinstein). The "this" she refers to is the cover shoot for Haute Living New York's fashion and design issue, which is about to begin. Her schedule is packed, although she doesn't seem rushed. With an easy but firm charm she gets things moving quickly. After introductions are made, her team glides into action. Not a minute is wasted as Chapman is whisked to the makeup table where today's glam squad will ready her for the shoot taking place conveniently in a corner studio a few doors down the hall from Marchesa's headquarters and atelier.
It is a peak selling week for the Resort 2017 collections, so that means members of the team will move back and forth between the office and studio as dresses are swapped out for the shoot and for buyers from stores and boutiques throughout the country, who are in town to place orders for the label's gowns—gossamer chiffons, glittering embroidered sheaths, and ruched tulle ball gowns— that are so exquisitely ethereal you are thankful there are hangars to prevent them from floating into the air.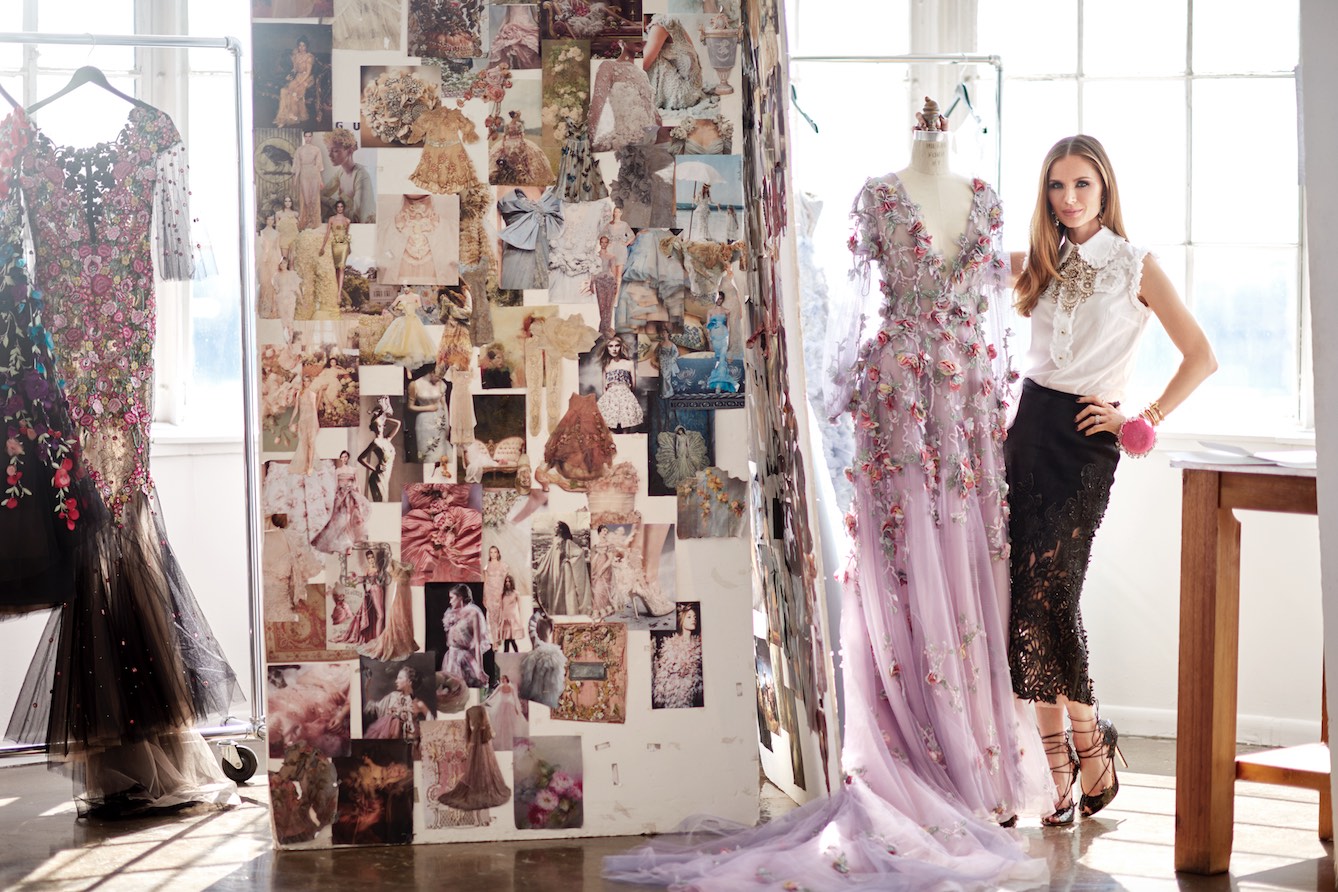 Like Chapman, the Marchesa team moves with a quiet sense of purpose and gracious efficiency as the shoot is managed, props arranged and buyers accommodated. There are no miscues, raised voices or last-minute dramas to deal with; one gets the sense there rarely are. When I mention this to Chapman and ask her to describe what seems to be an effective management style in a field that often equates chaos with creativity, she says, "I couldn't begin to tell you." But high-functioning teams don't just happen, you point out. While Chapman agrees, she is quick to deflect the compliment. "My brother (Edward) is the CEO and has more of a managerial role," she explains. "I'm in charge of the creative process. But everyone has their own area, their own piece of the company. It's very much a democratic process, although we do have to manage within a time frame for collection deadlines."
With the rapid growth of the company, those deadlines come about at an increasingly frenetic pace. Chapman and Craig now oversee 12 collections (four for the original Marchesa line, four for Marchesa Notte, two for bridal and two for handbags) as well as the recently launched shoe and jewelry lines. It's an ambitious output, considering that she and Craig launched Marchesa with only eight dresses and a concept that seemed risky at the time—a high-end fashion label focusing solely on evening wear and special-occasion pieces.
"When we started not a lot of designers were doing that," says Chapman. And for good reason—the market for high-end daywear was (and always will be) far greater than for P.M. dressing; the flip side is that competition is, too. Chapman credits the late Isabella Blow, the magazine editor, stylist and muse credited with discovering Alexander McQueen, for giving her and Craig the confidence to play out their hunch that a luxury evening-only label could form the basis for a successful fashion business.
"We used red-carpet dressing as a marketing tool," says Chapman, noting that she and Craig saw how the celebrity weeklies were upping the ante in terms of fashion coverage when they started their business in 2004. "We thought if we could get red carpet, people would notice," she adds.
And they did. There was immediate interest and talk in top fashion circles. Linda Fargo, dubbed the "eyes of Bergdorf Goodman" (her actual title is senior vice president of the fashion office and the director of women's fashion and store presentation), says that her store was the first one to pick up the label. "I can still recall Keren and Georgina's first presentation vividly, and that only happens when something is extremely good or extremely bad," she explains. Although the duo were virtually unknown, Fargo also remembers "a very discreet but high level buzz circulating."
There's always lots of buzz in Manhattan fashion circles; much of it fizzles as quickly as it fizzes. Fargo has probably seen more luxury labels than anyone on the planet; as a result her taste level is in the stratosphere. Yet the newbie Marchesa resonated. "We were quite taken aback to discover that the gowns were absolutely exquisite—high-drama confections," she says. "And we knew that Bergdorf 's had the customer for them. Meeting the girls to congratulate them post-show, it was easy to see that they themselves 'walked the walk.' Chapman and Craig were also astonishingly beautiful and vivacious, just like their clothes."
Marchesa was the first fashion house to fully leverage the power of celebrity fashion and create their brand from it. But clever and well-timed marketing instincts aside, they still had to build a business from scratch. Marchesa (named after the Italian socialite and artistic muse Marchesa Luisa Casati) started modestly in a West London apartment, but when Neiman Marcus came calling, Chapman and Craig headed to the States to up their production, at first in ad hoc fashion. Because they were still a tiny operation in startup mode, they had to find machinists who would work for them after hours and dress-manufacturing spaces they could utilize once the normal work day was done. During these early months in New York, it was far more grit than glamour, despite the fact the clothes they produced were destined for the most glittering parties in the world. Startup mode meant doing whatever had to be done: Chapman told Vogue they even dyed fabrics themselves, using large sinks in the public bathrooms in those after-hour manufacturing spaces.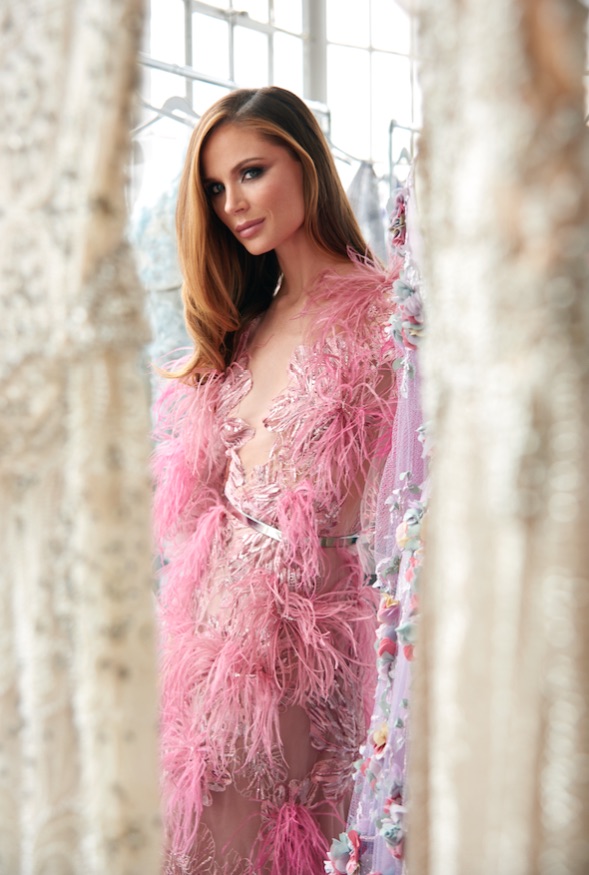 Slowly they grew their collection. They sought the advice of fashion pros, like Tamara Mellon, who told them how she built the Jimmy Choo brand and encouraged them to meet with influential West Coast stylists (many of whom they work with to this day). Chapman and Craig began mixing and mingling on both coasts. A breakthrough came when Renee Zellweger donned a strapless Marchesa cocktail dress for the opening of Bridget Jones: The Edge of Reason premiere; a year later Diane Kruger wore the label to the Golden Globes and bold-facers took note. It has been an A-list client list ever since with stars like Jennifer Lopez, Sandra Bullock, Reese Witherspoon, Naomi Watts, Rihanna, Halle Berry and Kerry Washington among Marchesa's devotees.
Chapman also began to "live the life," as they say. She had met movie mogul/producer Harvey Weinstein (they married in 2007) and became as much of a red-carpet regular as the actresses wearing her gowns. Few labels could claim a better front person. Chapman fast became paparazzi bait herself, photographed like Gwyneth and Cate, as she turned up at the hottest must-stops on the international awards circuit like the Cannes Film Festival, Tonys, Emmys, Golden Globes and Oscars. She was the perfect embodiment of the modern yet unabashedly feminine ethos that Chapman describes as the brand's DNA. Like Carolina Herrera, Chapman projects a red-carpet image that is so flawless, you can't help but ask if she's ever had a fashion meltdown or bad hair day. She gives it a think. "Not too many traumas to speak of," she says, but admits that if she's wearing a train, it sometimes gets stepped on. By her husband. "Poor hubby," she says with a laugh.
While her social life provides incomparable opportunities for brand exposure, Chapman says that for all her experience mixing and mingling with Hollywood heavyweights, she still is as nervous when dressing an actress who is up for a major award as when she first started out. "I feel it's a great responsibility when someone chooses to wear Marchesa for one of the most important days of her life," she notes. When asked if she sees differences in taste for gala dressing on the East and West Coasts, she says, "No. People travel so much now, fashion transcends specificities. With evening wear, the style depends more on the event (e.g., the Oscars are more formal than the Golden Globes) than the location. Street style is different, though."
Chapman's journey to the top of the fashion business and the apex of the New York and Hollywood social whirl (a few days after our shoot she would be hosting a dinner with her husband at their home for Hillary Clinton, with Leo DiCaprio and JLo as guests) began in England. The daughter of Brian Chapman, a successful businessman and owner of Percol, an organic coffee company, and Caroline Wonfor, a former journalist. Chapman attended Marlborough College (Kate Middleton is an alum) and the Chelsea School of Art and Design, where she met Craig.
Chapman's interest in fashion dates to her childhood; early visits to the Victoria and Albert Museum's costume department enthralled her. "It took my breath away," she says, "and transported me to another place. There was a romance to it, an escape. I have always been a fantasist."
Her and Craig's rendition of fantasy sold—right into and despite of the recession, or perhaps because of it. "In some way, Marchesa's clothes fulfill that formative dream that many women have when they are young and are just starting to fantasize about clothing, balls and fanciful occasions," says Fargo when asked about why she thinks the brand caught on. "There's something almost fairy-tale like about the sensibility." With business on the up, Marchesa was encouraged to look beyond the red carpet to the white one, and in 2008 it introduced its first bridal collection. Bridal was a natural transition—brides were spotting gowns at award shows they wanted to adapt for their weddings. But doing bridal didn't mean simply creating an off-white version of Marchesa's greatest hits. Chapman says the cross between the two lines hasn't been that extensive, which makes you wonder how she and Craig keep the idea machine humming for all the collections they now produce. "We talk ideas, do mood boards, have racks of beading inspiration," she says, showing us several eight-foot-tall boards that are rich collages overflowing with swatches, sketches, tear sheets and photos. In addition to the collections, all fabrics (overseen by Craig) and embroideries are designed in house. And in a welcome move to supporters of Made in NY, the initiative to increase the amount of fashion produced in the city, Marchesa couture is crafted in house, as well.
Chapman also absorbs ideas from travel, historical research and, not surprisingly, the film world for her designs. "We must watch three to four movies every weekend," says Chapman of her and Weinstein's routine when in town. She follows the work of costume designers Catherine Martin (The Great Gatsby, Moulin Rouge!), Milena Canonero (Marie Antoinette, The Grand Budapest Hotel) and Sandy Powell (The Aviator, Carol), and says she is "constantly being influenced by them." But don't look for Chapman's screen credit in a Weinstein production anytime soon. She's far too busy with Marchesa at the moment. "Doing a film is an enormous undertaking. I trained as a costume designer, so I know what goes into it," she says.
Midway through our interview we hear the sounds of boisterous chatter from young children arriving in the hallway. Her daughter, India, and son, Dashiell, have finished camp and are joining their mum for the afternoon. One moment India is in the studio, the next she appears like an adorable genie touting a toy saxophone behind her mother's chair in the lounge where we are chatting. "Darling, I'm doing an interview, I will be with you in a moment," Chapman says with the same mixture of charm and firmness that keeps her business day on track. Without a fuss India returns to find her brother.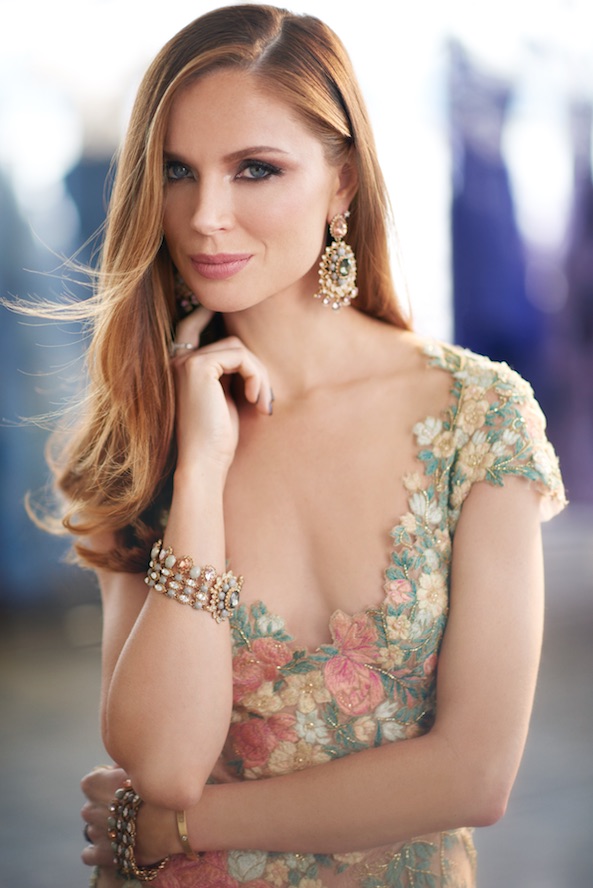 You hate to ask a successful woman about "balance," since it's rarely asked of men and impossible to achieve for either sex, but Chapman, despite denying she has a management style or is even hyper-organized, appears to keep more than her share of plates (children, fashion business, high-profile socializing) spinning without any crashing to the floor. One part of her life flows seamlessly into the next, and like the team around her, she moves forward with a calm determination. "I'm not one of those people who wakes up at dawn and starts emailing. I wish I was that person, but I couldn't function on just four hours sleep," she says with a laugh. While Chapman certainly has a top-notch support team, her daily routine sounds like that of many other city mothers with some exceptional exceptions (like having your dinner parties attended by the Democratic presidential nominee and a few Oscar winners). In the morning she takes her daughter and son to school, then tries to work in some exercise at a gym, or bikes to work from her West Village townhouse. "It's faster than a car," she says. When she arrives at the studio, she will—depending on where they are with the collections—head into meetings with Craig about fabrics, review swatches, or sketches for custom clients, and check on the progress of pieces in development in the atelier. The hours run very long during collection weeks—midnight and later stop times are not uncommon, although Chapman says she finds the last-minute push the most exciting part of the fashion cycle. "It's high energy. A lot of creativity. Since we produce Marchesa right here you see everything coming together—from the sketch to the finished gown.."
When Chapman returns home during normal work weeks, she has dinner with her children, and oversees play and bath time. "We hang out together," she says. Then she likes to relax with a glass of wine and a series show; her current favorite is Peaky Blinders (which Weinstein's company distributes). She and Weinstein try to limit their nights out to two a week, which can be hard to do during awards season. Weekends are for family in Connecticut or Amagansett. "Just being there with my kids and husband and going for walks on the beach with them and the dogs" is her idea of bliss.
Family time is a non-negotiable in Chapman's life, as is her commitment to Indian charities. She and Craig have long worked with Indian artisans for their embroideries and fabrics. "I wanted to give back to the community that helped me build Marchesa," she says, explaining the company's partnership with Magic Bus, a mentoring and educational program focused on areas where many of the embroideries have been created. Another charitable cause is the UN Human Rights Council (UNHRC). Chapman has visited Syrian refugee camps in Jordan for those escaping the country's bloodshed.
And add to her non-fashion passions: the desire to see a woman elected president of the United States. "I grew up in England when there was a woman prime minister, so it's not a foreign idea," she says, When asked if she'd like to design a first female president's inaugural gown, Chapman responds, "I would obviously love to dress Hillary. I deeply respect her, however, a candidate's style is not what's most important to me. Hillary is an incredible politician, she has a brilliant mind, is warm and compassionate, and has all the integrity that I am looking for in a candidate running to be the President of the United States. That to me is what matters most."
As to where Chapman sees her company in the next five years, she says she hopes "to continue on the trajectory we are on right now. This is an exciting time of growth for us, special orders are increasing tremendously. And jewelry (one of two recent launches) was highly successful." But despite the growth, Chapman says she prefers to nurture the existing lines, rather than launch another one. "They are still babies, and we want to grow them. I've learned things take time." One recent new foray was into the world of high-tech: Marchesa's "cognitive" dress (an algorithm-programmed garment with LED lights that changes color), developed with IBM and the computer Watson for the Met Costume Institute's Manus X Machina gala, drew a lot of media attention.
While tech collaborations intrigue, Chapman and her team are talking bricks and mortar, too, a future maison for all things Marchesa. But whatever the future holds, Chapman says she'll be happy for things "just to continue as they are now. I love every day I come into the office. I'm incredibly lucky to do this, to work with my best friend Keren and my brother. I'm proud of what we've all built."
Subscribe to discover the best kept secrets in your city