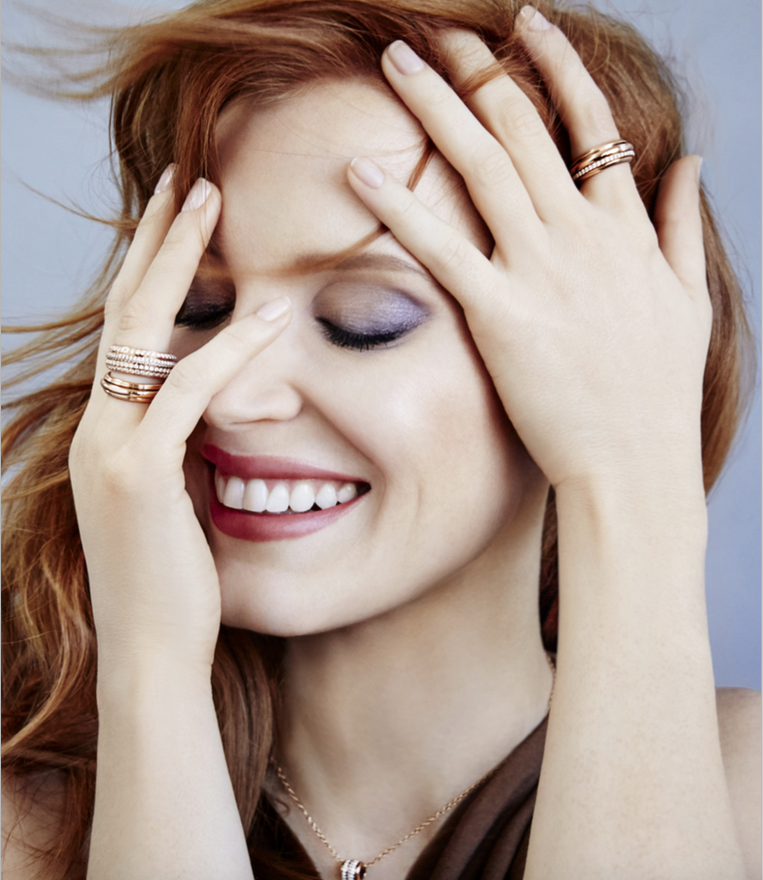 Call Jessica Chastain hopelessly old-fashioned, and she'll take it as a compliment.
"For the longest time, people would say to me that I didn't feel very modern, that I seemed from another time," the 38-year-old actress confides. We would have to agree. She is currently draped on a settee in the VIP room of Piaget's exclusive backstage lounge at the 31st annual Film Independent Spirit Awards in Santa Monica with Bette Davis-like insouciance. Thanks to her alabaster skin, titian hair and languid eyes, Chastain looks like she could have wandered off a vintage Hollywood film set. Give her a cigarette holder and you could call her Katharine Hepburn.
"I'm inspired by antiques," she continues. "I look at things that have a wink to the past, but are also reinterpreted in some way and made to feel modern…and maybe that's what I am."
It's certainly what she favors. Though she's wearing a modern outfit including a lacey blue Elie Saab gown, Roger Vivier stilettos and a stunning necklace made of 18-carat white gold set with 88 blue sapphire beads, one cushion-cut emerald, two cabochon-cut emeralds and 210 brilliant-cut white diamonds from the new Extremely Piaget collection, she has made the entire ensemble feel timeless.
"There's a throwback, or an essence of the '60s and '70s in [the Extremely Piaget] collection, and that's what I feel like—I feel like a throwback to something else, but it's not like I'm wearing something that feels like my grandmother would have worn," she admits adding, "I also love that I'm wearing a lot of gems right now, but it still feels like it's appropriate to wear [here] at the beach."
Although she's now a New Yorker after moving to Manhattan last summer, Chastain is no stranger to Santa Monica—or the Spirit Awards. She lived in the beach city for years, and is still comfortable enough there to take sunrise strolls as she did this morning on the beach, before heading over to the tented oceanfront ceremony to act as its honorary chair, present two awards (Best Male Lead and the Piaget Producers Award) and step into the shoes of Piaget's international spokesperson.
This is par for the course though. When you're a two-time Academy Award nominee (for 2011's The Help and 2012's Zero Dark Thirty, respectively) and you've been named one of the 100 most influential people in the world by Time, you're bound to be fairly busy.
Clearly, such is the case for Chastain. After enjoying what seemed like overnight success, the Julliard School graduate ruled Broadway in The Heiress, received a Golden Globe nomination and the National Board of Review Best Supporting Actress win for her 2014 drama, A Most Violent Year, starred in Interstellar, Ridley Scott's The Martian and Crimson Peak. She was also honored with the Broadcast Film Critics' Association's first-ever Critic's Choice MVP award. This year, she'll star in The Huntsman sequel, The Huntsman: Winter's War, and The Zookeeper's Wife, a project she's particularly passionate about.
The content itself is engaging—the movie is based on poet and naturalist Diane Ackerman's account of the keepers of the Warsaw Zoo, Jan and Antonina Zabinski, who helped save hundreds of people and animals during the Nazi invasion—but it's the on-set girl power that is of the utmost importance to the actress, even leading her to pen an essay on the topic for The Hollywood Reporter last year.
"It was the first time I had been on set with so many women,"she notes, referencing director Niki Caro, producers Diane Levin, Kim Zubick and Katie McNeill, screenwriter Angela Workman and Ackerman, among others, expressing that she felt appreciated and valued working among so many females in a way that male-dominated sets just can't provide. "If you're one of the only women on a set—if it's you and a bunch of men—you feel like your value doesn't come from your thoughts and your talent and what you say: your value comes from how you look and how you're perceived by the men around you."
Chastain is quick to hasten that she isn't an extremist: she isn't suggesting that Hollywood create an all-female film set, just that a little gender equality might be in order. "I'm not saying that you should have a film set where it's predominantly women, I'm just saying when you have more women and you have more balance in a situation, it's going to be a healthier experience," she notes, referencing Supreme Court Justice Ruth Bader Ginsburg's recent speech at Georgetown University about being one of only a few women on the Supreme Court. The latter said, "People ask me sometimes, when— when do you think it will be enough? When will there be enough women on the court? And my answer is when there are nine."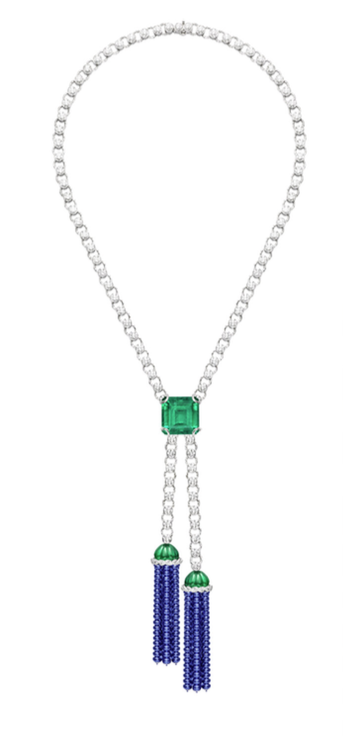 Female empowerment in entertainment is so important to Chastain that she has teamed up with Freida Pinto, Queen Latifah, Catherine Hardwicke and Juliette Binoche on We Do It Together, a non-profit that aims to create more opportunities for women in TV and film.
"I've always been interested in creating diversity in cinema," she says of her decision to join the advisory board of WDIT. "I started a production company—all female led, actually, called Freckle Films. We Do It Together contacted me a while ago and asked if I would be on the board of advisors, and I said absolutely because I think it's an incredible non-profit organization."
It's her way, along with her essay, of making a difference. "The more that people communicate about the problems that we have, the better it's going to be. That's how change happens; you can feel it percolating," she says. "You look at the Best Picture nominees from last year, and there was not one that had a female protagonist. That is so upsetting to me, because that means that every picture that they deemed worthy of a nomination was from a male point of view. This year, there are four of the seven that have female protagonists."
She allows, "I do think that the industry itself wants to change— we want diversity—and I think it had just gotten stagnant. I think the more that we shake it up, it will make a difference. I'm starting to see it."
Chastain might be starting to see a difference because women in Hollywood are stepping up. Organizations like Women In Film—a non-profit dedicated to promoting equal opportunities for women— and open discussion from influential entertainers like Chastain and Jennifer Lawrence have helped tremendously.
Chastain in particular is a fan of Lawrence's infamous 2015 "Why Do I Make Less Than My Male Co-Stars?" op-ed for Lenny Letter. "It was incredible. I loved her op-ed…and I was really disappointed after she wrote it that she got criticism. Sometimes people have that attitude where, 'You're an actress making a lot of money, how dare you complain?' We've kind of been programmed to be grateful that we've gotten this job, so don't rock the boat. I don't think that's fair. Jennifer Lawrence coming out and saying that was really important."
She reiterates a sentiment she expressed back in 2013, when she and Lawrence were both nominated for Oscars in the same category—that gals really have to stick together. "There has been a stigma out there that women don't work well together. I've never seen women like this. I remember growing up hearing this myth, that women fight when they're together and it's completely inaccurate. I've never seen it," she notes, adding, "I know also during Oscar season [2012-2013] media, because they were trying to get headlines and get clicks, were trying to fabricate a fake rivalry between Jennifer Lawrence and myself and I immediately came out and said this is a media myth that has to stop. The women I know are not like this and I cheer for women to succeed because I know when an actress succeeds that means there's going to be that many more roles for women because an audience is going to demand it."
That said, Jessica Chastain is a woman you want in your corner—and not just because she's unafraid to vocalize her need for women's rights. She's also someone who will always have your back if you're lucky enough to have her call you a true friend. "I'm incredibly loyal; very, very, very loyal. I have a very small group of friends, and I'm like the Mama Bear. I'm very protective," she admits.
This self-proclaimed homebody will jump at the chance to have friends over or throw a dinner party. "My favorite thing is to have a community and be home," she says. "Because of my job, I travel a lot. I meet so many people and it's so much fun and I learn a lot about different societies and cultures, but when I'm home I just want to rest up."
That means you're never going to see her hitting the party girl circuit—it's not her thing, personally or professionally. "Most people think of actresses as liking to go out and party and get wild, and I'd say I'm not that. I'm very contained and quiet, so that I can put my chaos on the screen," she says with a throaty laugh, looking every inch the movie star, every inch the Oscar nominee, every inch the embodiment of the Piaget brand that she truly is. "I save up my energy in my personal life. I live the most simple, beautiful life and that way, when I'm on stage, I can be crazy."
Subscribe to discover the best kept secrets in your city