When Tudors actress Gabrielle Anwar recently wed restaurateur Shareef Malnik, it was a wedding for the ages, captured in the pages of not only Haute Living, but reported by People, The Daily Mail and The New York Post's Page Six. It was a prairie-themed western affair straight out of the 1800s, which captured the imagination of those who were invited—as well as those who weren't.
Anwar searched high and low for just the right prairie, fancying one with a river running through it. Setting such a beautiful stage befits the actress who first drew attention on the big screen riding horses in Wild Hearts Can't be Broken, tangoing with Al Pacino in Scent of a Woman, as Henry VIII's sister in The Tudors, and finally, in Burn Notice, filmed in Miami.
"I have been collecting Victorian vintage clothing for many years and I thought this would be a wonderful chance to wear them." Of course, the moment Anwar started dancing in her vintage lace ensemble at the reception, it proceeded to fall apart. "I guess it wasn't meant to be around longer than that special day," she says acceptingly. The affair stretched out over three days with whimsical highlights like the release of 80 wild horses after the groom kissed the bride. The romantic overtures and programming that included events like High Tea with Love Poems, "Downward Cow" yoga with Gabrielle and "Shareef's Last Wild Ride" shouldn't surprise anyone who has witnessed Gabrielle and Shareef at their InterContinental Miami Make-A-Wish Ball. Each year the duo tops themselves with a memorable on-stage performance (one-year videoing a ballet performance, tights and all, and another with Malnik making his entrance by emerging from under her voluminous skirt.) Anwar has emceed the ball for four years to spectacular effect eliciting higher and higher donations each year. 2015's ball raised $2.5 million, a number with which Anwar says she is not quite satisfied. "The pockets are deeper in that room,"she quips. Still,she is quite happy to remove her Louboutins at the end of the night and go over the numbers with Malnik, knowing that it "directly translates to how many sick children will get a dose of joy."
Anwar has other causes as well, many of them animal-related. "I support the welfare of animals because I believe they suffer immense cruelty at the hands of mankind," explains the actress. So she gives to the ASPCA and an animal sanctuary called Best Friends, based in Utah. "One of my pipe dreams is to have one of those sanctuaries myself. I'm always browsing for a big property where I can have every single mistreated animal on the planet join me."
Her compulsion to protect animals runs deep. So deep, in fact, that she believes in helping children become healthy, stable adults so they will in turn stop the cycle of cruelty. On the day we speak, Anwar is packing for a trip to Budapest, Hungary where she will film an interview with the 85-year-old daughter of author Emmi Pikler. Pikler was a famous Hungarian pediatrician who ran an orphanage during World War II. "She was inundated with orphans who were terrorized by the war, so she created a system that would prevent these children from becoming mentally and physically ill." Anwar will also be visiting the famous orphanage and interviewing older adults who grew up with Pikler's method. She also employed it herself on her own children, Willow, Paisley, and Hugo. "It's the most beautiful and simple child raising philosophy that I have ever read. It breaks it down into very straightforward beliefs of respect and love that changed not just how I related to my child, but everyone in my life." Another reason the actress likes it is that it allows children to find self-esteem from within, without relying on external stimulation. "I think that is part of the problem we have as adults. We constantly look outside ourselves to feel good and to find ourselves.This doesn't work." Pickler's teaching of respect has another added benefit, Anwar believes, changing the way the next generation treats animals. This may be a more effective solution than crusading to change people who are already set in their ways, she says.
Upon Anwar's return, she will be honored as a "Woman of Substance and Style" alongside Cynthia Boich, Kristin Ducote, Kristin Lazenby, and others at Destination Fashion, which raises funds for The Buoniconti Fund to Cure Paralysis. "I was asked by the Sayfies and how could I refuse," explains Anwar. "It's an honor, but I'm among some pretty serious pillars of Miami society, so I might need to step things up a notch," she says with a laugh.
Although she is among the society, it does not mean she wants to live like a society dame. After all, this is the same woman who has famously been wearing the same Jaeger Lecoultre "Reverso" for almost 20 years. "I really don't have time to worry about matching my watch to my outfits, and this piece works with everything I own," she says. It also worked with her character on Burn Notice, Fiona Glenanne's wardrobe as Anwar famously wore the timepiece on every single episode. Malnik encourages her to splurge a little more on herself. "This is the first relationship I've had where my partner has said to me, 'You've worked hard since you were a child. Why don't you relax, take some tennis lessons or something.' At first I thought 'Wow, this can be a whole new me! I can do nails now, get my hair colored every three weeks, heck every two weeks…" And the more I started to think about it, the more I thought that that life wasn't going to cut it. I realized that would be a little slice of hell for me."
Indeed, Anwar has inherited what she says is her father's inexhaustible appetite for creating and participating. Given that her father is Tariq Anwar, a famous film editor with movies like American Beauty and The King's Speech, for which he was nominated for a film editing Oscar. This might also explain her latest foray, which is a documentary about female sexuality called Sexology. It's a passion project she is working on with friend and fellow British actress, Catherine Oxenberg. "We are about to revolutionize sex," says Anwar, who spent the better part of the year traveling the globe meeting with medical doctors, healers and professors to learn more about the extremities of "female pleasure."
"Women tend to live from the neck up—very disconnected from our bodies," she says. "Women are so shut down, and usually have been since the first time a man looked at us when we were four years old and it felt creepy. We start body armoring." In a word— she learned how to take the armor off and achieve deep relaxation. "It can take a woman as much as eight hours to get out of her head and into her body."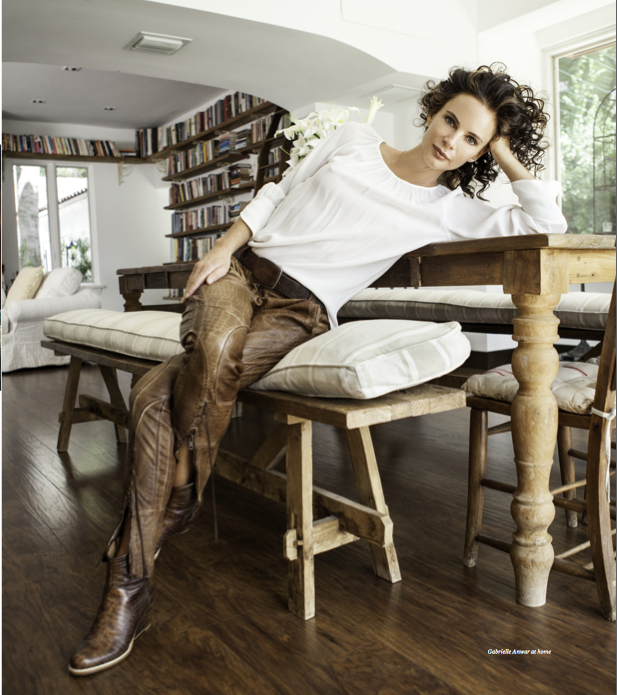 Anwar explains that at first she was hesitant to show herself talking about the racy subject matter. "Nobody wants to air their dirty laundry," she says, but after speaking with documentary filmmakers who advised her to make it an experiential journey and not simply a "talking heads" documentary, she swallowed her pride and got in front of the camera along with Oxenberg. The journey began back when she was filming the final season of Burn Notice and she begged Oxenberg to wait for her to finish before visiting certain healers. But alas, Oxenberg didn't want to wait one minute more, saying she needed help to save her marriage. It worked and Catherine returned to the best healers with Anwar to make discoveries together—sometimes dragging along now-husband Shareef Malnik. "It's a real testament to him as a man that he did this with me," says Anwar. But the result was mutually beneficial.
"There are extreme degrees of pleasure women can achieve, a sort of oceanic, expanding experience that continues 24 hours a day. It's a women's birthright to unlock it." And unlock it she did. "I went from being very sexually unsatisfied with a very upset partner, to being fully orgasmic to the point where if Shareef just touches my neck, I go into bliss."
The techniques that Anwar and Oxenberg discovered will be discussed not only in the documentary, but also shared in detail on a subscription-based website they will launch as a companion to the documentary.
If that weren't spicy enough, Anwar says she is also working on an erotic film featuring real couples, a world away from traditional "porn."
All this exploration has led to a stronger union between the newlyweds – something that hasn't gone unnoticed for those around them. "I have to say, one of the amazing things is that we feel capable of anything when we are together," says Anwar of her marriage. "We fuel each other in a positive way, and it's addicting. But it's a compulsion that drives us to do great things and try to make this [life] better for not just us, but for our children, family, extended family, friends, and finally the community."