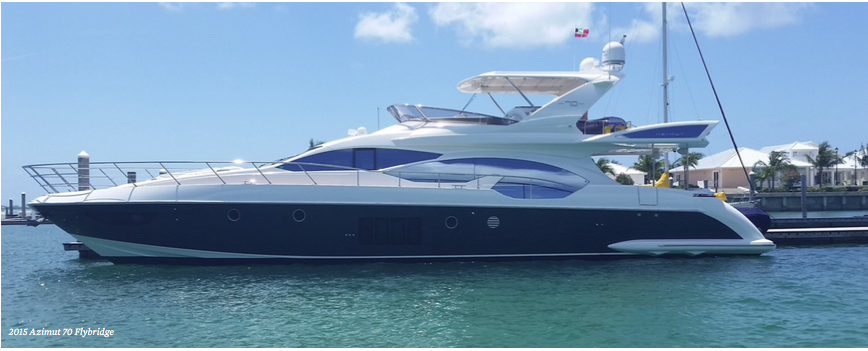 45 years of yachting and a perfect attendance record at The Miami Boat Show since the 1970s has rendered Attorney Robert Zarco something of an expert in watercraft. Having owned more than 25 boats, and currently the owner of no less than five, Zarco knows his stuff. He hits the water every single weekend in luxury yachts, racing boats or fishing boats. What's more, he's turning his longtime love of boats into a new area of expertise in his law practice: Zarco, Einhorn, Salkowski & Brito. He now does yacht construction defect litigation against major yacht and engine manufactures in addition to his focus on franchise, hospitality and dealership business litigation practice.
Tell me about them –What make and model is each boat?
I have a 2015 Azimut 70' Flybridge, a 2014 25' Sea Hunt Open Fisherman,
a 2010 Formula 400 SS Sport Cruiser, a 2016 Boston Whaler 35' Outrage with triple Mercury Verado engines, and a 2008 Formula 35' 1000-hp FAStech cigarette-type.
Do you ever race the Formula 353?
Yeah, I was actually the pace boat for the Sunny Isles super offshore race about five years ago. I almost got killed in that event though! The Popeye's boat lost control and almost ran me over and cut me in half. It was going 140 miles-per-hour. It missed me by 10 feet. It still was a beautiful and exciting day.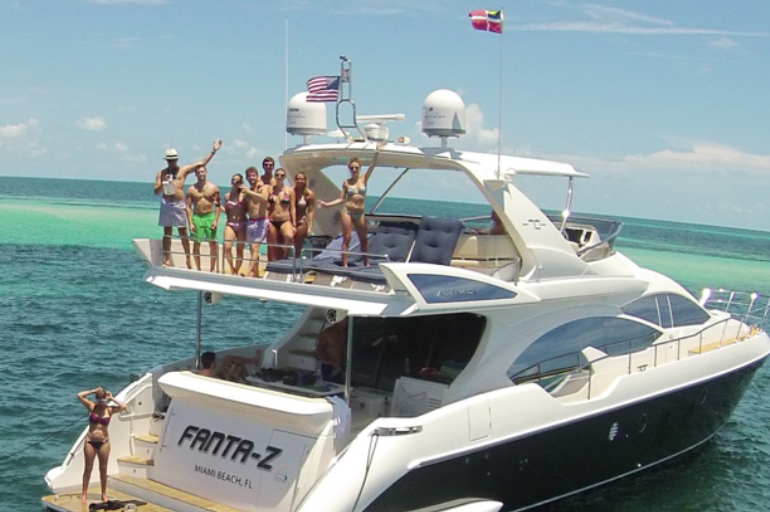 What do you like to fish for if you're using your boats?
I like anything that gives me a big fight. Actually…. anything that I can catch.
I'm not a major fisherman, but my Boston Whaler and the captain are going to teach me where the best fishing spots are to hopefully catch some sailfish, tuna, wahoo and dolphin not far from here.
You have owned a few Azimuts. Is that your favorite brand of watercraft?
Yes, Azimut is my favorite brand of watercraft for large vessel cruising. I have previously owned two others and plan to get a larger 84-footer in the near future. Formula is my favorite watercraft for smaller pleasure cruising.
What is it about the Azimut that you really like?
I am very, very fond of the company. I had the opportunity to visit them in Italy at the factory and found the executive and management team to be professional and accommodating in satisfying my needs.
I think the Italian designers don't just do form over substance, which happens with a lot of boats. Then there are a lot of boats that do substance over form. They pack a lot of features in the boat, but when you look at it from the outside, you have a floating box. The Italians design from the outside in. When they design the interiors, they keep the exterior lines in mind.
With Azimut, you have a combination of sexy design with efficient interiors that give you substantial space and interior comfort which provide you with the necessary comforts of your home. The 70 Azimut has 4 bedrooms, 5 bathrooms, captain and first mates quarters. Really though, Azimuts have one of the sexiest and sleekest designs made by Italian boat manufacturers that I've ever seen.
Do you attend the Miami Beach Boat Show every year?
I am more religious about going to the Miami Boat Show than I am about going to sleep and waking up every night, or going to temple, or going to work. I have never missed a boat show in probably the last 45 years, and I started going in 1970.
I got my first boat when I was 14 years old. It was a very high speed, 15-foot Action Marine low profile speedboat with a 150-hp Mercury engine that went 65 miles per hour.
How many captains do you have for all these boats?
Until recently, I've never had a captain. I like to run my own boats. I do have maintenance people who help keep the boats in great condition. And then I have a mechanic that comes once a week to keep all systems operating smoothly. Even though my hobby is being a mechanic, I still have a full-time job! It helps that I understand engines, fiberglass, everything associated with running and fixing a boat. So now, I have a full time captain who maintains the boats and drives while I am tending to my family and guests. But when I am not tending to company, I drive the boat myself. I am always the one who pulls it in and out of the dock and does anything that's difficult—that's what I enjoy doing the most.
Sounds like you have another niche in the law?
The franchise and hospitality niche has become second nature for me, so this is an exciting and fun area of law which I really understand and enjoy. I am representing a number of boat and yacht owners in negotiating purchase contracts, the construction, and design of major vessels including litigation. It helps my cases for me to have firsthand knowledge of the design of the interior, the propulsion system, the electrical systems, the plumbing systems, the stabilizing systems, etc.
What else is great about owning these yachts?
The nicest and biggest reward of owning these boats are the friendships I have built through this hobby. I have developed a wonderful group of friends with interests that so complement mine. I have met the Azimut family, I have met the Marine Max family, I have met the Benetti yacht family, and frankly those relationships that we have built actually bring us closer together through our boats.
Where do you like to take your boats?
There are many. Bimini, the Bahamas and Key West are favorites. I love to go to Paradise Island, Atlantis. Closer by, I go to the Boca Raton Hotel & Club, Ocean Reef, Hawks Cay, and Elliott Key. I spend a lot of time with my family and friends onboard and I think boating brings a great balance to the extraordinary amount of time that I spend working as a lawyer. That said, I do work a lot from my WiFi equipped Azimut 70. It inspires creative legal arguments. And, I have a yearly office party for my staff on board. It's important to share our firm's success with all who made it possible.
Subscribe to discover the best kept secrets in your city