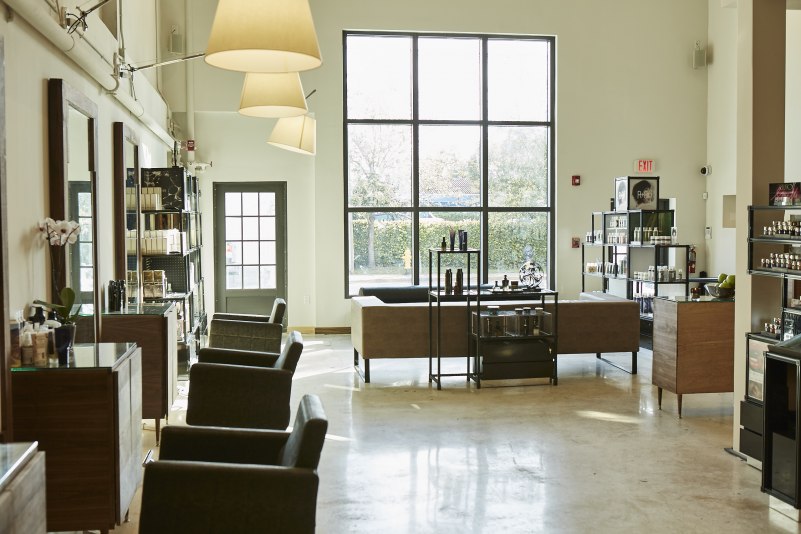 Celebrity stylist and photographer, Sheenon Olson, along with partner Ana Lessa, has opened Atma Beauty Salon in Sunset Harbour. Atma introduces a new level of luxury to the modern day salon by focusing on both outer and inner beauty and offering an upscale salon experience in an intimate and welcoming setting. The lofty, minimalist salon brings an unexpected New York feel to Miami. "This is where all the locals are going. Lincoln Road has become the Santa Monica promenade, it's for tourists," Olson explained.
The 7,000 square-foot sunlit space with its 30-foot ceilings is chic, yet comfortable with inviting sofas and a friendly resident Chihuahua. It's the kind of place that makes one want to linger with a glass of wine or cup of coffee. "We have thoughtfully designed the salon to create the most pampering beauty experience possible. Atma isn't only a salon. It's a personification of all my passions — beauty, photography, makeup, and style — under one roof," said Olson. The salon offers services by both local and traveling stylists, colorists and beauty experts that are all pros in their fields. Services include color, styling, spray tans by Fabiola Trujillo's SoBe Tan, nails, Keratin straightener, extensions, makeup, and very soon, Botox.
In addition to providing top-notch services, Atma uses products that are free of harmful chemicals and the salon itself is part of Green Circle Salons, meaning they recycle everything — including human hair that can be used to clean up an oil spill. Although they are conscious of chemicals, the products look and smell beautiful. "One of the things that people love about [the products] is the aromas. To do this, they went to a serious perfume house to create a scent for the line," said Olson.
Olson, who is known for working with several A-List celebrities, including Alessandra Ambrosia and Elizabeth Olson, brings his countless years of experience from working with world-renowned publications, such as Marie Claire, Nylon and Vogue. He is also up to date on all the latest hair trends, including the au-natural "California beach wave" look that is so hot in Los Angeles, where Olson lived most recently. "Everybody wants their hair to be perfectly undone, but then they are walking out with the Fendi bag or the Hermes bag."
Atma also has a photo studio in its sprawling loft, offering editorial and personal photography.
Subscribe to discover the best kept secrets in your city