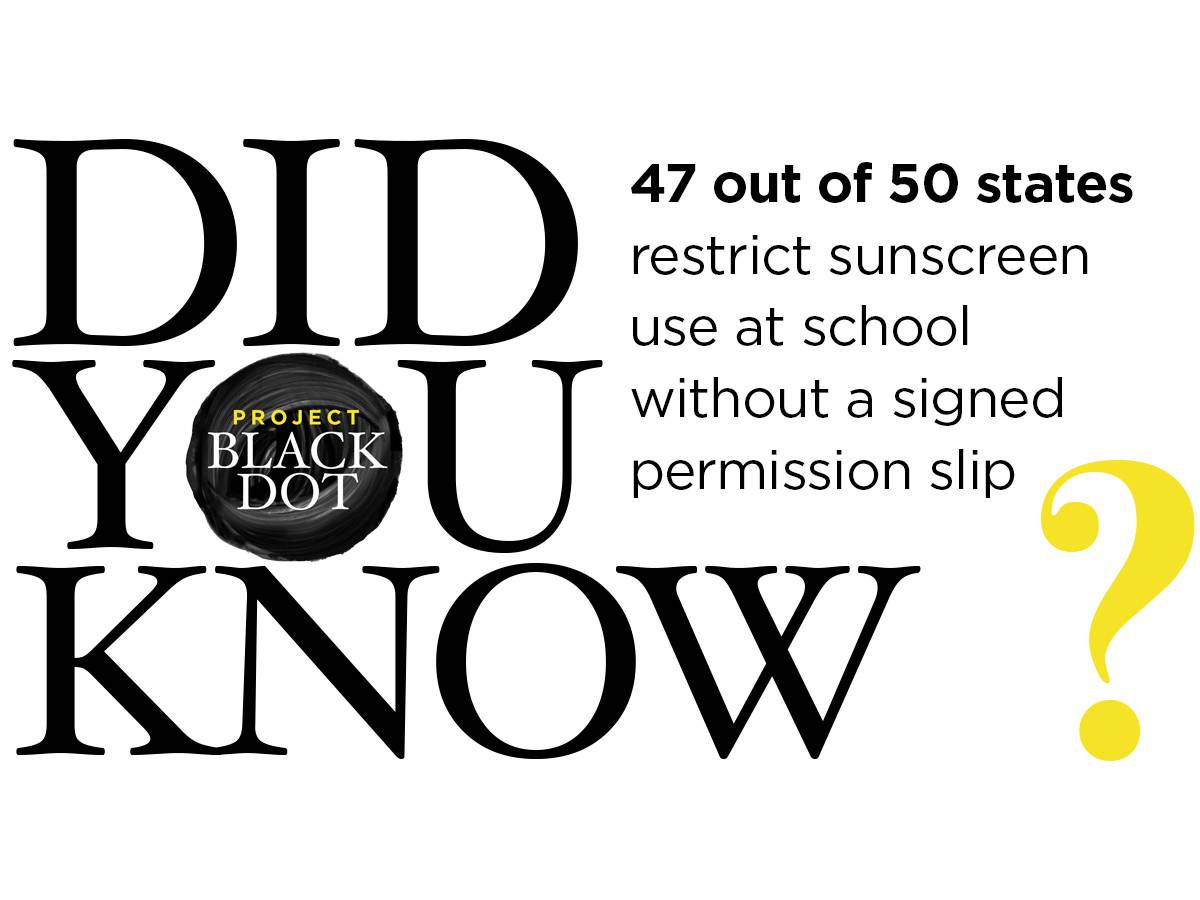 I became involved with SUPERGOOP! out of a sheer personal love of its products. But, since joining the suncare brand a year-and-a-half ago, I've learned some alarming statistics and information that has not only changed my own personal awareness, but has made me a passionate advocate for sharing the message of sun safety.
Last July, the U.S. Surgeon General declared skin cancer as a national health concern, and pointed to sunburns during childhood as a clear risk factor for skin cancer later in life. But, did you know, currently  47 out of 50 states restrict sunscreen use in public schools? Because the FDA regulates sunscreen as an over the counter (OTC) drug, your child cannot use or bring sunscreen to school without a signed permission slip.
As a child, I spent countless hours in the sun practicing tennis, and taking precautions with sunscreen. I just assumed this healthy habit was one that all children were exposed to—but I've quickly learned that's just not the case.
For this reason, SUPERGOOP! Founder and CEO Holly Thaggard and I are launching Project BlackDot.org, an education and activism platform with the singular mission to end the epidemic of skin cancer. My first project? Project Permission: A simple, easy way to give your child the right to carry and use sunscreen in school.
Unfortunately, one in five Americans will be diagnosed with skin cancer in his or her lifetime. It is one of the few cancers that is primarily preventable, and yet, we are not supplying our children with what they need in order to protect their skin at school.
To gain some better insight into this epidemic and what can be done about it, I thought I would turn the tables and personally interview suncare visionary Holly Thaggard, SUPERGOOP! Founder and CEO.
How did you even discover that sunscreen is not only disapproved of by schools, but that it's legally forbidden?
Actually, sunscreen isn't legally forbidden, but rather, it's that it is regulated as an over-the-counter drug. OTC drugs must be accompanied by a signed permission slip or [a] doctor's note in order for a child to take or use them at school. Many parents are not aware of this, and in most public schools, it's not a standard that comes as part of the necessary back-to-school onboarding documents. I personally found this out when my daughter Emery came home a few years ago with a note in her backpack. The kids were going on a field trip to a local state park the next day, and this note said in bold text, "Be sure to apply sunscreen in the morning [before school]. Any sunscreen found in your child's possession will be discarded." Let's just say, this certainly ignited my passion for sun safety and the need to spread the message of sun education through SUPERGOOP!
How do you feel sunscreen education can be improved for young school children?
First, parents must be role models, and encourage sun protection use as a daily healthy habit at home. Just like teaching your child to brush [his or] her teeth, or [to] wear a seat belt, suncare should be a part of the standard, daily healthy habits. The lesson then needs to be reinforced at school with coaches and teachers encouraging kids to reapply before heading out to recess or afternoon sports. Suncare is really a simple step in a daily routine. Awareness and importance just needs to be brought [in] to it.
As a parent, do you see changes in the way kids today take more precaution in the sun? Is the level of understanding shifting?
Yes. When I was a child, my own parents did not realize the long-term effects of sunburn, and they really didn't consider incidental daily sun damage to be harmful. Today, parents are much [savvier] in understanding how important it is to protect their children from sunburns, but unfortunately, few understand [the damage of daily incidentals.
We're working hard to get parents to sign permission slips for their children. Can you share the next steps in our journey?
Yes, our goal is to give the right to sun safety to every child in America. To date, there are only three states in the U.S. (California, Oregon and Texas) that openly allow sunscreen at school without a permission slip. All too often, we hear stories in the news of children coming home from school with blistering sunburns. Why should something that is a proven tool for skin cancer prevention be restricted? By encouraging every parent to sign a permission slip for his or her child, our hope is that we raise awareness of this antiquated regulation, and build a groundswell of vocal parents that champion change in their local school districts and state legislatures.
What evidence is there to support that the changing of this legislation will create healthier adults with less chance of skin cancer?
Australia is an amazing model and [a] proof point for change. In 1988, [there was a] countrywide, multi-component intervention called SunSmart, which was designed to raise awareness of the need for sun protection, [encourage a] change in personal behavior and to influence institutional policy and practices. Much like the U.S., Australia's rates of skin cancer at the time were seriously escalating. Through campaigns like "slip, slop, slap" which taught children that they must slip on a long-sleeved shirt, slop on sunscreen and slap on a hat before they could play outside, Australia is now seeing rates of basal cell and squamous cell carcinoma taper off in people younger than 45 years old, and what were once increasing rates of melanoma have now stabilized.
Subscribe to discover the best kept secrets in your city