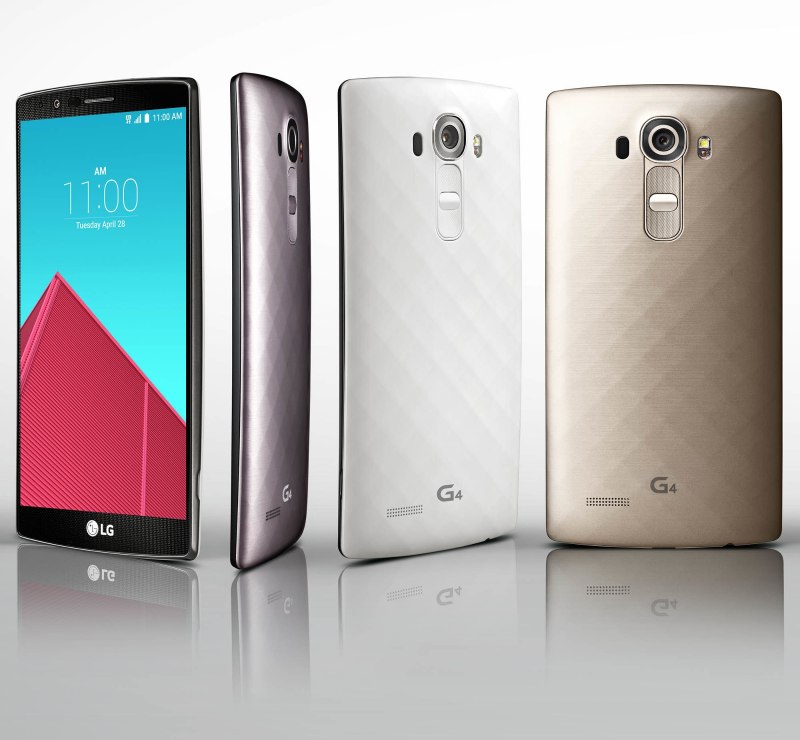 Haute Living had the opportunity to test LG Electronics' flagship mobile phone, the LG G4. For a little more than two months, we enjoyed one of—if not—the most durable battery and amazing camera available on a smartphone.
Upon arrival, we were first taken aback by how big and sturdy the phone was. We were quite concerned about the phone's dimension, as it is bigger than any other device we've used. However, we quickly overcame our concern within days of playing with our new gadget.
While the phone is indeed bigger, it remains chic and fashion-forward. The LG G4 is available in genuine full-grain leather in six. The company used a meticulous tanning process, which is an age-old tradition that requires skilled craftsmen to produce and dye the leather. The colors of the leather on the G4 are rich with warm tones that look authentic and change over time. If leather is not your thing, you have the option to choose from Ceramic White with 3D patterns, artisan-forged Metallic Gray and Gold.
Of course, in the social media era we now reside in, the second things we noticed is the significant difference in the device's camera. The LG G4's camera features a 16MP to capture beautiful images, even under less than ideal lighting conditions. The camera module toutes a wide F1.8 aperture lens that allows 80 percent more light to reach the sensor over it prior device, the LG G3. The company also improved low-light performance even further with OIS 2.0, which doubles the performance of the improved OIS+ by expanding the range of image stabilization from one degree to two degrees on the X- and Y-axis and adding a third axis for the first time. If this means nothing to you, which we're sure it may not, think of it this way: it's only two megapixel short of what a Canon EOS Rebel DSLR camera offers. In Laymen's Terms, it's, quite frankly, the most outstanding, first-rate camera available to consumers on a smartphone. Additionally, in the selfie era, the front camera features an industry-leading 8MP. It is also one of the first mobile devices to offer a flash for the selfie aficionado.
All right, all right, you get the point—the LG G4 trumps all mobile devices when it comes to photography.
Moving on to how efficient the phone is in general. As writers and editors on the go, we were super excited to see Google Office comes pre-installed, which provided us the ability to seamlessly edit and upload documents to our Google drive. The device is able to quickly upload a multitude of images or files to the Google drive in less than 10 minutes, dependent on one's service provider or Wi-Fi. Even better, G4 owners will receive an additional 100GB of Google Drive storage free for two years.
A better camera as well as the ability to work via one's smartphone does not come at the expense of battery life. The LG G4 is equipped with a high-capacity 3,000mAh removable battery, a rare feature in today's high-end smartphones. LG G4 has no trouble getting through a full day of normal use, we should know tested it as far it would last.
LG Electronics even upped the ante with the phone's notification. On rainy days expect cute reminders like, "Make sure to take an umbrella on your way to the subway." Other cool perks include:
An added Memories feature, which automatically organize photos and videos into event albums based on the time and place they were taken, without having to upload to the cloud.
Event Pocket allows users to create one, unified calendar by dragging and dropping appointments and activities from multiple calendars and social media sites. After the initial setup, there's no need to log into multiple calendars.
Quick Help allows users to search for instant answers to any questions about operating the LG G4, right in the Smart Notice widget. Quick Help can guide users through the LG G4's settings and even schedule a call with customer service.
Using your smartphone as a WIFI hotspot.
Of course, to make the most of a smartphone one should consider the following apps:
FlyCleaners
FlyCleaners provide on-demand pick-up and delivery service in as little as 20 minutes. What's more is they are respectful of your busy schedule. They are open from 6 a.m. to midnight every day of the week. All you do is sign up, have them pickup, clean and deliver it back to you at your convenience. Magic.
Rekky 
Rekky is a new mobile platform that offers users insights into the trendiest places from the people whose tastes and interests they know and trust. It includes carefully handpicked lists from influential tastemakers as well as prominent personalities like DJ Harley Viera-Newton, downtown New York City chef Camille Becerra, creative collective The Misshapes (Leigh Lezark and Geordon Nicol) and stylish foodies Danielle and Laura Kosann (The New Potato).
Secret Escapes
Users can search and book unbelievable luxury hotels for their most memorable holiday yet. They call it hotels to go. Secret Escapes also has exclusive flash sales.
Hello Alfred
This "butler app" essentially handles everything you don't want to. Hello Alfred can anticipate all your needs, from dry-cleaning, laundry, groceries, cobbler, tailor, packages, pharmacy, and even make donations to your favorite charity.
Photo courtesy of LG