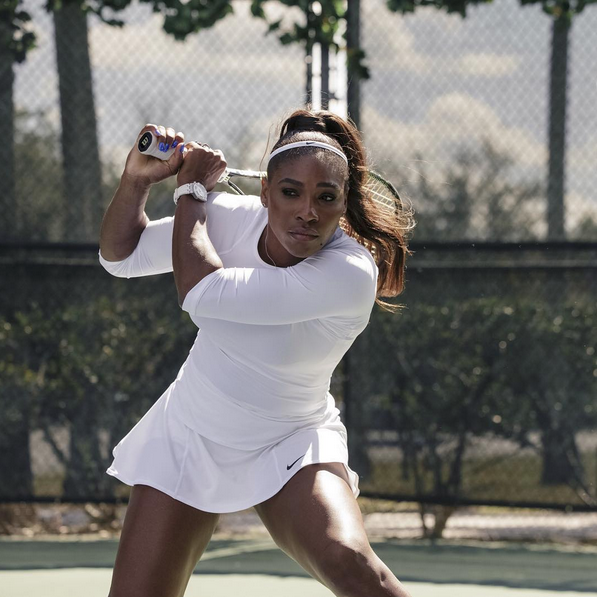 This has been an amazing year for Serena Williams. She has won a number of games including her sixth Wimbledon finals. As she competes for another US Open title as well as a calendar-year grand slam, in the same week, Beats by Dre as well as Gatorade has released new campaigns featuring the 33-year-old.
In the Beats by Dre commercial titled "Serena Williams: Rise," the athlete is seen rising in the wee hours. Williams straps on her iWatch, while heading to the kitchen. As she waits for the kettle to signal the water is hot and ready, the athlete listens to newscasters in the background discussing her techniques. Finally her iWatch signals it's time for her run. Williams grabs her in-ear Beats by Dre headphones and head out for a morning run to clear her head. She signals to her wrist device to play Beats 1 Radio, which happens to broadcast soulful singer Andra Day's "Rise Up."
Throughout the 33-year-old's run, viewers take a walk down memory lane and, once again, witness the highs and lows of Williams career. During the three-minute video, Day belt the lyrics, perfectly fitting. She sings, "And I'll rise up, I'll rise like the day. I'll rise up, I'll rise unafraid. I'll rise up, and I'll do it a thousand times again."
Gatorade on the other hand, commences its campaign with footage of a young Williams. In the video titled "Unmatched," a reporter is heard asking the adolescent Williams, "If you were a tennis player who would you like to be?" The video then takes viewers through Williams career as she breaks out from the shadow of older sister Venus. It flashes back to the original footage, where Williams answers the reporter's question. She says, "Well, I would like other people to be like me." Gatorade then concludes the commercial with the tagline, "Win From Within."
In addition, the sports drink company has opted to celebrate Williams with a number of murals in Brooklyn, N.Y. Gatorade commissioned artists from around the world to create 21 pieces of art to commemorate each of Williams' major wins. Dubbed "Serena 21," the pieces were hand painted on a 13′ x 90′ outdoor wall in Williamsburg.
Check out the murals below.
Watch the commercials below.


Featured photo via Instagram