'The mission of the Burning Man organization is to facilitate and extend the culture that has issued from the Burning Man event into the larger world.' Every year at the end of summer Black Rock City takes form. Almost everything inside this magical place is created entirely by its citizens, including the incredible artwork.
'Reflection' by Lorna Jackson


What happens in Burning Man stays in Lorna Jackson's artwork. 'Reflection' is an installation designed to provide people a place to share their inner most secrets and confessions. The work gives participants the option to tell their stories face to face or anonymously with strangers through the pavilions private screens. The design aesthetic stems from the beautiful workings of origami. Although it is stunning on its own, the piece would not be complete with out the engagement of people. In sharing their secrets, participants create a unique place where the ideals of trust and sharing are expressed in a pure form.
'Compound Eye/I' by Kirsten Berg


Kirsten Berg is a Californian contemporary artist creating one of the coolest Burning Man installations this year. Her piece, 'Compound Eye/I' is meant to portray the idea that the human eye is an instrument of reflection and 'I' is the object of reflection. This is done with the use of mirrored spheres, which place you in the middle of each reflective lens. As you step back, your image overlaps with everyone else's creating a bigger picture literally and conceptually. Each mirror is meant to be a lens, making viewers feel as if they are being watched or followed as they circle around the artwork. 'Compound Eye/I' stands 18 ft. tall and has a powerful aesthetic that will ignite your imagination.
'Tree of Transformation' by Nick Geurts


In the middle of the dessert, exists one tree livened by the power of music. 'The Tree of Transformation' stems out of a full-size piano and reaches a height of nearly 20 ft. The piano not only acts as the root of the tree, but as a tool to make it come alive. When a piano key is pressed it causes the nine steelpans at the end of the tree's branches to play the corresponding note. The trunk and branches of the tree take form through the twisting of a steel pipe. The installation is as impressive at night as it is during the day. The piano is illuminated by a small lamp, however when a note is played a high intensity white led light flashes, lighting up each branch and pan in a sequence according to the notes played. It is a beautifully interactive and eye-catching artwork.
'Giant Kaleidoscope' by David Abraham + David Fradkin


We all remember the kaleidoscope, that trippy toy you had as a kid. This year Burning Man residents will be able to experience an enlarged, eleven-foot-long version of the classic childhood toy. The Canadian artist duo David Abraham and David Fradkin want to give you the same feeling of wonder you had as a kid looking through a kaleidoscope. Rather than colorful beads you will see a mirage of humans, including yourself. 'Giant Kaleidoscope' manually spins within a cradle that you can even climb into. It is an interactive installation that offers a true form of escapism and an interesting way to see yourself in a new perspective.
'Arbour' by Josh Haywood


For many Burning Man can be a religious experience. The 'Arbour' installation feeds into that feeling as it creates the illusion of a forest as a cathedral. Yes, in the middle of the dessert. Those who are lucky enough to participate in 'Arbour' will be less of an audience and more of a congregation. The artist, Josh Haywood, intends for people to respond to the architecture by forming their own distinct rituals and ceremonies. The artwork itself was inspired by forms found in medieval vaulting. Its beautiful rib-like structure lead the eyes upwards with the purpose of elevating the spirit. It resembles a holy place in every sense of its design, creating architecture that has a spiritual function at its core.
'Temple of Promise' by the Dreamers Guild


With an opening that stands 97 ft. high, it is hard not to be impressed by the 'Temple of Promise.' The mission behind this work is focused on the journey people take when they come to Black Rock City. It is meant to support and enrich this journey through its very existence. The entrance is designed to be inviting and draw you in deeper, leading you through a transformative path that ends in a group of weeping willow trees. This incredible piece is built by a collective of artists called the Dreamers Guild. They are builders, caretakers, dreamers and artists who have joined forces to bring you this inspirational aspect of your Burning Man journey.
'Life Cube Project' by Scott Cohen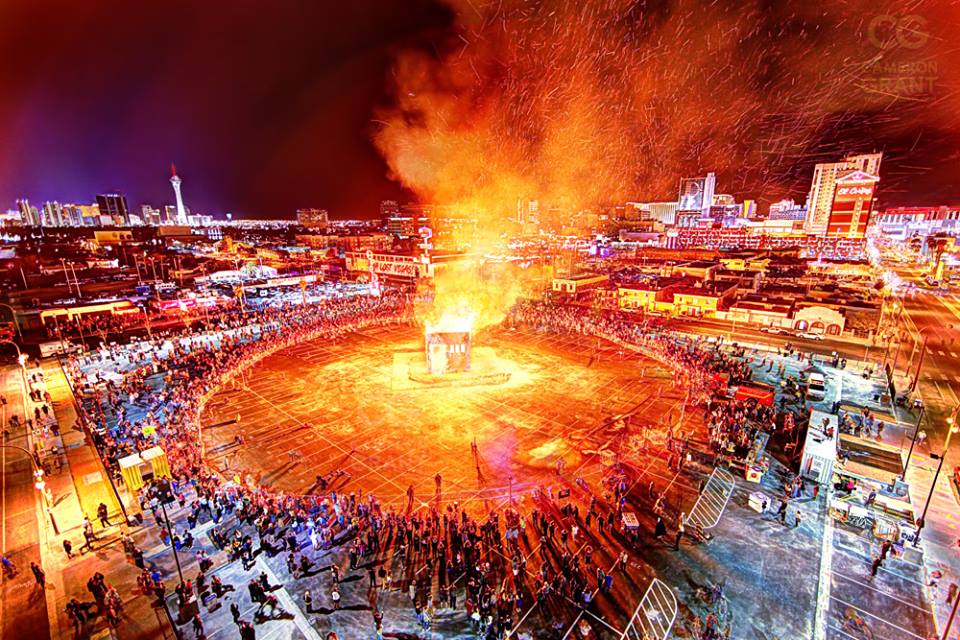 When you go to Rome, you will likely visit the Trevi Fountain and throw a penny inside. This is all in hopes of having that one special wish come true. The 'Life Cube Project' has recreated this idea through their highly personal artwork. Citizens of Black Rock City are asked to inscribe their wishes, goals and dreams onto message-walls and wish-stick postcards that are then deposited into the 'cube.' The structure features a 24 ft. high design equipped with stairs, pillars, mirrors, posts and places for people to climb and hang out. At the end of Burning Man this inspiring artwork is set on fire, sending every wish out in to the universe together. It is truly a once in a lifetime experience.
Subscribe to discover the best kept secrets in your city