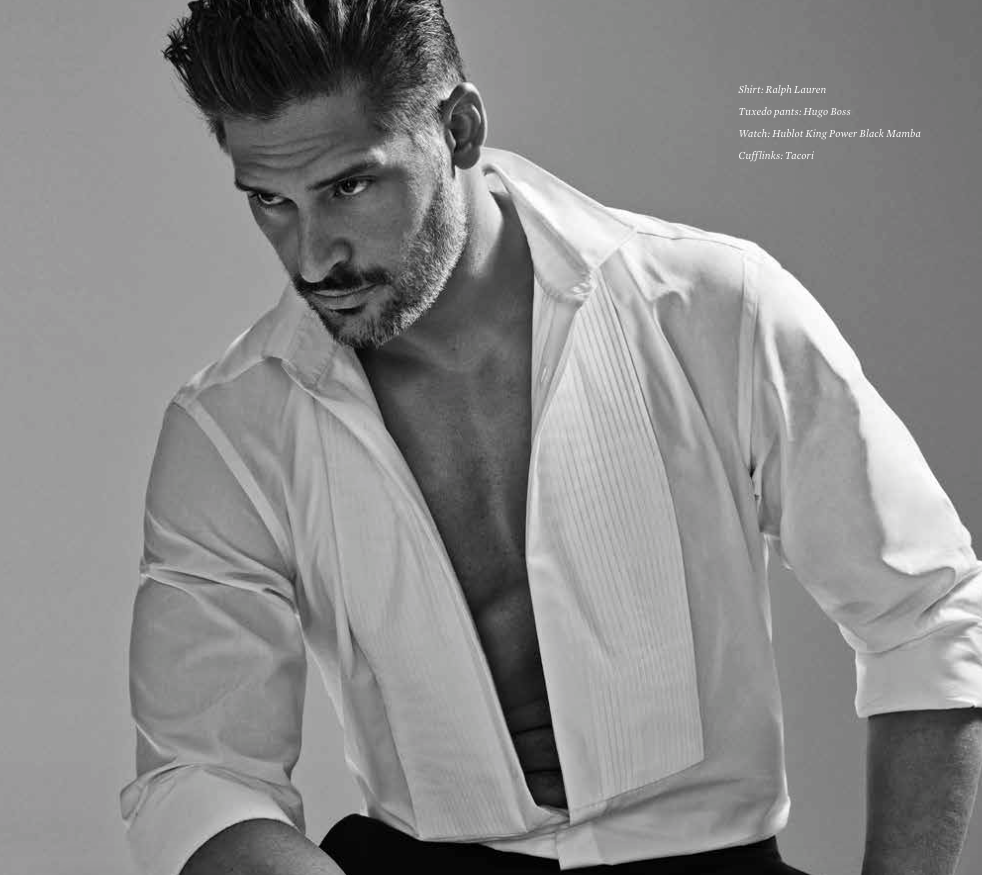 photographed by Nino Munoz
stylist Bruno Lima 
grooming by Mira Chai Hyde
When you look at the muscular, chiseled Joe Manganiello, a man who has easily played both a blue collar construction worker-turned-werewolf on HBO's True Blood and a male stripper in the upcoming Magic Mike XXL, you might be surprised to learn that he grew up in an affluent neighborhood, attended the esteemed Carnegie Mellon School of Drama and is so cerebral that he once competed in—yes, it's true—chess tournaments.
At an acting class he once attended, he was made to sit in the middle of the room while his peers yelled out their first impressions of him. "I got 'Rides a motorcycle!' and 'Drinks beer!' and 'Gets into bar fights!' and 'Has a vintage car he works on his yard!' and 'Took three girls to prom!' None of it was right," he notes.
The truth is much, much different. "I don't have a motorcycle, I don't drink, I didn't go to my prom: I went to go see Blade Runner instead. I said 'To hell with it'; I thought it was stupid and didn't go. I don't work on a vintage car. The moral of the story is that you don't have to be any of that, but if you want to work in this business, you need to learn how to play it."
He was so good at pretending that his True Blood co-star Anna Paquin asked him if he had grown up on a farm—well into their second season of working together. The truth is that he's from the tony Pennsylvania town of Mt. Lebanon, which he refers to as "the 90210 of Pittsburgh."
"I play male strippers; I play construction worker were- wolves, but that's not who I am," he says, adding, "I'm flattered when people think of me as a meathead. I loved Robert De Niro growing up and [his characters] Jake LaMotta and Travis Bickle [of Raging Bull and Taxi Driver, respectively] are not wickedly intelligent characters, but I'll tell you what: De Niro is a wickedly intelligent guy. It takes a very smart man to play dumb. I think who I play onscreen and who I am in my real life are very different."
So who is Joe Manganiello, really? "I'm curious about things; I'm part artist, part athlete. I try not to define myself. I try not to put labels on things, and I don't label other people either," he says.
He's a man who isn't afraid to face his demons. After the success of his first book, "Evolution: The Cutting Edge Guide to Breaking Down Mental Walls and Building the Body You've Always Wanted," his follow-up act is going to be ever- so-slightly more personal.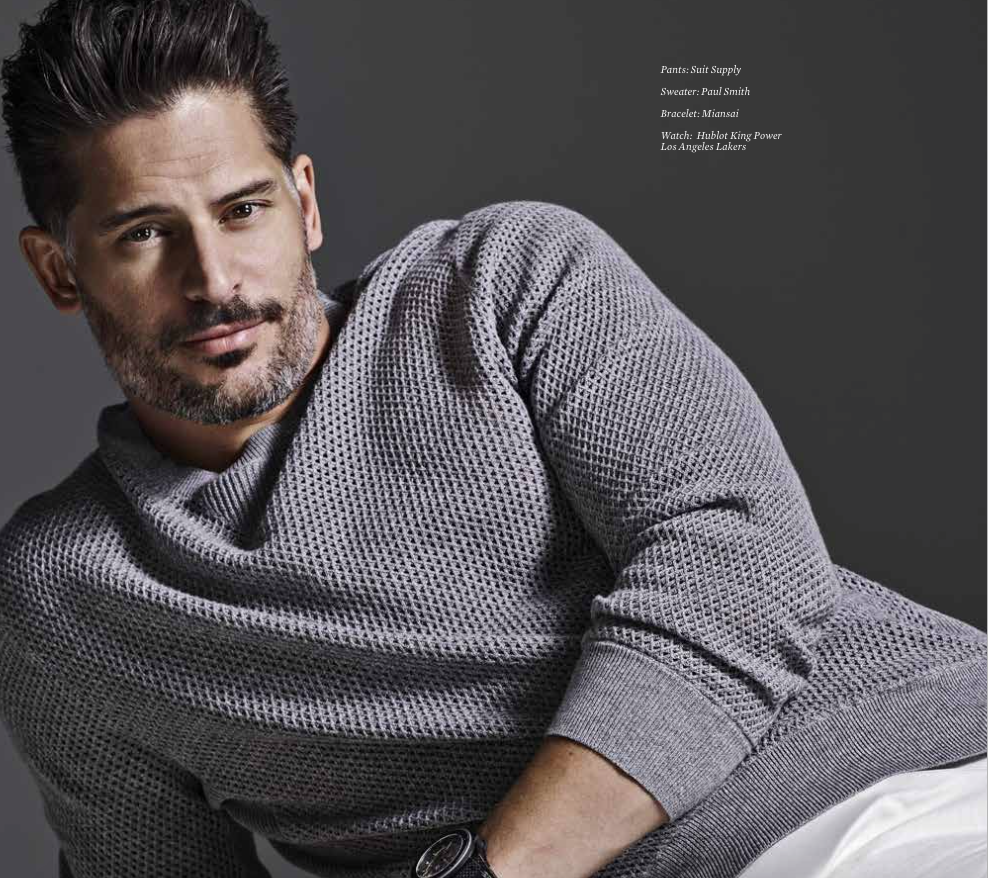 "I was writing a one-man show at some point, and maybe I'll pick up with that or turn that into a book; there are some hurdles that were thrown my way in life that I had to get over [that I want to discuss]," he admits. "I battled with addiction at a young age and got to the other side of that. That's an ongoing battle. I think there's a story in there somewhere about trying to find my way through that and making it to where I am today."
He's the guy who cringes at love scenes, but loves making people laugh. "Comedy makes the most sense to me," he declares. "When I watch love scenes, I always cringe and think, 'I know that girl and I know her husband and she's making out with some other guy rolling around. That's creepy and weird.'" He adds, "We're all just pretending—but the strings are less visible when it's comedy. You're just there to be entertained and laugh, and I love being able to give an audience that."
Though he's adamant that he owes his moves to choreographers Teresa Espinosa and Alison Faulk, few might know Manganiello actually has a bit of professional dance training—he took ballet and jazz classes in drama school.
"I had a semester of ballet and jazz in college in drama school, but I've always been athletic," he admits. "Ballet, [which entails] creating shapes with your body and movement, was something that I enjoyed. I definitely loved all of that stuff. The first day that all of us in the acting program had to put on our tights there was a bit of a commotion," he says, adding, "I'm a physical person. I'm an athlete; I enjoyed the challenge."
This dedication to fitness was a common bond for he and his Magic Mike XXL co-stars Tatum, Matt Bomer, Adam Rodriguez and Kevin Nash, and a prime reason why the film is a real buddy movie in the truest sense.
"One of the great things that I respect so much about the guys is how much work they put in at the gym—nobody slacks," he says. "I've been on other projects before where I had to be in great shape. The lengths that I went to get into that shape and the type of discipline I needed caused some of my castmates to look at me cross-eyed, like I was some kind of alien from another planet. That's not the case with the guys on Magic Mike—all of us worked really, really hard; we were all very disciplined about it."
Unfortunately for him, the guys all worked out so hard that no one noticed Manganiello will get his wish on July 1st when Magic Mike XXL hits theaters. It is, in reality, the ultimate male buddy comedy cleverly disguised as a male stripper film—think The Hangover heads to Chippendales, if you will. Manganiello describes the sequel to 2012's smash hit Magic Mike—which takes place three years after Mike [Channing Tatum] bowed out of the stripper and revolves around what happens when he and the remaining Kings of Tampa hit the road to Myrtle Beach for one last blow-out performance—as "like in Animal House when they all jump in Flounder's car and go out on the road and cause trouble. It's 90 minutes of that; a bunch of really funny dudes in this locker room on wheels driv- ing up and down the coast."
There's stripping too, of course. Thanks to some wild and wickedly funny dance moves set to the music of Bruno Mars, Nine Inch Nails and The Backstreet Boys—yes, really–Manganiello's male stripper Big Dick Richie isn't the sexy stud you'd expect: he's comic gold.
"The trick with Big Dick Richie is that if he's too good of a dancer, it's not going to look right. My weapon is dancing funny," he reveals. "There's a humor to one of my routines and a bit of seriousness to another."
When Manganiello inadvertently pushed himself too far last October during filming. "I had a torn bicep and benched 300 pounds at lunch one day. I was like, 'Hey, Bomer, let's go. Let's try this.' I didn't know at the time that I had a torn bicep and needed surgery."
Still, a man needs to look good when he's appearing in his smalls on the silver screen, and everybody needs to suffer for his art at some point. Though the rigorous training wasn't easy, Manganiello still got by with a little help from his friends.
"We were all pushing each other," he notes. "After you've worked a 16-hour day, you're exhausted. You just want to go home and go to bed, but you can't when you're shooting a movie like this. We all held each other accountable. The van would drop us off at the hotel at 9:30, and you'd say, 'fuck.' You'd throw on your shoes and shorts and you know at 10 o'clock you're going to see all the other guys showing up at the gym going through the paces. That's what I love and respect about these guys so much. I'd do anything for these guys. We all think and work the same—we're a team."
When shooting wrapped on the film in Savannah late last year, the cast was similarly in sync. They didn't get matching tattoos like the Lord of the Rings: Fellowship of the Ring cast did—they commemorated the occasion the Magic Mike way.
"We wrote down what kind of junk food we wanted to eat, and as soon as we were done it was all fried chicken and pot pies, Twizzlers and ice cream—any- thing and everything you could possibly imagine. A lot of the guys had beer and alcohol that they hadn't had in a while," he says.
In his opinion, these small sacrifices were nothing in the grand scheme of things, and should Magic Mike come back for a third hurrah, he'd be back in a heartbeat. "All of us just loved hanging out. I would pay to go hang out with these guys for two months. I'd love to do it again," he declares.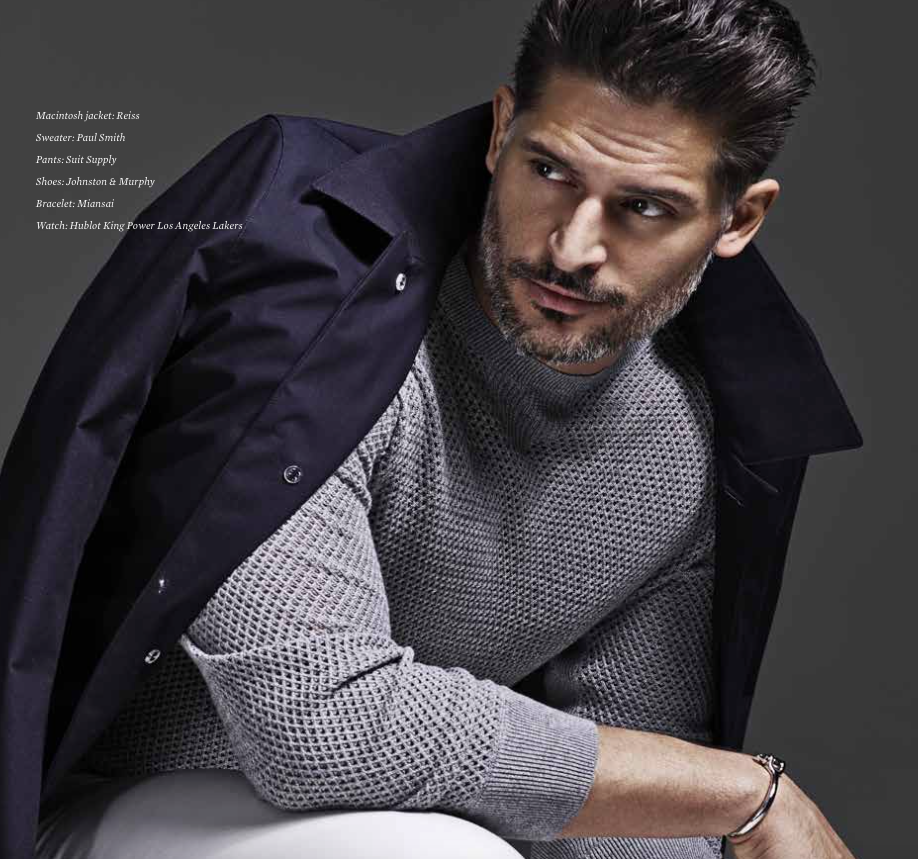 According to Manganiello, the Magic men had a full-blown bromance on and off set. "I've really made lifelong friendships with all of the guys," the 38-year-old actor confides. "I've known Matt Bomer since I was 18, so that was a different situation; we've been friends for years. He was the first call I made when I got the offer; he's like a brother to me. Channing, Adam, Kevin—we all hung out after the [first] shoot was over, so getting everybody back together was a no-brainer. Now I would consider all the other guys brothers as well. I had more fun on the first movie than anything I've ever worked on in 20 years of acting."
For the record, all of the cast members knew that their special bond would translate into movie magic back in 2012 while shooting the first film— they just couldn't do anything about it. "We didn't really get to make the movie we wanted to make
the first time around," Manganiello admits. "When
we all got together and started rehearsing our dance routines, I know that Channing and [writer Reid Carolin] were kicking themselves because they just didn't see the chemistry that the guys had happening, but it was too late and we were already shooting. It was very apparent that if we got the chance to do it again, it should just be about the guys."
Lo and behold, they got that chance—and Manganiello—who has been trying unsuccessfully to pitch his own male stripper-themed series for the last year— realizes how very lucky they were to receive it. "I think there was an apology that needed to made about making a movie about male strippers—the first one at least," he notes. "You have to understand, nobody wanted that movie. Every studio was scared of it. The test audiences panned it, hated it—couldn't stand it. Women were embarrassed to admit that they liked it."
But then Fifty Shades of Grey came along, and suddenly, women were throwing their singles at the box office to see Manganiello and company shake their money-makers on the silver screen. "Something changed in the [overall] consciousness, and all of a sudden women were OK admitting their fantasies—that they liked this—and didn't have to feel so ashamed about it," he says. "I know the TV world feels that way as well because I pitched a male stripper-themed show through my production company and no one would bite on it. Still to this day it's not something they believe advertisers can get behind."
He adds, "I think that when you're the first out of the gate, it's risky. Channing and [director Steven] Soderbergh had to pay for this movie themselves and shoot it as a complete independent, but it became successful so then we could do what we wanted. XXL is really us taking the chains off and making the movie we wanted to without apologizing for anything."
Joe Manganiello thinks a lot about the future, and his goals are reasonable. He wants to produce many more films through his 3:59 Productions [he has the rights to Jay Dobyns' "No Angel: My Harrowing Undercover Journey to the Inner Circle of the Hells Angels" as well as Leah Joki's "Julliard to Jail"] and hopes to make a seamless transition from TV to film—which he's doing with films like Magic Mike XXL and Terrence Malick's upcoming Knight of Cups. His current objectives, however, are much simpler. "What I'd like right now," he says, "is free time, a nap and to lie in bed binge watching Game of Thrones with Sofia."
"Sofia" is Modern Family star and fiancée Sofia Vergara; after dating for just half a year, the two be- came engaged in December. Joe knows that their courtship was brief, but is adamant that when it's right, it's right. "Our first date was in June, and then I proposed to her on Christmas Eve; [we dated for] about six months. When you know, you know, and we knew right away—like, very quickly."
On their first date—he flew from Los Angeles to New Orleans where she was filming Hot Pursuit with Reese Witherspoon—Vergara tried her hardest to push Manganiello away. She ticked off the reasons they wouldn't work: she had just ended a longtime relationship with Nick Loeb, and she was the older woman…by a mere four years. "Our first date was her giving me every reason why it would never work out," he reveals. "Like, 'You're too young, you're an actor, you're this, you're that,' and she was just doing it to hear herself say it. She was trying to talk herself out of going there."
He knew this, he says, because she happened to be thumbing through People magazine's "Hottest Bachelors" issue at the time—which he was featured in. "I was like, 'What are you looking at?' and she said, 'I'm looking at who the other people are on the list!'" he recalls.
Most of all, he notes, after four years with Loeb, Sofia thought she needed to be single. "She had just gotten out of a relationship and I knew that she wanted to be single," he maintains, adding, "but we knew right away, and she knew she was screwed. I said to her, 'If you need to be single, go do it and do it now if that's what you need to do,' and she didn't. She tried to stay away from actors and I tried to stay away from actresses as much as possible, because of the fear of being away from each other. What happened then was that we wound up in relationships with people who didn't understand us."
They understood each other—so well in fact, that a short time later, Joe "went and got a ring and made it official."
The proposal was meant to be super romantic, but it was dampened slightly by the paparazzi lying in wait for the couple the second they stepped off the air- plane on the Hawaiian island of Kauai on Christmas Eve.
"I had to do it indoors because the island was infested with paparazzi," Manganiello says, "There were paparazzi waiting for us at the airport and on the grounds at the resort at the St. Regis in Kauai. I wanted to do it on the beach but I couldn't; I had to do it inside—which was fine. We had this big bay window [that I opened up], and the sun was going down pink over the mountains and over the bay, and I had this ring. I had looked at every ring in the world, and this is the ring that I wanted. I had a whole speech prepared in Spanish. I proposed to her on one knee in Spanish with the sun going down. It was awesome."
Sofia should appreciate the effort that went in to relearning the Colombian beauty's native tongue. Though he isn't unfamiliar with the language thanks to years of high school Spanish, he's quick to admit that he's a little rusty. "I had three years in high school and I was really good—I was great—and then I forgot it all. Twenty years later of course I'm going to marry a Colombian woman, and I'm kind of rushing to get it all back. My vocabulary is bad now; that's what needs to be replenished," he admits.
He'll hopefully be caught up by the time the two do tie the knot. A date is set, though thanks to the lack of privacy afforded during his proposal, he's loath to give the date away. He will acknowledge that Sofia is far more hands-on than he is in regards to their impending nuptials. "As far as planning stuff goes, she loves decorating stuff and she loves designing; she's very traditional in that way," he says. "As long as she's happy with it, I'm happy. I'm not the kind of guy that's like, 'I need this kind of tablecloth.' We're very traditional male-female in that way. [I'll be like] what do you need me to do? I'll call the DJ.'"
He adds, "We really get along well together. Because there is a persona that people see, I think she had preconceived notions about me. I didn't know what to expect of her when we first got together either, but the beauty of it was that we save all of this stuff for our personal lives. Our friends really know who we are and it's not necessarily that person that you see walking down the street or yelling at the paparazzi 'Fuck off—I'm trying to get engaged here!'"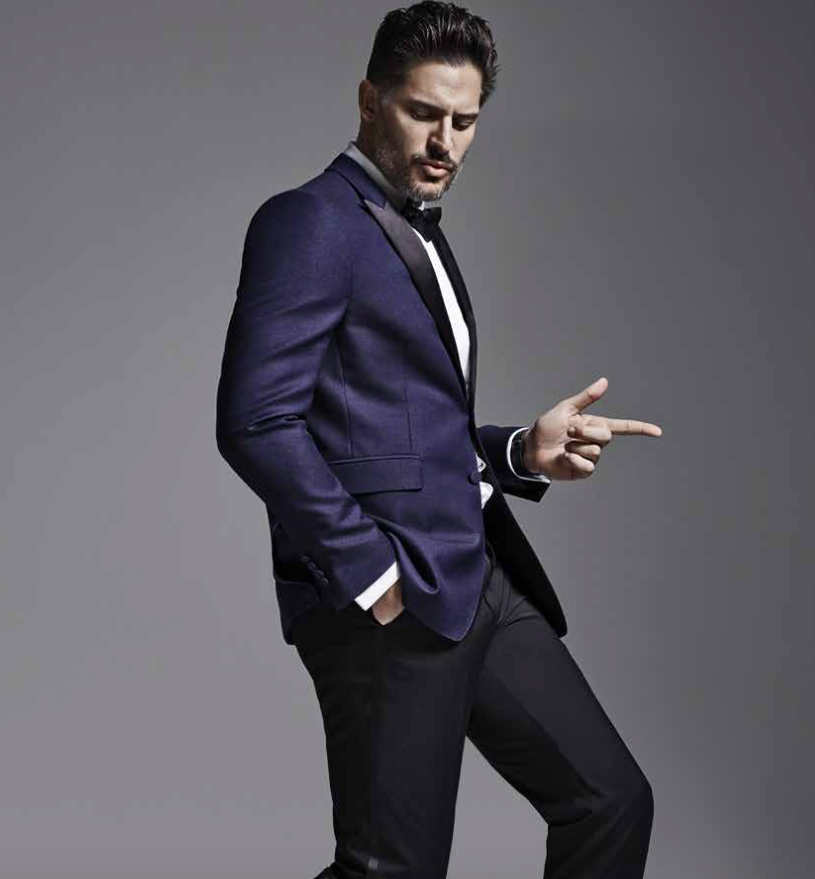 According to Manganiello, he and Vergara are very "salt-of-the-earth people," which will help them majorly in facing future obstacles. "Now the challenge is carving out this bubble where we can live and be ourselves, where there's no pressure to appear a certain way or look a certain way," he says. "That's the tricky part—staying centered. Lucky for us—and I use this word in the most positive way—we're very 'normal' people, but 'down-to-earth' would be a better way of describing it. We're very grounded."
In addition to gelling on a personal level, the couple works well professionally too, though you likely won't see them appearing on the silver screen together any time soon. Although Mangan- iello hilariously directed his fiancée in a live read of the movie Major League in conjunction with Film Independent and LACMA—she as Pedro Cerrano, he as Jake Taylor—she's afraid that their real- life relationship might have the "Bennifer" effect.
"Her fear is that we'd make the next Gigli," he says, referring to then-couple Ben Affleck and Jennifer Lopez's 2003 box office bomb.
For example, he fell in love with a baseball movie and begged Vergara to read the script, citing a part that would have been a perfect fit for her. "I gave her the script and was like 'Please read this. It's such a good part for you and it's amazing for me,' and she said, 'No, I'm not going to make Gigli,' and kind of threw it on the ground."
After thinking about it for a short period of time, Manganiello realized his fiancée was right. "We get along so well together; I'm so lucky to have found that right person for me, and I know she feels the same way. We're really good with each other. Why risk fucking that up?" he reasons.
One future plan the two can agree on is parenthood. "On a personal level, I can't wait to get married and start a family," he says, adding, "It's something that we talked about very early on. I said, 'If you're not having kids, that's cool.' She has her son [recent college graduate Manolo] and he's older now. '[I was like], 'Just tell me now so I know what this is; I'm cool with whatever.'"
He did hope she'd vote in favor of more kids, though. "I was very honest about that and she was honest right back to me. I have always wanted to be a dad; I've always wanted kids. I've al- ways been open about that. I think Sofia and I are similar in our beliefs and core values, which makes [our relationship] work."
He knows what kind of father he'd want to be as well. "I've spent a lot of time thinking about how I would want to parent…The biggest thing isn't having expectations and not putting any of my shit on them. Where I grew up and at the time that I grew up being an artist was a very strange choice [because it wasn't seen] as a quote un-quote regular job."
He continues, "I was an athlete for most of my life, but I was also in chess tournaments when I was six. I was a crazy reader but then there's this other side of me that was very artistic and wanted to pursue that. I don't know what [our] kid's going to be like. Male or female, he or she could be a professional basketball player. He or she could have the height to do that! The kid could come out and want to play chess… or be a complete academic. This kid could be whatever this kid wants. I think it's about just supporting and pushing children into being the best they can at whatever it is that they choose, but helping them figure out what it is they want to do."
He might follow his own father's lead and act as part disciplinarian and part champion. "I really benefited from the fact that as hard as my father rode me about sports, [it instilled] discipline in me, so that 30 years later—when I was cast as a werewolf—I had the discipline and know-how to get into the best shape of my life," he acknowledges. "I really pushed myself and didn't settle to be anything less than my best. I think left to my own devices, I would have stayed inside and read and drew and painted every day. I was good at sports, but I did need to be pushed in that way at that age. As hard as it was on me, I really benefited from it in the long run."
We'll say. Thanks to this kind of discipline and his own fundamental makeup, Joe Manganiello is a guy with a poet's soul and the body of a Greek God, a true thespian who applies the same kind of diligence to prepping for roles that he does to his gym-honed physique. He is, for all intensive purposes, a real life member of John Hughes' infamous Breakfast Club.
"There are kids out there too who felt like they didn't belong, like the jock in the artist crowd," he notes, "and for whatever reason, people still want to try to put you into categories."
It would be a mistake to pigeonhole this super-sized star. In the words of The Breakfast Club's John Bender, "You see us as you want to see us…in the simplest terms, in the most convenient definitions." Take it from us: Joe Manganiello is a man that cannot and will not be easily labeled or defined.
Watch Haute Living's interview outtakes in this video:

Subscribe to discover the best kept secrets in your city