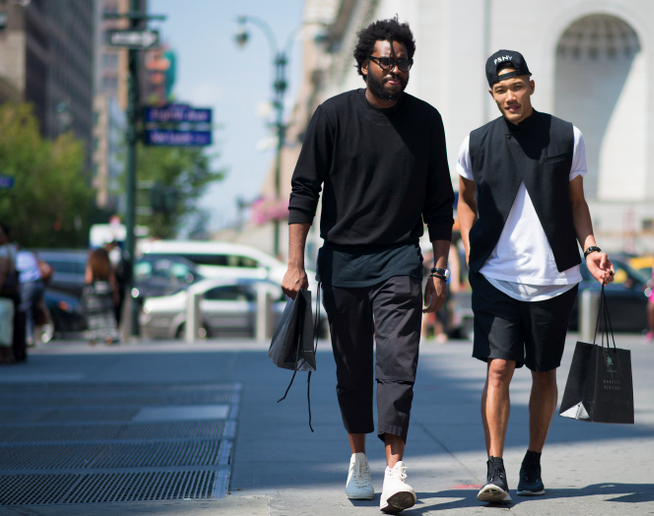 Maxwell Osborne and Chow Dao-Yi, the design duo behind the streetwear meets tailored luxury of New York-based brand Public School, have been showered with praise and awards by the fashion industry, including the CFDA/Vogue Fashion Fund and the CFDA Award for Menswear Design in 2015. Starting off in menswear, they found early fans in the New York high fashion circles and the hip-hop community. This passed season they started doing womenswear as well, and have already received a nod of approval from Anna Wintour. All this praise has gotten the duo the attention of another quintessentially New York designer, Donna Karan. Karan has hired Dao-Yi and Osborne to take over the DKNY label as creative directors.
When you think about it, the hiring makes perfect sense: DKNY has always sought to capture the urban casual sensibility of New York, and in many ways Public School uses a similar aesthetic and in other ways has surpassed DKNY in its achievement of that aesthetic.
Dao-Yi and Osborne will present their first DKNY collection at New York Fashion Week in September. Don't think Public School is about to fade, though; Osborne and Dao-Yi will split their time between their brand and DKNY.
Anna Wintour really hates selfies, like, REALLY hates selfies. It was well known that at the 2015 Met Ball last week, Wintour placed a ban on selfies no matter how famous the selfie taken happened to be. Nevertheless, super stars like Kim Kardashian, Katy Perry, and Justin Bieber still couldn't resist; all of them and more posted Met Ball selfies to their Instagram pages. Wintour is pissed about the defiance, and has threatened to ban all the celebrities from next year's Met Ball.
Kelly Ripa accepted the Eccellence in Media Award at last night's GLAAD Media Awards. Her great friend Anderson Cooper presented her with the award, and Ripa showered the CNN anchor along with his partner Benjamin Maisani with praise: You have been the voice of so many voiceless people throughout society," she said, "In particular, people who have felt marginalized of alienated or physically threatened because of their sexuality of their gender identity."
Ripa spoke about her husband and the joy that their marriage of 19 years has been for her. When addressing her own marriage, she spoke up in loud support of marriage equality: "Equality means equality across the board," she said, "We must not allow discrimination to be rebranded and used against people in other facets of society, including housing, employment, and education."
GLAAD President Kate Ellis said Ripe deserved the award because she has always given her audience nothing less than utter acceptance and long been openly vocal in her support of gay rights.
Subscribe to discover the best kept secrets in your city