Once upon a time (in 2013, specifically) Chris Crary took Bravo by storm, earning the title of "Fan Favorite" on the network's Top Chef: Texas. His stint on the show also secured him the tongue-in-cheek nickname of "Malibu"—as in "Malibu Ken doll"—thanks to his great hair and affinity to GTL (that's gym, tan, and laundry to those who haven't watched MTV's Jersey Shore). Since appearing on Top Chef, the Ohio-born cook, formerly of eateries such as 41 Ocean, Whist at the Viceroy Hotel, and Jack's La Jolla—has been busy. He's now Sam Nazarian's right-hand cuisine man at sbe's Hyde Sunset Kitchen + Cocktails; has gotten engaged to Under the Dome actress Rachelle Lefevre; and is planning a return to TV as part of the Top Chef at Sea competition aboard Celebrity Reflection this November. Here, Crary gives us the inside scoop on his upcoming projects, how his life has changed since his Bravo days, why he'd return to TV, and why he's secretly glad that "Malibu" was his nickname of choice (hint: his moniker could have been so much worse).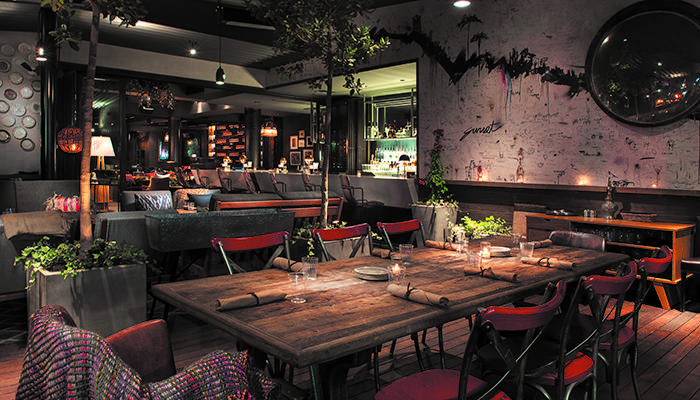 What is your favorite dish on the menu at Hyde Sunset Kitchen + Cocktails, and why? 
That's like picking your favorite child! I will have to go with the fried chicken sliders on the buttermilk biscuit with house-made kimchi, pickled mustard seeds and honey aioli. It has so many great flavors going on, and it is a reflection of my travels and me.
How has your life changed since joining the sbe family?
Since joining the sbe family, life has definitely gotten better! I'm getting work on multiple projects at once and really learn new things every day. That for me is very important; I like being challenged and continuing to educate myself.
What new additions can we expect to see on the menu in the next year?
As we are going into spring we are working on lots of new things including rabbit, morel mushrooms, peas, spring onions, garlic and lots of new lettuces

What's your favorite L.A. area?
I like the downtown arts district; I really think it will be the next up and coming foodie spot in L.A. Its old warehouse vibe is very appealing.
What's your favorite spot in Malibu?
Honestly, I don't travel to Malibu that often,  hence why the nickname is kind of ironic. I would say that Nobu is probably my favorite place on that side of the 405.
Did you think the nickname "Malibu" was appropriate?
I'm not sure "Malibu" is an appropriate name for a kid who is from Ohio and lives in Hollywood; nonetheless I'm OK with it. On the scale of nicknames there definitely could be much worse names…like "Cupcakes Chris."

How specifically has your life changed since appearing on Top Chef?

My life has changed tremendously! I work for a great company that provides me with tons of opportunities for growth. I have an amazing fiancée and I'm doing something I love! What could be better?
Would you ever return to TV on a non-Top Chef show?
I would love to make another TV appearance! I would really like to get redemption on Top Chef; maybe if they did a Top Chef "Fan Favorite" version I would be down. I think it would be fun to be a host or judge of a food competition show; I'm really good at being hypercritical.
Can you list a few of your favorite restaurants, dishes at each, and reasons for loving them?
First off I would like to say RIP to Red Medicine, one of L.A.'s greatest tragedies; Jordan Kahn is an amazingly talented chef. I'm a big fan of Republique: its mantra is awesome, and it has a killer brunch. Pistola crushes pasta, and The Bazaar and Cleo are so much fun with every plate of food being amazing!   
Which celebrity chefs do you most admire, and why?
So many! I admire José Andrés and Ferran Adrià for their innovation and creativity; Gordon Ramsay for his branding and marketability; and Richard Blais for his fun sense of humor and technique.
When you're at home, what do you cook for yourself and your fiancée?
I do cook occasionally, but generally we check out a new restaurant or order in. She cooks a lot more at home than I do; she is an amazing baker! I love it when she tries out new recipes on me. She might be my pastry chef someday.
Does she call you "Malibu?"
No, she doesn't call me "Malibu!" she actually just watched the show a few weeks ago. She calls me "Chef."
What are your master plans for 2015?
Come on now, you think I can tell you that? I will definitely be involved in other ventures and running more than one restaurant. Without my crystal ball though, that's really all I can tell you.