HAUTE 1OO
Photo Credit: Getty Images for JCPenney
EVA LONGORIA INTRODUCES HOME COLLECTION
Eva Longoria has gone all Martha Stewart now that she's officially unveiled her first home collection. Inspired by her extensive world travels, the actress, activist and philanthropist's first-ever home collection combines sophisticated patterns, chic colors and elegant designs. The collection, which is available at JCPenney, features four unique bedding designs, the Adana, Marrakech, Mireles and Solana, with complementing decorative pillows and window treatments to help create the perfect sleep sanctuary for any home.
HAIM AND CHERYL SABAN TO HOST L.A. FUNDRAISER FOR HILLARY CLINTON
Haim and Cheryl Saban will hold a $2,700 per head fundraiser for Hillary Clinton's presidential campaign on May 7 at their home. The private reception will be hosted by Laura and Casey Wasserman. Additionally, Clinton will attend two other Hollywood fundraisers while in Tinseltown: a breakfast reception at Catherine Unger's Westwood home and a luncheon at the home of L.A. Law producer Steven Bochco. 
HOLLYWOOD NEWS
Photo Credit: Universal Pictures
FURIOUS 8 IS ANNOUNCED 
Though star Paul Walker passed away during the filming of Furious 7, the Fast and the Furious franchise is continuing on as his legacy. After the overwhelming international success of 7, co-star Vin Diesel announced during CinemaCon that an eighth installment is in store; 8 will hit theaters on April 14, 2017.
50 SHADES OF GREY SEQUEL GETS RELEASE DATE 
Speaking of sequels, the one all women have been waiting for is happening. Universal announced that Fifty Shades Darker, the sequel to the box-office blockbuster 50 Shades of Grey, will hit theaters on Feb. 10, 2017. The third film in the series, Fifty Shades Freed, will debut Feb. 9, 2018. Niall Leonard, the husband of trilogy writer E.L. James, will write the script for the second film.
SCENE
Photo Credit: Donato Sardella/Getty Images for Brooks Brothers
THE MASK YOU LIVE IN PREMIERES IN L.A.
Jennifer Siebel Newsom, Maria Shriver and Brooks Brothers hosted the LA premiere of The Mask You Live In on April 23 at The Paley Center for Media in Beverly Hills. After the screening, Shriver moderated a conversation on Modern Masculinity with special guest panelists Tony Porter,Jerry Tello, Josh Levs and Jackson Katz, which tied into the launch of The Shriver Report Snapshot: an Insight into the 21st Century Man. Brooks Brothers then hosted a private dinner reception for the 175 attendees at its Beverly Hills flagship.
FASHION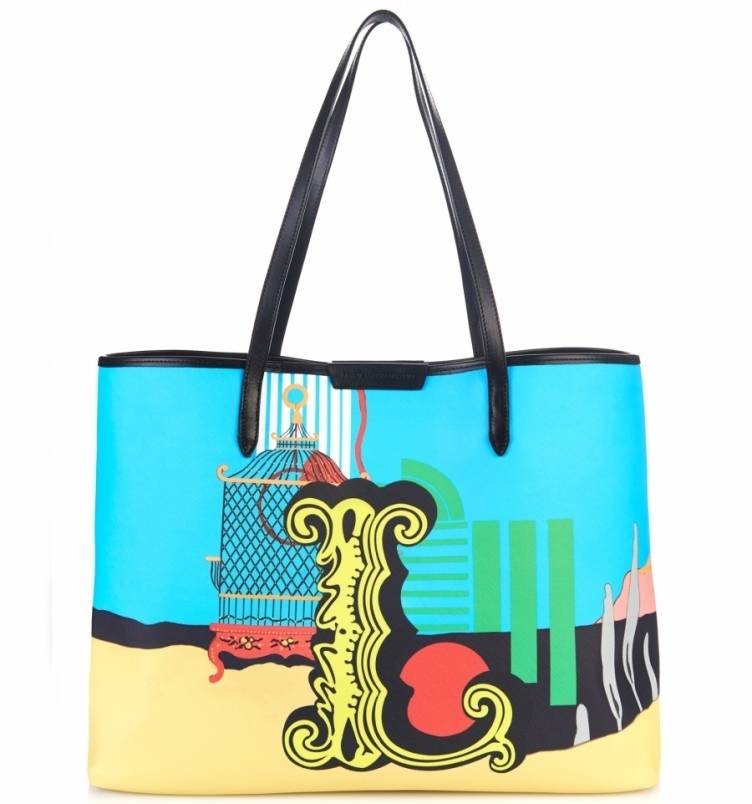 MARY KATRANTZOU DEBUTS A-Z TOTES IN L.A. 
Designer Mary Katrantzou and Ruth and Tom Chapman, joint CEOs of MATCHESFASHION.COM, hosted an A – Z cocktail party at the Kayne Griffin Corcoran gallery in Los Angeles to celebrate the launch of her exclusive "Initials" tote bag collection. The exclusive, 26-piece collection of coated canvas and has been made in a limited edition run of 20; each bag is beautifully painted with a plethora of architectural, graphic and fun prints that are collaged and juxtaposed to create the definitive A-Z of Mary Katrantzou. Guests at the launch event included, amongst others, Kiernan Shipka, Michelle Monaghan, Gillian Jacobs, Liberty Ross, Jenny Slate and Jena Malone. 
Photo Credit: BFA
DEE OCLEPPO DEBUTS SPRING '15 LINE
Dee and Tommy Hilfiger hosted a private cocktail party for the Dee Ocleppo Spring 15 collection at Chateau Marmont on Thursday evening. At the event, presented in partnership with Saks Fifth Avenue, guests like Cameron Silver, Dr. Harold Lancer, Lis Vanderpump, Lady Victoria Harvey and Ally Hilfiger shopped, mingled, and sipped on cocktails.
FRED SEGAL OPENS JAPAN OUTPOST
Los Angeles retail brand Fred Segal debuted its first international lifestyle center in Tokyo, Japan on April 17, 2015. Marking the retailer's first location outside the U.S., this unique shopping destination exports the Southern California spirit of the Fred Segal brand to the Japanese consumer. Located in the upscale, emerging Daikanyama neighborhood, Fred Segal now occupies three of five buildings at LOG ROAD DAIKANYAMA, a new pedestrian shopping development built on a converted railway site.
DINING + DRINKING
Photo Credit: Getty Images for Art of Elysium
MOBY OPENS VEGAN RESTAURANT IN SILVER LAKE
Musician Moby is planning on opening a restaurant in the trendy Silver Lake neighborhood this summer. The vegan eatery Little Pine  is being designed by Tatum Kendrick of Studio Hus. Expect to find raw woods, ceramic tiles, concrete and custom wallpaper made of photos Moby has taken himself.
DAVID LEFEVRE TO OPEN HAUTE STEAKHOUSE IN THE SOUTHBAY
David Lefevre is doing it again. The celebrated chef behind Manhattan Beach Post and Fishing With Dynamite is opening a steakhouse, The Arthur J (named after a patriarch of the Simms family) just blocks from his eateries in Manhattan Beach. Expect the highly anticipated eatery to open in just a few weeks.
Subscribe to discover the best kept secrets in your city