Calling all foodies and wine enthusiasts! It's time to prepare for the eighth annual Pebble Beach Food & Wine Festival, four days of gastronomical hedonism at its finest on one of the world's most picturesque coastlines. Bon vivants can enjoy the spectacular offerings from 250 acclaimed wineries and 75 celebrity chefs this year from April 9-12.
The Pebble Beach extravaganza is where you can truly get up close and personal with the who's who of the culinary world, from legendary chefs like Daniel Boulud and Dominique Crenn to rising stars such as Food & Wine's best new chef Hugh Acheson.
As you swirl, sip and savor, keep in mind that Pebble Beach Food & Wine, founded by David Alan Bernahl II and produced by Coastal Luxury Management, is for a good cause. The festival helps support Ment'Or BKB, a nonprofit that inspires young culinary professionals, and The Berkley Foundation, CLM's nonprofit organization and philanthropic arm, which raises funds and distributes grants to local and regional organizations such as the Boys & Girls Club, Voices for Children and The Pebble Beach Foundation.
Without further ado, here is your insider's guide to one of the hautest gourmet events of the year.
Thursday, April 9th
We can't think of a grander way to start this four-day fest than with a morning champagne toast at the first tee of the iconic Pebble Beach Golf Links. Mix and mingle with celebrity chefs Robert Baker, André Bienvenu and Soerke Peters, as well as elite winemakers, master sommeliers and prominent collectors during this exclusive golf experience. Later, at the opening night reception, you'll enjoy an evening of unbridled indulgence at the Inn at Spanish Bay. Stroll through the property sampling decadent bites from 23 of the weekend's top chefs, including Matthew Accarrino, Cindy Pawlcyn and Michael Ginor, and sipping domestic and international wines from over 200 producers such as Duckhorn Vineyards, Silver Oak and Mionetto. Pace yourself, for still to come is the elite After Hours, a nightly party reserved for those who splurge on the Imperial Package, where you can dance until dawn with chefs, winemakers and sommeliers.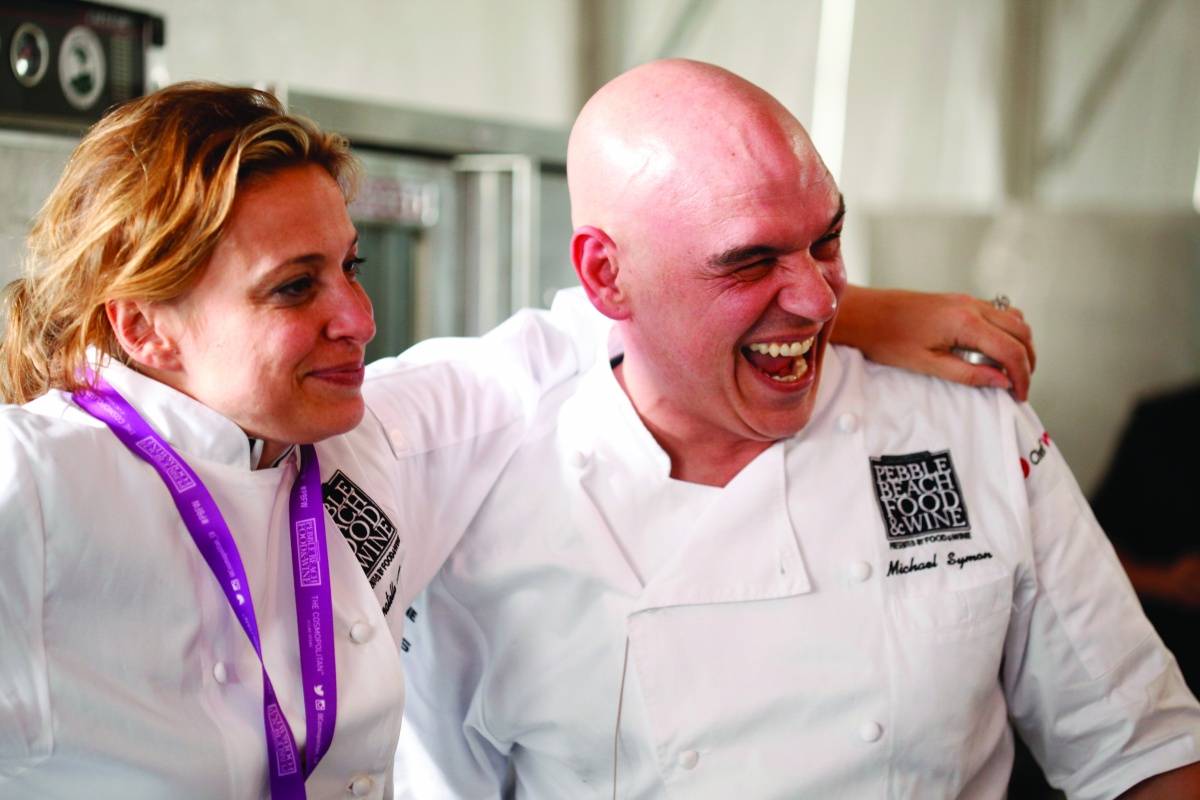 Friday, April 10th and Saturday, April 11th
There are many ways you can start your weekend days, such with a cooking demo from the talented duo of Crenn and Stephanie Izard or solo culinary lessons courtesy of Curtis Stone, Alex Guarnaschelli and Acheson. You can also take a seminar on Champagne Billecart, Greek or Chilean wines or sample the wines of Beringer Vineyards, who will be pulling from their Private Reserve Cabernet Sauvignon library. There are plenty of afternoon options as well, including a showcasing of Château Margaux and Penfolds while chef José Garces does his thing in the Cooking Demo pavilion's Kitchen Stadium. Dinners that await include a decadent tribute to whole animal cuisine prepared by female chefs, and a haute spread prepared by Peter Armellino, Dmitry Elperin, Jared Gallagher, Peter Rudolph and William Werner, all one-starred Michelin chefs whose legendary restaurants are located along the 101 Freeway.
Sunday, April 12th
We'll understand if you're lagging by now, but try to last a little bit longer—especially because Masaharu Morimoto wants to teach you about ramen. Champagne lovers will bubble over with a one-off tasting of several Champagne house's flagship cuvée, including Roederer, Salon, Krug and Ruinart. Also on tap is a seminar on pink bubbly wines from around the world. Afterward, head to the Lexus Grand Tasting Tent for your final chance to sip hundreds of wines from top-notch producers and to take numerous selfies with your favorite chefs.