The 29th season of Miami City Ballet is coming to an end. Points of Departure opened on March 27th and vows to be one of the most talked about performances of the entire 29th season. Choreography's most current genius 27-year-old Justin Peck was appointed by Artistic Director Lourdes Lopez to spawn new work for Miami City Ballet. Peck had great success with his first work Chutes and Ladders back in 2013, which received stellar reviews.
An intimate soiree celebrating the world premier of "Heatscape," took place last Wednesday in the Fountain Courtyard at Café Boulud. Attendees included Board Members, Miami City Ballet Artistic Director Lourdes Lopez, major donors, several MCB dancers, and star choreographer, Justin Peck.
Choreographer Justin Peck, MCB Board Member Roni Okun, Executive Director Michael Scolamiero, & Artistic Director Lourdes Lopez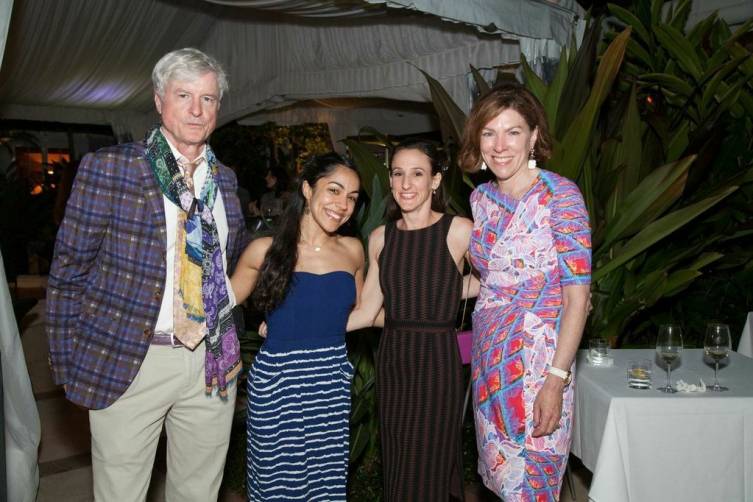 Jim Hopkins, MCB Principal Dancers Jeanette Delgado & Tricia Albertson & MCB Board Member Pat Lowry
MCB Board Member Malka Fingold, Richard & MCB Board Member Rosalie Davison
MCB Executive Director Michael Scolamiero with Board Member Ann & Robert Fromer
The enthralling program, Heatscape features 17 dancers, is 35-minutes long, and is set to Bohuslav Martinů's ingenious Piano Concerto No. 1. Justin Peck drew inspiration from his visit to Wynwood Walls for Heatscape. He was so captivated by what he saw, that he decided to collaborate with iconic street artist Shepard Fairey, who designed the original art for the production. Needless to say, both artists were eager to work together. Peck stated "dance is a meeting point of different artistic media" and Fairey commented, "This project is another exciting opportunity to manifest my art and cross-pollinate with an audience I don't usually connect with. I'm a big fan of multi-disciplinary collaborations, and I've done a lot of art and music collaborations over the years. This will be my first project for dance and I'm proud to follow heroes of mine like Robert Rauschenberg who worked with Merce Cunningham."
Additonally, Miami City Ballet will the see the premiere of The Concert (Or, the Perils of Everybody), an amusing  piece set to the animated music of Chopin that portrays the inner-thoughts of concertgoers. Wunderfkind Jerome Robbins' is behind it all. To end the evening is Balanchine's Raymonda Variations.
Tickets start at $20. Call the MCB Box Office at 305-929-7010, toll-free 877-929-7010 or visit miamicityballet.org to purchase online.
Miami City Ballet presents: Points of Departure
Kravis Center for the Performing Arts, West Palm Beach (Dreyfoos Hall)
Friday, March 27 at 8 pm
Saturday, March 28 at 2 pm & 8 pm Sunday, March 29 at 1 pm
Adrienne Arsht Center for the Performing Arts, Miami (Ziff Ballet Opera House)
Friday, April 10 at 8 pm Saturday, April 11 at 8 pm
Sunday, April 12 at 2 pm
Broward Center for the Performing Arts, Fort Lauderdale (Au-Rene Theater)
Friday, April 17 at 8 pm
Saturday, April 18 at 2 pm & 8 pm Sunday, April 19 at 2 pm