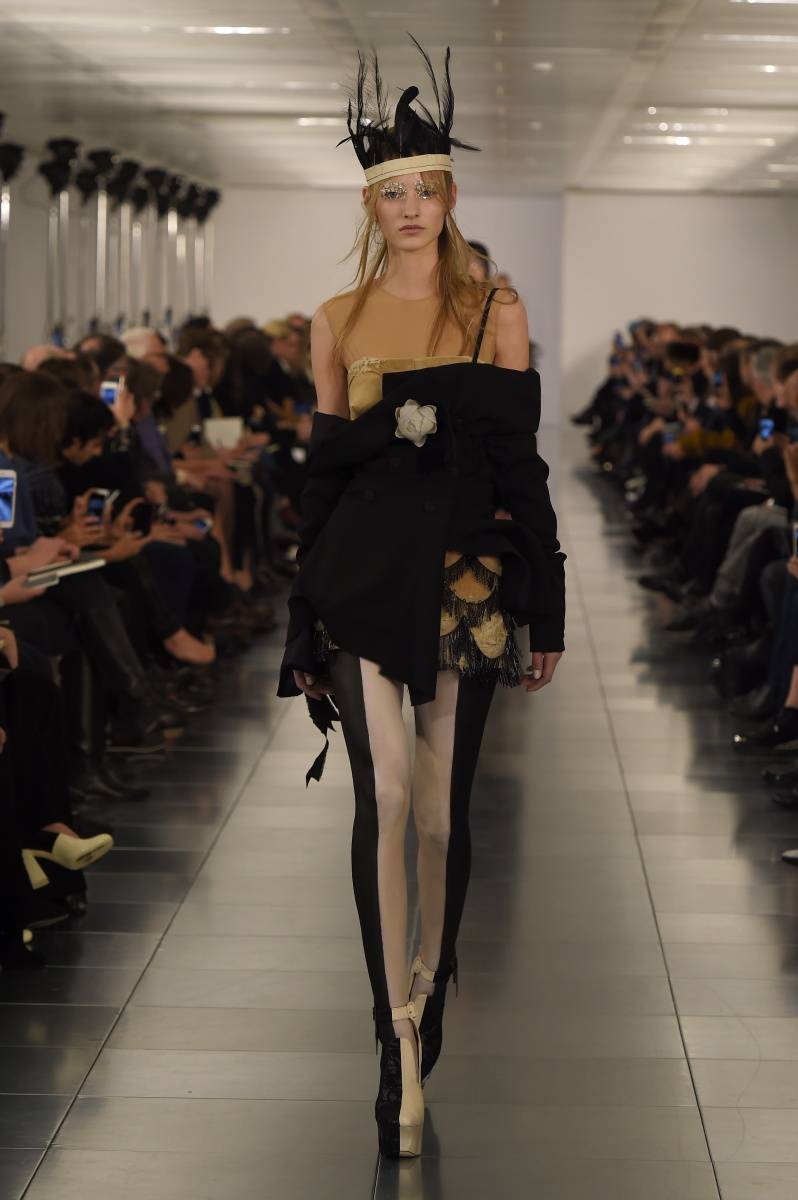 I am of a certain experience that I can fondly recall the moment when John Galliano was the hottest designer around. When I worked at the Times and T Magazine, I remember friends and colleagues would beg, borrow or steal to wear a Galliano dress to a weddings or big event. The sexy bias-cut silk columns were whisper thin with flutters of ruffles and you had to be a sliver of a woman to wear one. I had to pinch myself to see if I was dreaming when I was at the Dior office for press previews during Galliano's tenure. What a privilege it was to see those rarified designs. I was saddened to see the fearless designer's Paris Dior shows slowly devolve into parades of unneccessarily caricaturized eccentricities. Even sadder when he strutted out at the end of one of those shows with a bomber jacket emblazoned with the word " addict" on the back. It was clear to all that it's meaning was more than the name of Dior's new fragrance and was his own personal truth. Galliano's fall from grace that came as a result of an alcohol-fueled anti-semitic rant in a Paris café got him banished from Dior's kingdom and saw him become fashion's leper.
These memories and sentiments may be similar to the friends and journalists invited to the Maison Margiela fashion show in London, Galliano's first collection for the storied house of design. Margiela's former designer, Martin, sold his namesake brand in 2009 and Margiela was losing a bit of its luster as a result. Galliano's appointment was intended to revitalize the brand and his first women's Haute Couture show, occurred at the end of  London Menswear Fashion Week.
It isn't clear why he chose to show a womenswear collection during men's fashion week but it's speculated that he wanted to set himself apart while also presenting in a more simpatico city; his hometown. For whatever reason, the Maison Margiela event, "Artisanal" was met with rapt anticipation. Devotees were hoping for a home run for the formerly-forsaken designer.
Anna Wintour, Kate Moss, as well as fellow designer's Rifat Ozbek, Christopher Bailey, Manolo Blanhik, and Alber Ebaz all eagerly awaited the collection. The show notes referred to, "A process of discovery."A return to one's roots; piece-by-piece deconstructing and constructing a new story for Margiela." From the looks of what I've seen on the web it's quite clear that a new story was indeed told with this rapturous collection. Found objects, jewelry trinkets, up-cycled pieces of fabric, feathered crowns, pearls decorating the face, and transparent pockets were just some of the elements of the post-modern revival to use a '90s term. The looks ranged from the artful, las in the case of red coat with a vinyl happy face, to the norm-core, as in the case of the slim black pants suit with faille bra. WWD, the fashion bible, reported Anna Wintour's comments after the show: " It was brilliant, What I loved was the mix: There was so much that we know and we love about John, but then he took the Margiela vocabulary and translated it in such an appealing and innovative way. I loved seeing all the toiles at the end where you can see all the work and the new embroidery." Suffice to say that the show was well received.