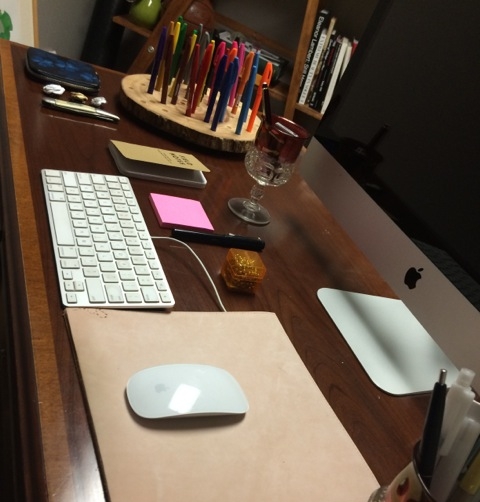 Ever wonder what the most powerful leaders, business execs and celebrities keep on their desks? Well, we're about to tell you. Our biweekly "What's on My Desk" feature will take a look inside the offices and at the desks of the world's most influential power players.
George Esquivel is a master shoe designer and craftsman. The founder, president and design director for Esquivel Designs—an Orange County-based design company that makes bespoke shoes and unique leather goods—has designed footwear for everyone from Kevin Costner to Gwen Stefani to Taylor Swift. He has increased his experience in the design realm by becoming the creative director luggage brand Tumi. Here is a peek at the items on this haute designer's desk.
My desk is a mid-century modern piece. My Pentel markers are standing at attention in a circular piece of wood that I drilled to hold my pens and I turned into a Lazy Susan for easy access.
Next to my pens is a stack of of Field Notes journals that I always use to take notes throughout the day, my signature hand-made leather flowers and my new TUMI wallet with printed and embroidered flowers.
I also keep a vintage pocketknife handy to use as a letter opener.
My mouse pad is a piece of Vachetta, the same leather that we use for making bags at TUMI and shoes at Esquivel, often hand burnished or sun-tanned.
Some of my pens and pencils are held in vintage glasses; my prized pen is from my friend Francois Simon, who is a food critic in France. It's a Lamy which he calls "his sword" because it can end or or save a career.