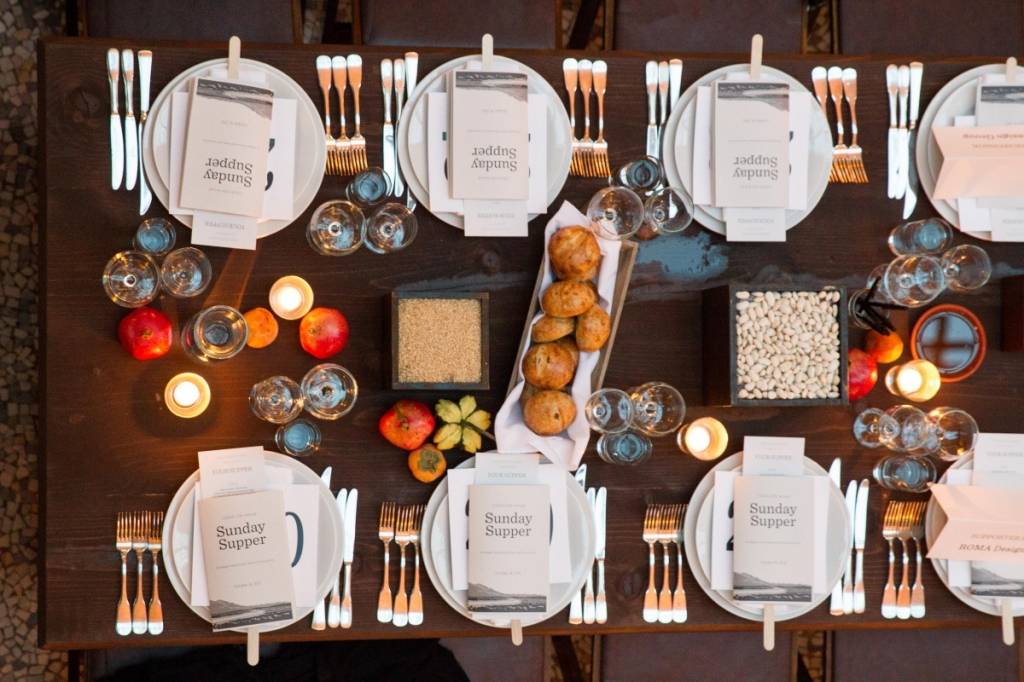 This Sunday, October 5, San Francisco's food glitterati will descend on the Ferry Building to attend a haute fundraiser hosted by the Center for Urban Education about Sustainable Agriculture (CUESA), the organization that puts on the Ferry Plaza's Farmers Market three times a week. The 12th Annual Sunday Supper, which raises money for the nonprofit's educational services, features a Champagne reception followed by a four-course meal cooked by 40 of the Bay's top chefs including Charles Phan, Michael Chiarello, and Mourad Lahlou. In anticipation of the event, we spoke with chef Staffan Terje of Perbacco, the hautest Italian restaurant in downtown SF, to learn more about the dinner and his participation with it.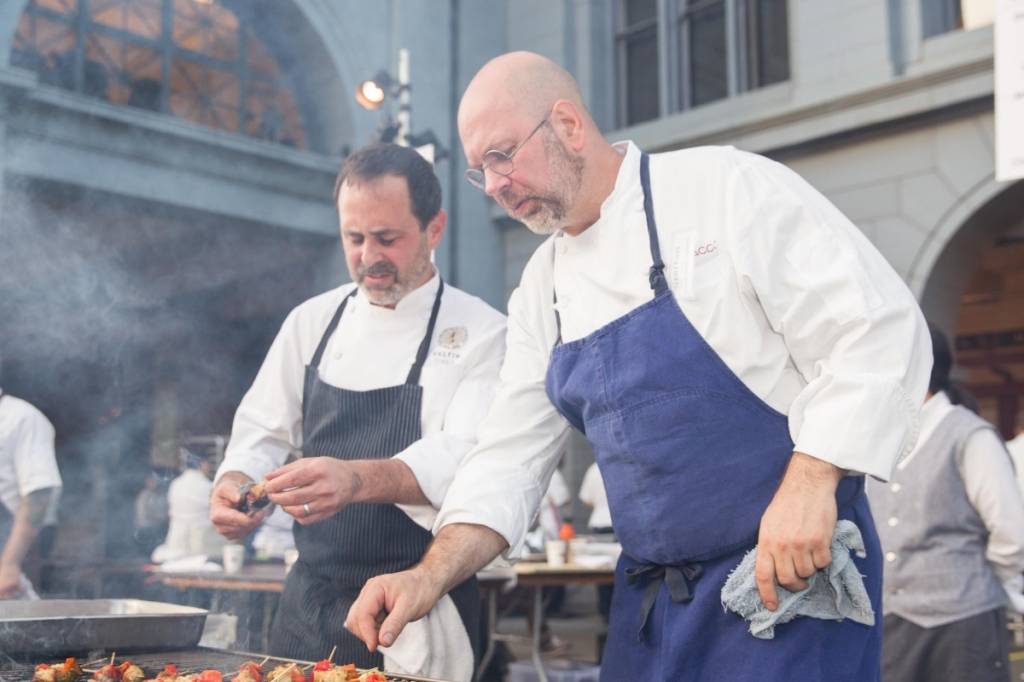 Chef Terje (pictured above right manning the grill at 2013's Sunday Supper), who now sits on the group's board, became involved with CUESA when Perbacco opened eight years ago, "just by shopping at the farmers market and constantly being down there, we got involved. I mean supporting the farmers that sell that us our product was kind of a natural thing," he said. Terje believes that CUESA's mission is important because they are "trying to bring about change by focusing on education for adults and children. What that entails is breaking down the whole food chain, from the farm to the people that buy it. They also are making it attractive for people to go to the farmers market. You don't just go down there because it's colorful and fun, but because you are supporting small businesses and buying healthy products."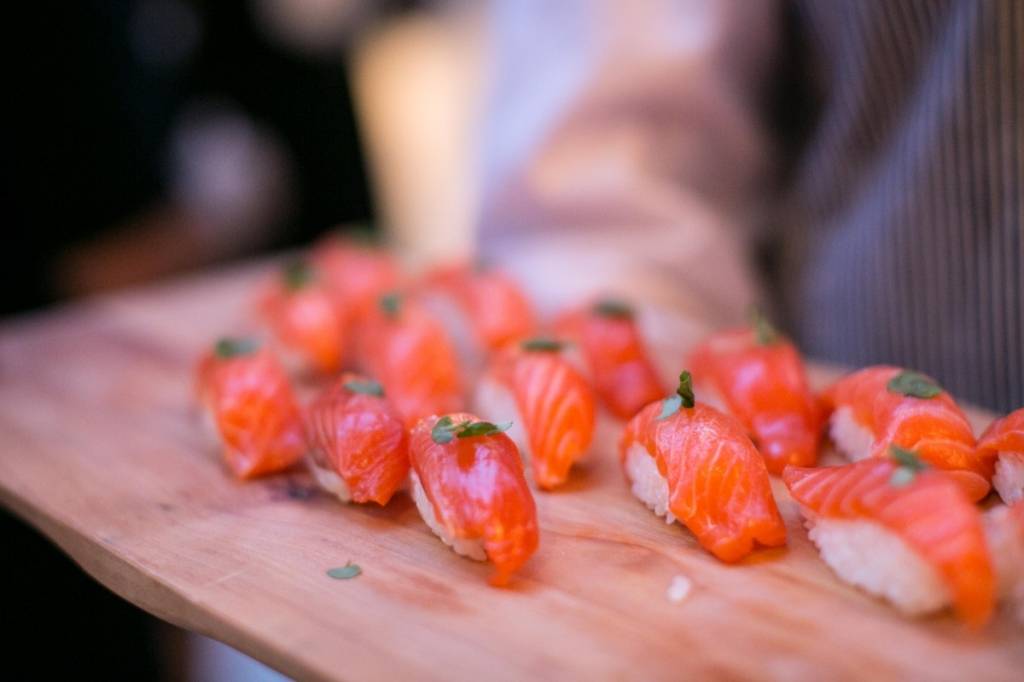 When it comes to Sunday's dinner, Terje says that it has evolved over time from being a casual walk around event to the plated and elegant sit-down meal it is today. He's most looking forward to the live auction, that offers a handful of one-of-a-kind packages like a farm party for 20 at McEvoy Ranch and a private party catered by Delfina's Craig Stoll. He's also fond of the event because it brings out San Francisco's top culinary talent — both the old and the new. "This year, we're seeing a change over in the main courses, in which chefs are doing them. I'm doing a second course for the first time. I've done a main course the past couple of years and it's nice to see some of the younger guys step up and take over. It's exciting to see the new generation of chefs to become involved. Because what people don't know about the Ferry Plaza's farmers market is that it's largely driven by the chefs in the area. Almost 85% of the market's food goes to restaurants, so the chefs are pretty much driving the market. It's nice for us to be able to give back."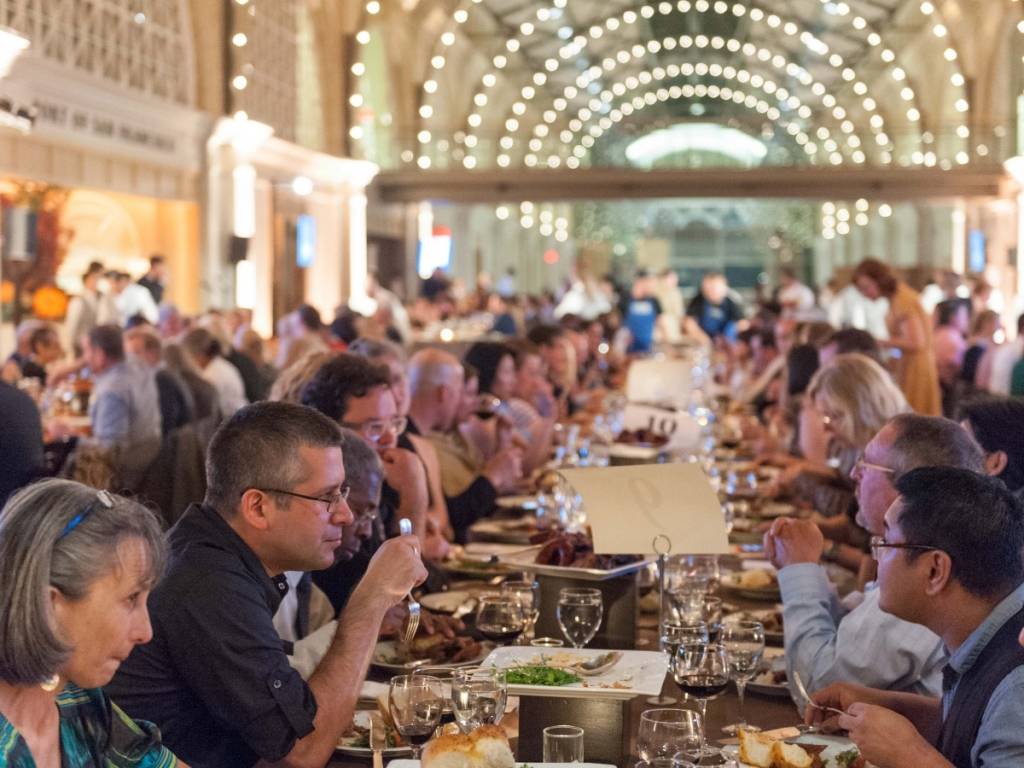 As for what he's serving? Two cold salads: "we're using these beautiful cucumbers and beets and really nice beans to make a fall harvest salad. Then we're serving cold smoked local king salon with these Little Farm potatoes." To get a taste of Terje's cuisine head to Sunday's Supper or make a reservation for a table at Perbecco — we promise you won't be disappointed.
Photo Credit: Drew Altizer Photography
Subscribe to discover the best kept secrets in your city