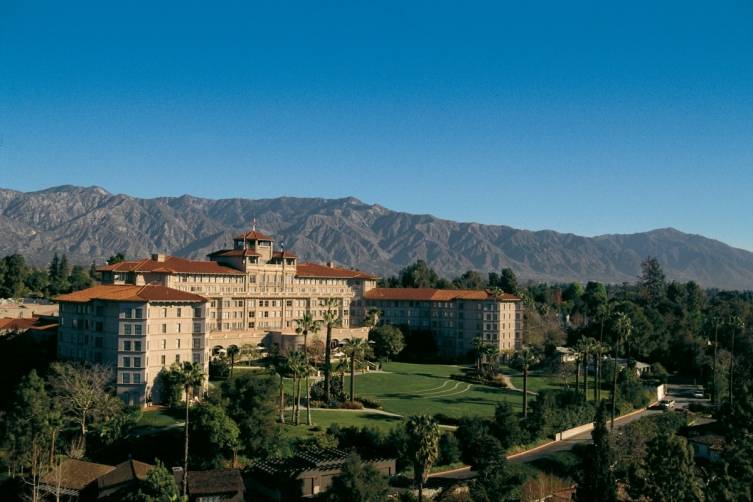 The Langham Huntington Hotel is a little slice of luxury in Pasadena that, to us, felt like the ultimate secret escape. Given that the supremely elegant resort celebrated its 100th anniversary this year, we're not surprised that others fell in love with it as much as we did.
Located on 23 acres, the Langham sits at the base of the picturesque San Gabriel Mountains, just minutes from downtown Los Angeles. Here you'll find 380 guest rooms, suites and cottages, grand ballrooms recalling an era past, as well as perfectly manicured Japanese and horseshoe-shaped gardens.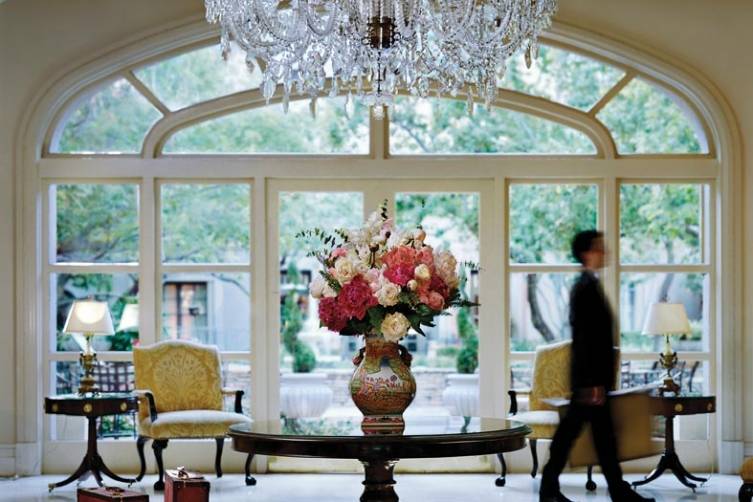 First, let's discuss the rooms. The most opulent option is the Tournament of Roses Suite, a premium two-story suite, with balconies facing both the Horseshoe Gardens and the San Gabriel Mountains, is located on the Langham Club floor and include bespoke concierge services, premium Internet access, and access to the exclusive Langham Club Lounge which offers all-day refreshments and five culinary and beverage presentations throughout the day.The master bedroom features a four-poster king bed and the guest bedroom, two double beds. In the living room you'll be pleased to discover a baby grand piano; a full-size refrigerator, microwave oven and separate service entrance identify the kitchen while upstairs, both Italian marble bathrooms features a jacuzzi bathtub and double vanity sinks.
You might also love the more private Langham cottages, which were built by  wealthy visitors from the east coast who wanted to enjoy long stays during the winter months in the early 20th century. Today, eight cottages remain, each of which has a unique layout that can include fireplaces, patios, and kitchens.
We also have a thing for the Langham Club Suites, which offer guests staying on this floor only a variety of bespoke amenities and a variety of meals; you'll enjoy daily breakfast, snacks, high tea and cordials throughout the day in the lounge.
Privileges for these guests include complimentary garment pressing, bicycle rentals and computer work stations, among other offerings.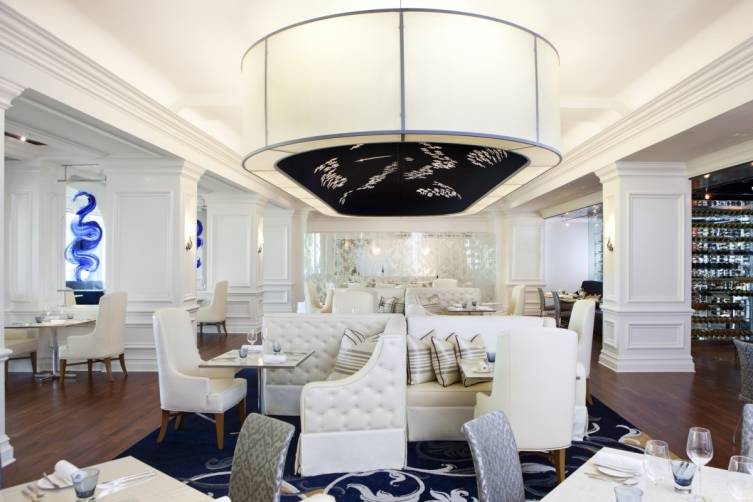 The Langham also has the great good fortune of hosting The Royce—Wood-Fired Steakhouse. The cool white decor opens up to two wine cellars: a light airy white refrigerator and darker, sleeker home for reds.
In addition to the rare and hard-to-find bottles of wine The Royce carries, you'll also find every cut of meat under the sun here. The eatery carries the finest selection of USDA prime cuts such as New YorK Strip, delectable filet mignon and ribeye, as well as Australian and Japanese Wagyu prepared so exquisitely by Chef Perry Pollaci that they will melt in your mouth. Complement your meal with sides such as a twice-baked potato, rich and sinful macaroni and cheese, and veggie dishes such as a wild mushroom fricassee or truffled spinach.
After dinner, head over to the sleek, dark and sexy bar, The Tap Room—an homage to the hotel's original bar, which opened just after Prohibition ended in 1930—for some single malts and cigars.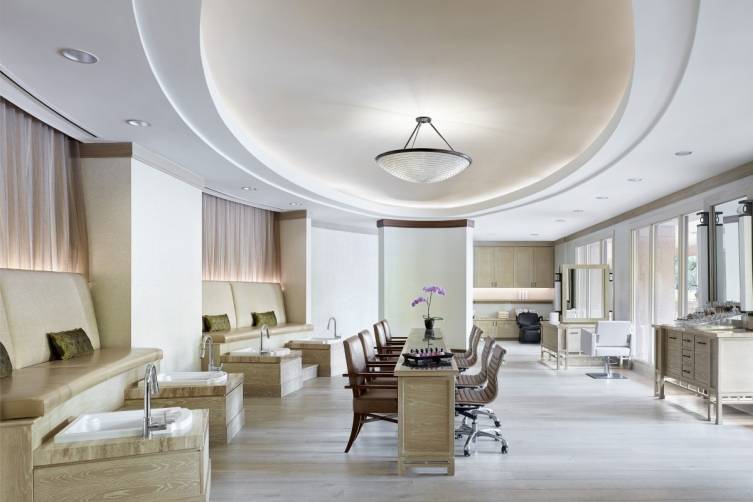 Let's not forget the activities, either. After fully relaxing poolside, heading out for some morning yoga or Tai Chi or playing some tennis, head over to the newly renovated 11,000 square foot Chuan Spa. This place is, quite literally, heaven and offers everything from traditional Chinese medicine to Kerstin Florian facials to luxurious modern services that you'd be more likely to find at a skin clinic than a hotel spa.
Those include the Hydrafacial MD—the only hydradermabrasion treatment that simultaneously provides cleansing, exfoliation, extractions and hydration using  results-oriented, proprietary serums filled with antioxidants,
peptides and hyaluronic acid—and the Mistral LHE, which combines the energy of light and heat to treat all the visible signs of photodamage including discolorations, spider veins, fine lines, wrinkles and uneven skin.
After whatever treatment you choose (we opted for the Chuan Feet Retreat, a 1.5 hour massage, foot soak and mask infused with peppermint, lemon and cypress integrated with the benefits of Chinese pressure points
to release tension and clear energy blocks) relax on a water bed in the dark with some herbal tea and seriously, just call it a day…because why mess with perfection?
The Langham Huntington, 1401 South Oak Knoll Avenue, Pasadena, (626) 585 6414
Subscribe to discover the best kept secrets in your city