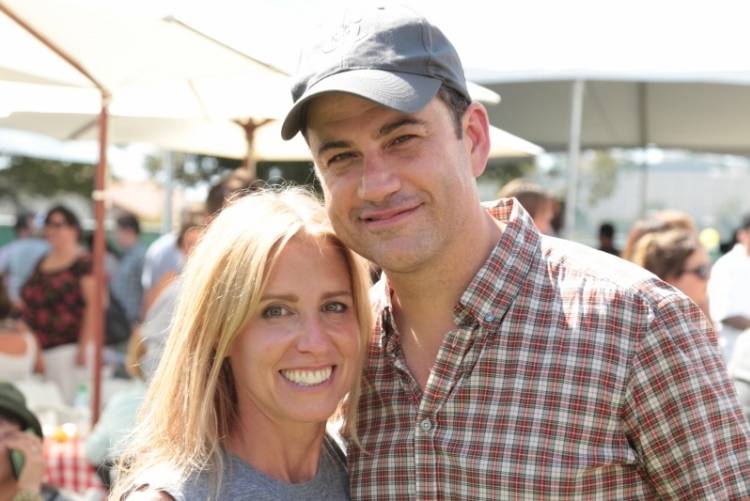 Photo Credit: Alex Berliner
The haute chefs of Los Angeles came out in droves to support Alex's Lemonade Stand and serve up some haute cuisine at the L.A. Loves Alex's Lemonade extravaganza over the weekend.
The fifth annual event was an overwhelming success, raising $700,000 for Alex's Lemonade Stand Foundation at the event's new location at UCLA's Royce Quad.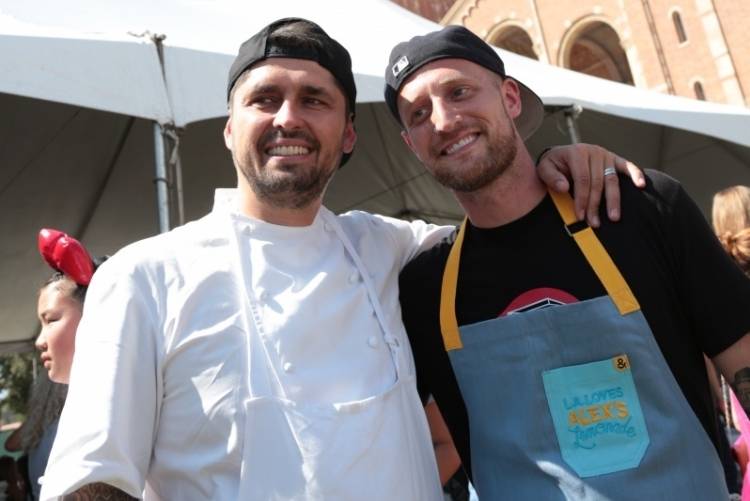 Photo Credit: Alex Berliner
More than 2,000 guests attended, including the 40 chefs, mixologists and vintners who were on hand to raise funds and awareness for childhood cancer research.
$202,000 was raised during a live auction, which included lots like a female chef dinner prepared by Suzanne Goin, April Bloomfield, Giada De Laurentiis and Nancy Oakes.
Photo Credit: Alex Berliner
Young actors and actresses greeted guests upon their arrival at the event, handing out lemonade for all guests, from the Alex's Lemonade stand, with delicious varieties of lemonade graciously provided by the Lemonade restaurants.
Scott Conant, Maria Hines, Steve Samson, Rocco Whale and Giada De Laurentiis were paired with five MasterChef Jr. past and current contestants, providing additional inspiration for all in attendance at the event.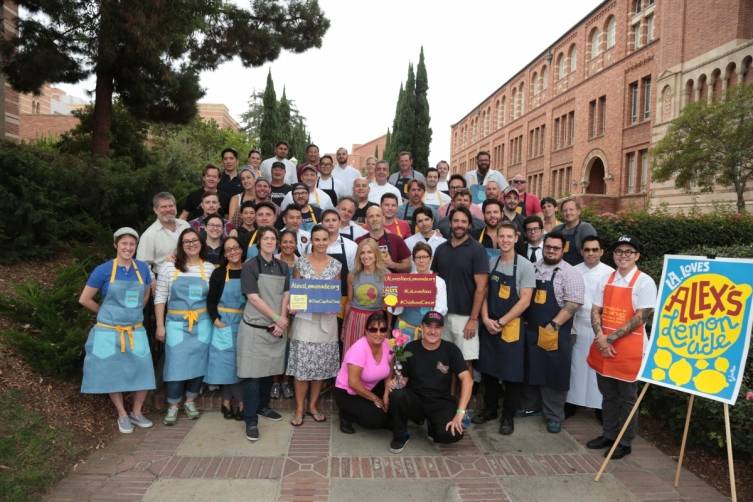 Photo Credit: Alex Berliner
Attendees who attended the day of food, revelry and charity included Camilla Belle, Michelle Branch, Ty Burell, Laura Dern, Sean Hayes, Jimmy Kimmel, Timothy Olyphant, Gillian Jacobs, Pauley Perrette, Renée Felice Smith, Max Greenfield, Jim O'Heir and Monica Potter.
Chefs who offered their support included hosts Goin, Styne and David Lentz, as well as Ludo LeFebvre, Michael Voltaggio, Roy Choi, David LeFevre, John Besh, Michael Cimarusti and Ben Ford. 
Photo Credit: Alex Berliner
Caroline Styne, David Lentz & Suzanne Goin
Caroline Styne, David Lentz & Suzanne Goin
Photo Credit: Alex Berliner
Photo Credit: Alex Berliner
Photo Credit: Alex Berliner
Photo Credit: Alex Berliner
Susan Feniger & Mary Sue Miliken
Susan Feniger & Mary Sue Miliken
Photo Credit: Alex Berliner
Timothy Olyphant
Timothy Olyphant
Photo Credit: Alex Berliner
Photo Credit: Alex Berliner
David LeFevre
David LeFevre
Photo Credit: Alex Berliner
Photo Credit: Alex Berliner
Michael Cimarusti
Michael Cimarusti
Photo Credit: Alex Berliner
Photo Credit: Alex Berliner