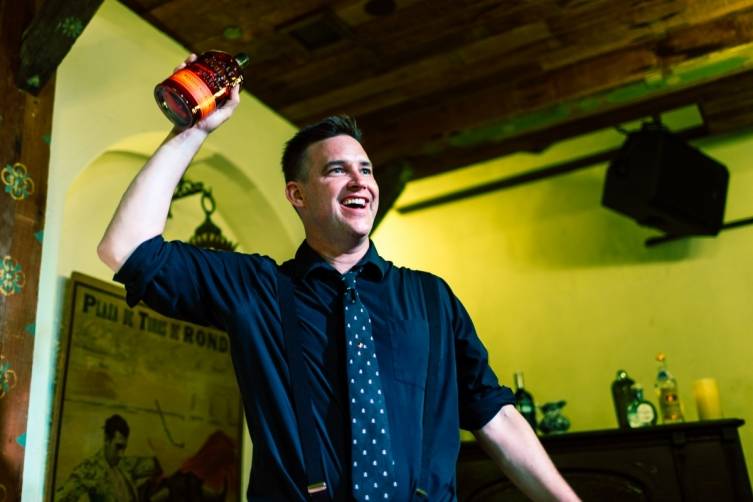 Rob Floyd is a man who knows his libations. Floyd has been an influencer on the mixologist scene since 1989, designing cocktails for the Emmy's, Grammy's and Oscar's. After running the bar at Chateau Marmont for eight years, he then joined the opening team of the SLS Hotel to focus on The Bazaar by Jose Andres, before heading to the Roosevelt Hotel in Hollywood to act as lead at the Library Bar. This led him to his current home, Santa Monica's members-only club 41 Ocean, as National Director of Mixology. Along with being one LA's top men behind a bar, he is currently on a national radio show with Chef Jamie Gwen, composing new creations and sharing tips with listeners. Floyd also created a popular educational tasting series "Cocktail Theatre," a cocktail show, described as "The History Channel meets The Rocky Horror Picture Show," performed throughout the country, to sold-out crowds in Vegas, with tickets selling out months in advance. Once a month 41 Ocean relinquishes its members-only rule, offering "Cocktail Theatre" a select crew of revelers. Trust us though, it's a hard experience to describe: you have to live it to believe it (if you think we're joking, just ask the scantily dressed male fairy walking around the club, though he may, in all likelihood, just grunt at you). We sat down with Floyd to pick his brain about the best libations in LA, the City of Angels thriving mixology scene and his baby, Cocktail Theatre.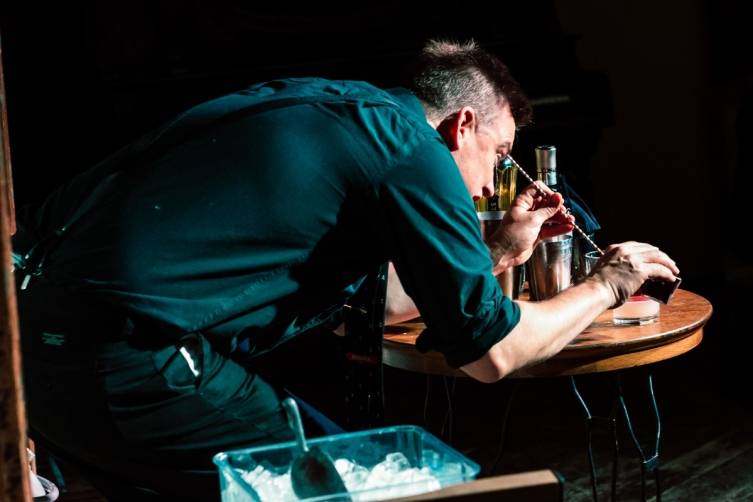 Are cocktails an art form?
 Yes. Last night I was behind the bar and built three to 400 different drinks, never making the same one twice. Often times, people would take out their phones out and take pictures of the drink. It was the biggest compliment to me, especially since I started prep for that days service eight hours earlier. I love making drinks, and from the early morning day of being at the farmers market to the elegant execution of a cocktail, it is all art. The definition of the art in a 17th century style of "creating a mastery or skill." It is pleasing beyond mere utilitarian means. So the making of a bourbon coke is fine, if that is what you want. A little utilitarian, but it gets you to the place you want to go (warm and fuzzy) and you know the route. No judgments, glad to make it for you. The making of a craft cocktail involves work, skill and motivation that goes far beyond going to a place (warm and fuzzy). It involves enjoying the ride to get there. I often tell people mixology is to bartending as cliff diving is to the spring board at the local community pool. They both get you wet, it's just how much fun you can have getting there.
What led you to create "Cocktail Theatre?"
Such a fantastic question! "Cocktail Theatre" started in 1972, when I was four, sitting around my dad's table. He was a brilliant physician with a loving wife and nine crazy Irish children. I am the eighth of nine kids, and growing up in that environment was spectacular. Dinner was never just about the food, although my mom is a terrific cook – and we have decided going straight to heaven – dinner was about the stories my father told. He would tell us incredible tales of history, medicine and politics. As kids we were spellbound. It was a celebration of being a family. We shared our days and he would introduce us to the magical world of storytelling. Also, for his birthday, dad never wanted presents, he had us all memorize poetry. We then would recite it to him in front of all the family. Those who have brothers and sisters know that all the kids would try to make you mess up. Everyone was always nervous….except me. I loved it! I couldn't wait to do my bit of Yeats, Sullivan or Shakespeare and no amount of them teasing me would make me mess up. Cocktail Theatre was born in my early images of watching our family celebrate life around a dinner table built for 11 (nine kids and mom and dad).
There was a time growing up where I was an actor. I was very successful, with my own TV series ("Sliders"). Originating roles for famous playwrights, but I became a single father and the traveling was unrealistic. I couldn't act and be the dad I needed to be to my two boys. I quit "Dark Angel" and went back to the two things I adore. Taking care of my kids and at night, creating "experiences" from behind the bar that were incredible. I felt these experiences had a story to tell. So I started writing nights set classically in Shakespearean 12th Night form with structure, stories and tastings. I wrote in my brothers and sisters as "Shakespeare's fools" to help move the night along and entertain. All my brothers and sisters are Doctors, Lawyers, CFO's, CEO's etc… but in my show they are represented by A Luchadore, a bunny and an angry fairy. Cocktail Theatre are the nights I so vividly remember as a little boy at my father's dinner table. Nights of great food, family and stories. You also get four-five drinks and delicious snacks in the times span of 90 minutes…Good deal!
Are food pairings important for cocktails? Why or why not? 
I love doing cocktail pairings with food. I have been so blessed to work with geniuses like Jose Andres and Scott Conant, who always push the limit and are the best at what they do. Having the ability to tweak, change and perfect a flavor profile to match a chefs food is always a wonderful challenge. It takes time, patience and really paying attention to the food being served. With wine (which I love) you get what you get. When it's opened, that is your drink. It's kind of a let down after so much excitement is put into the food.
What will be a hot cocktail trend for fall and winter in LA? 
I think the biggest trend will be with the home mixologist and their desire to create great libations. If I had one piece of advice to them it would be to use quality ingredients and great salt. Yes, great and fun salts! Chef Jose Andres once told me you can define a great kitchen by looking at what salt they are using. I believe it is the same with great bars. Also there are so many fun ones out there it gives you a great chance to play with your cocktails or food. Right now I am in love with Oaxacan, truffle, smokey and hibiscus salts. The important part is that you continue to play behind your bar and have fun.
ROB FLOYD'S 7 FAVORITE COCKTAILS IN LOS ANGELES + ONE SUPER HAUTE COCKTAIL RECIPE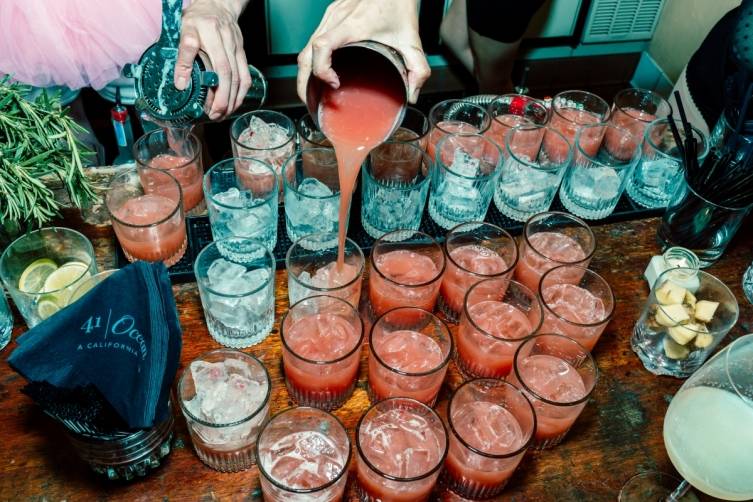 1. They Call me Maurice………….Good Times at Davey Wayne's
2. Sonoma Flight…………………..Sonoma Wine Garden
3. Old Fashion on Fire……………..41 Ocean Club
4. Croatian Vacation………………Melrose Umbrella Co
5. Ferrari……………………………Scarpetta
6. A shot and a beer……………….Farmers Market at the Grove
7. Smoke on the Water……………The Bazaar
What is the most luxurious cocktail a haute reader can truly hope to enjoy? 
I love great cocktails, but if you can't make them at home, there is a bit of a let down. Recently, I built a program into the number one molecular mixology  bar in America. That's great if you have lots of time and expensive machinery, but not practical for the home mixologist. Here is a phenomenal drink you can make at home with ingredients that are easy to find. It's great when you can make a cool cocktail and it's easy to do. We start with an easy infusion;
Start with 8 oz. of your favorite Rye, add 1 peeled orange and let sit in a cool dark place for 24-48 hours in a mason jar with lid on it.
take 2 oz out and stir with 2 oz. of Carpano Antica (Italian Sweet Vermouth). hit with 2 dashes of your favorite bitters. Finish with a Luxardo cherry and pour into your favorite coupe glass and you have a brilliant Manhattan that is all your own.
Subscribe to discover the best kept secrets in your city