Three new white lion cubs, the latest additions to the Siegfried & Roy animal family, will appear for the first time in public on Friday at Siegfried & Roy's Secret Garden and Dolphin Habitat at The Mirage.
The cubs — Freedom, Timba-Masai and Madiba — are brothers and were born just over 12 weeks ago in Johannesburg, South Africa. They join more than 30 other endangered and majestic animals at the Secret Garden at The Mirage.
"These boys, our newest Lion Kings, are truly our Ambassadors of Conservation and Preservation," said Roy. "They are the living embodiment of the work of our SARMOTI Foundation which provides support for the plight of endangered species around the world. As you know the color white signifies hope and we have faith that these magnificent young lions will inspire you to join us in ensuring that the Lion's roar is not silenced."
There is significance to their names, all picked by Siegfried & Roy. Madiba is the tribal name of Nelson Mandela, who encouraged the magicians to keep the great lions and tigers of South Africa alive for future generations. Timba-Masai is for the Timbavati region of South Africa where the lions come from and Masai is the African tribe of the area.
"Millions of people each year visit the Secret Garden and are awed by these great creatures," said Siegfried. "One by one, we are raising awareness for the plight of rare and endangered animals – our true mission."
The cubs are scheduled to appear daily from noon to 4 p.m.
Franz Kallao, vice president of hotel operations for The Mirage, said, "We are delighted to welcome these three adorable lion cubs to their new home at the Secret Garden. As a supporter of wildlife education and discovery, The Mirage's partnership with Siegfried & Roy has allowed us to create an opportunity for our guests to view these majestic animals up close in a unique environment."
Siegfried & Roy's Secret Garden and Dolphin Habitat is open weekdays from 11 a.m. to 6 p.m. and weekends from 10 a.m. to 6 p.m. Cost for an all-day Adventure Pass is $19.95 for adults; $14.95 for children 4 – 12; and children 3 and under are free.
Like Haute Living Las Vegas? Join our Facebook page or follow us on Twitter. Want Haute Living Las Vegas delivered to your in box once a week? Sign up for our newsletter.
The Mirage welcomes three new lion cubs, Madiba (L), Freedom (C) and Timba-Masai (R), to Siegfried & Roy's Secret Garden and Dolphin Habitat. Credit - Siegfried & Roy
The Mirage welcomes three new lion cubs, Madiba (L), Freedom (C) and Timba-Masai (R), to Siegfried & Roy's Secret Garden and Dolphin Habitat. Credit -…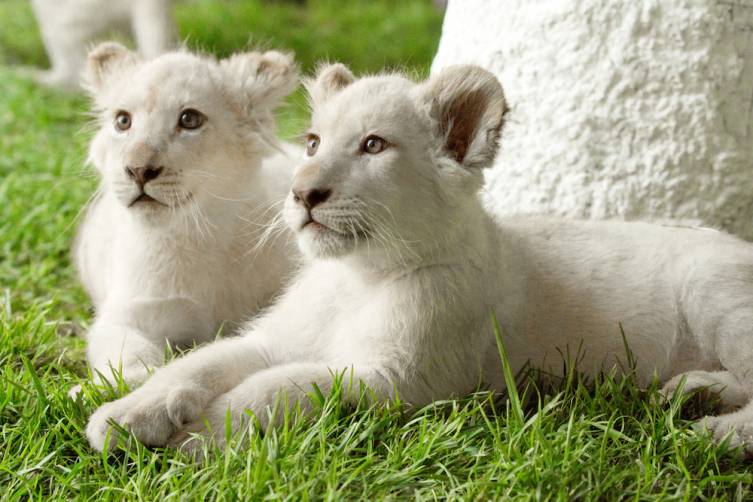 Timba-Masai (L) and Freedom (R) rest under a tree at Siegfried & Roy's Secret Garden at The Mirage. Credit - Siegfried & Roy