There are few places on Earth more frequently described as paradise than Maui. This idyllic Hawaiian island has it all, from picture-perfect scenery to lush foliage to sultry weather. Wailea, located on the south shore of Maui, also happens to be the most luxe of the island communities thanks to its high-end resorts, gourmet restaurants and world-class golf courses. Whether you're sitting poolside with a tropical drink in hand, indulging in a spa treatment at one of Maui's award-winning spas or getting your tan on Wailea Beach, which has been dubbed "America's Best Beach," here are the places you need to experience in order to have the vacation of your dreams in paradise.
STAY
From the moment you enter the grand lobby of the Four Seasons Maui and are adorned with a welcoming lei to the moment you leave it, know that you'll be treated like royalty. What makes the Four Seasons stand out isn't just its beauty and amenities, but its staff. The employees here will go above and beyond to make sure that your holiday is perfect.
So what makes this resort so magical? Well, everything, really. There's an on-site reservations specialist to take care of your every need, and a Tesla S85 to pick you up in style from the airport. If you want to explore the island on your own, the five-star resort provides you with a vintage replica convertible, including several styles and colors of the 1957 Porsche Speedster. There are two sand-filled synthetic grass Nova'Pro courts, both lit for night play, with the use of complimentary racquets and balls; a tennis pro is also available to give group clinics. There are free introductory scuba lessons and an outrigger canoe program, a complimentary resort ride program anywhere in Wailea, and a game room for adults and kids alike with pool and shuffleboard tables, as well as a video game center, and both outdoor and indoor fitness centers for those who need to temper their vacation over-indulgences with exercise.
Then there are the rooms. The most opulent (and most frequently booked by celebs and the elite) is the three-bedroom Maile suite. Located on the penthouse floor and directly facing the ocean, this 4,750-square-foot  royal suite is appropriately named. Maile is a fragrant native plant traditionally used to create beautiful lei for royalty and other people of significance. The expansive living area opens to the equivalent of six individual lanai, connecting across the front of the suite and providing different settings for lounging and dining. The kitchenette is convenient for staff serving cocktails or meals. The suite's three bedrooms each include a lavish bathroom and extra closet space. This residential-style three-bedroom suite provides an unparalleled experience of Four Seasons Resort Maui at Wailea.
You can also choose to stay on the clubhouse floor, which offers guests private check-in and check-out, all-day refreshments in the Lounge, including Continental breakfast, afternoon tea, premium cocktail service and hors d'oeuvres, desserts and after-dinner drinks and personalized business and concierge services.
The resort is also now offering its "Complete Suite Experience" package.  Guests who book a stay in one of the resort's Oceanfront or Residential Suites can expect a sleek luxury car pick-up from their home to the airport with Uber, the aforementioned Tesla or private SUV.  At the end of the stay, the process repeats with guest arriving at their home destination in style, comfort and ease.  The goal is to create an inclusive, no worries, amenities rich experience wrapped into the price of the suite.  A complimentary breakfast buffet at DUO restaurant daily or in-suite room service is also offered along with custom-made itineraries developed by the award-winning concierge staff.
Four Seasons Maui, (808) 874-8000
If you're looking for a long-term stay in Maui, or seeking the comforts of home in an equally opulent way, the Wailea Beach Villas by Destination Resorts Hawaii are the place for you. These luxe villas are located in a private, gated community just steps way from Wailea Beach with waterfalls, blooming gardens and lush, flower-lined pathways providing a gorgeous backdrop. You'll find most resort amenities here aside from restaurants: a fitness center, an adults-only pool, cabanas, a business center, billiards room and massage and mini spa treatments.
What's most impressive here are the villas themselves. Each villa ranges in size from two to five bedrooms, and contains everything you'll need for the perfect vacation. There is central air-conditioning with multi-zone controls and ceiling fans in the Great Room XSPACE and each individual bedroom, a large, private lanai overlooking the ocean equipped with a built-in Viking barbecue grill, a personal enclosed laundry room with a full sized washer and dryer, iron and board, laundry basket and laundry detergent and llarge flat screen TV's in living room and personal flat screen TV's in each bedroom.
The master bathroom features a double vanity, deep soaker tub, separate marble shower and a spacious walk-in closet, while each bedroom offers 500 thread count, 100% Egyptian cotton bed linens for the most luxurious sleeping environment possible. Certain rooms have a private plunge pool and rain shower, while others even have a guitar for use; all come equipped with a vintage-style arcade game (which, as it happens, is entertaining for both adults and children alike).
And then there's the kitchen. Those who prefer to fly in a private chef than using the amazing amenities themselves are welcome to do so – and someone should: these are dream kitchens. Each features two sub zero refrigerator/freezers or one sub zero refrigerator/freezer and a wine refrigerators, a microwave, blender, rice cooker/steamer, coffee maker and coffee grinder with fully loaded coffee bar and completely stocked housewares – pots and pans; baking dishes; cooking, serving and eating utensils; plates and bowls; elegant stemware and flatware.
Like we said, your home away from home – only better.  
Destination Resorts Hawaii  (808) 891-6249
PLAY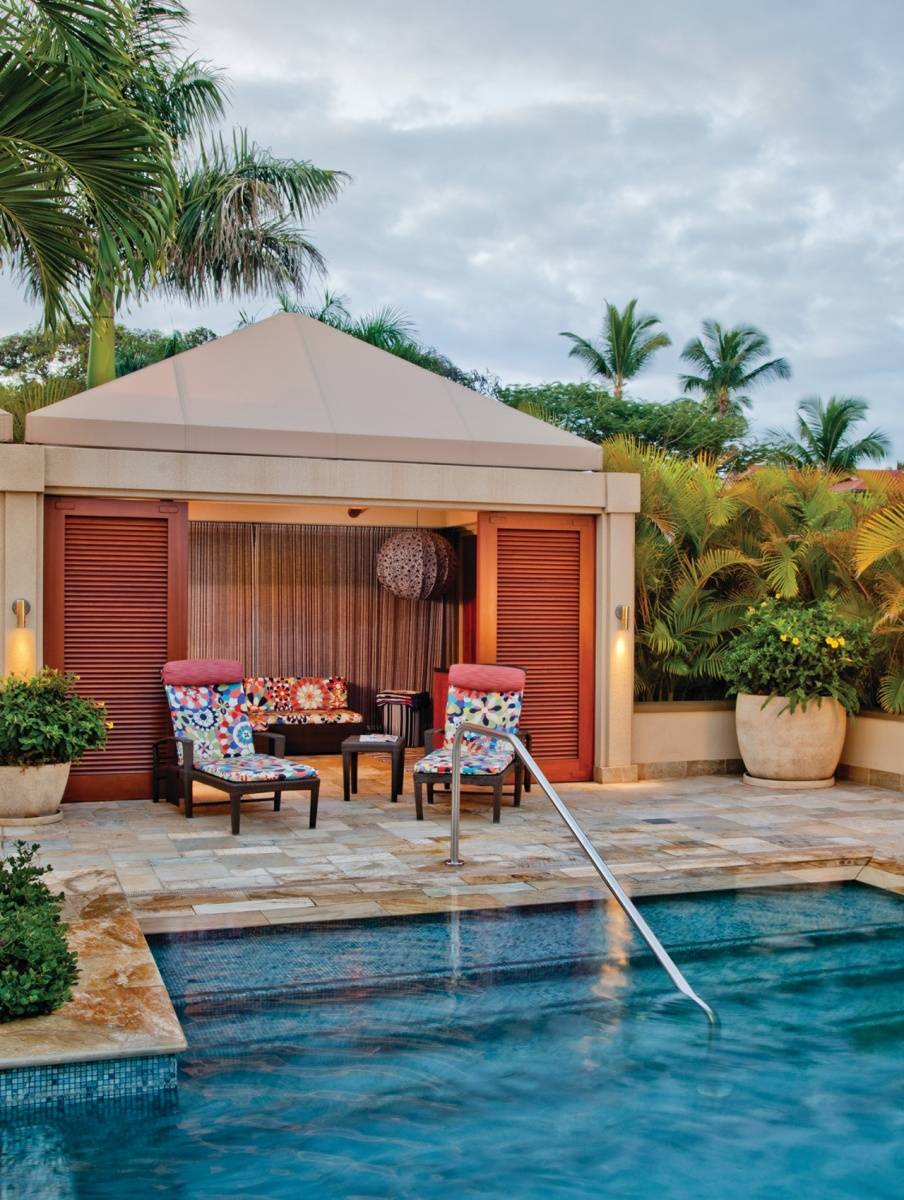 There are two ways to play in Maui: by relaxing, and by doing. One isn't better than the other; it depends on your mood.
For those who want to seriously slug out, book a Missoni-designed cabana at the adults-only serenity pool at the Four Seasons. There are two cabanas designed by the Italian fashion company, which are decorated with rattan sofas covered in the brand's typically vibrant fabric, terrycloth towels and graphic pillows. Each cabana contains chaise lounges as well as stools for additional seating; they are each also decorated with Chinese lanterns. You'll also find Bose headphones, a flat-screen TV, an iPad and a mini-fridge stocked with water and Champagne for the ultimate poolside experience. If you feel like indulging in a tropical drink, we urge you to order the Lava Flow – a pina colada meets strawberry daiquiri – at the swim-up bar.
For those that would rather play, head to one of Wailea's three award-winning golf courses. The Gold, Emerald and Blue courses boast breathtaking ocean views from every hole and dozens of prestigious awards. Our recommendation: challenge yourself and go for the Gold.
And a vacation wouldn't be a vacation without shopping, of course. The Shops at Wailea are known for their luxe boutiques, such as Gucci, Louis Vuitton, Bottega Veneta, St. John and Tiffany & Co. You'll also find great high-end shopping at the Four Seasons at 22 Knots, which features omen's high-end fashion and designer exclusives and fine jewelry, and Cabana, a store that carries casual designer beach and fashion apparel, shoes and accessories for mens, women and children.
EAT
There are four restaurants you must try during your stay on Maui. The first and foremost, of course, is Wolfgang Puck's Spago, which is known for its Italian-meets-Asian cuisine. Its Maui menu incorporates more fresh fish than anything, as you'd expect. It was one of the best meals we've ever had, from the superb spicy `ahi tuna "poke" in sesame-miso cones starter to the grilled mahimahi with pineapple, ginger BBQ, sweet Maui onions, and shitake mushrooms to the superb wine pairings. Ferraro's Bar e Ristorante offers some of the most romantic, ambient views in Maui overlooking the ocean with mood lighting created by torchlight only. Its Executive Sous Chef, Craig Dryhurst, has also created a wellness menu that will soon be launched for the ultimate in healthy eating on holiday. We loved Duo for dinner thanks to its new weekly farmers market night, where you can actually pick out the cuts of beef of specific oysters you'd like, and we adored the buffet breakfast here as well, especially given that it has its very own wellness juice bar. If you feel like venturing of Wailea, definitely check out the upscale Mama's Fish House, which is located on the beach in the darling neighboring town of Paia.
Spago, (808) 874-8000
Ferraro's Bar e Ristorante (808) 874-8000
Duo Steak & Seafood, (808) 874-8000
Mama's Fish House, (808) 579-8488
RELAX
Finally, what would a vacation be like without a little relaxation?
The Spa at the Four Seasons offers some truly groundbreaking treatments, including one for those who are adamant that they will not gain weight from all those rum-based libations. The resort actually has its own doctor on hand to offer certain medical-grade services. Dr. Mark Emerson can treat you with i-Lipo™, a revolutionary laser system that incorporates low level laser technology (LLLT) to deliver targeted fat reduction and body shaping results in as little as 20 minutes, without pain or tissue damage. i-Lipo stimulates fat cells to naturally break down their stored triglycerides, shrinking the fat cells to deliver immediate body contouring results. He has also worked on the resort's new Wellness menu for optimal results.
Then, of course, there are more traditional offerings, like the Hale Hau oceanside massage, native Hawaiian lomi lomi massages and the innovative HydraFacial, a new treatment that offers non-laser skin resurfacing and the awesome, indulgent Cocoon Bodywork: a unique sensation of being enveloped in a warm cocoon bed while receiving a massage.
We were also gaga for the spa at the newly opened Andaz Maui. In addition to its open, ocean views, we loved that we immediately were able to curate our very own massage cream through a variety of scents, salts and oils at its Apothecary Lounge, whose blending bar carries locally grown herbs, plants and fruits for customized lotions. We loved that the spa itself seemed to capture the essence of Maui, with its wooden, earthy vibe and lush, luxe treatment rooms. We also enjoyed that a tranquility pool, sauna, steam and plunge pool was available post-treatment, and that we were able to continue to relax in a cabana at the private spa pool with truly exceptional poolside nibbles.
Spa at the Four Seasons Maui, (808) 874-8000
Awili Spa and Salon Spa at the Andaz Maui, (808) 573-1234
MAU_518
Peter Vitale for Four Seasons Maui
MAU_584
Kyle Rothenborg for Four Seasons Maui
MAU_657
Photo: Don Riddle for Four Seasons Maui
MAU_662
Photo: Don Riddle for Four Seasons Maui
MAU_1147
Four Seasons Maui
MAU_1148
Four Seasons Maui
MAU_1151
Four Seasons Maui
MAU_1173
Photo: Christian Horan
MAU_1180
Photo: Christian Horan
56937472-H1-WBV_OneSheet_Back_Center
Destination Resorts Hawaii
56937501-H1-WBV_OneSheet_Back_Left
Destination Resorts Hawaii
51028653-H1-E102_Kitchen
Destination Resorts Hawaii
56937487-H1-WBV_OneSheet_Back_Right
Destination Resorts Hawaii
MAU_1172
Photo: Christian Horan
FPO_MAU_815
Four Seasons Maui
FPO_MAU_688
Don Riddle for Four Seasons Maui
FPO_MAU_812
Four Seasons Maui
FPO_MAU_814
Four Seasons Maui
Like Haute Living Los Angeles? Join our Facebook page or follow us on Twitter @HauteLivingMag.