The perfect beach getaway helps you relax and recharge body, mind and spirit. Legendary Canyon Ranch Hotel & Spa in Miami Beach fulfills this promise – and so much more. With the blue waters of the Atlantic lapping nearly at your doorstep, you're free to settle in for a respite of indulgent pampering or challenge your body with personalized fitness programs culled from a weekly schedule of 300-plus activities – both indoors and out.
You'll have access to four beautiful outdoor pools with locations designed to ensure that you'll always find the right spot for sunbathing, regardless of the time of day. Lose yourself in yoga classes, qi gong, Zumba® and beachfront boot camps, or tone your body in style with something called "Buff Ballet Booty." If classes aren't your thing, park yourself on the beach with a cocktail, go for an ocean swim or enjoy an adrenalin rush on the indoor rock-climbing wall.
After your workout, you'll find endless options to spa, steam and sauna in the 70,000-square-foot Wellness spa – the largest in Florida. Unwind in the spectacular Aquavana® thermal suite with a series of hot, warm and cold experiences from a Finnish sauna to the eucalyptus-infused igloo. While you're into the relaxation groove, you might as well complete your journey to nirvana with a signature Canyon Ranch massage, facial or body ritual. And afterward, the icing on the cake: Stop by the salon to be beautified with a new hairstyle, blowout, manicure and pedicure. You'll fall in love with the fantastic eco-friendly skin care and beauty products.
One of the most surprising aspects of this fabulous place is the Health and Wellness component. Looking to lose a few pounds, quit smoking or find effective strategies to cope with stress? Look no further – through individual services or comprehensive Health Packages, you can explore and address any health issue to unparalleled depth. Prepare to work with a team of integrative health professionals who will assess and address your history, lifestyle, current state of health, and your goals, preferences and desires. You'll receive a level of attention, thoroughness and convenience that is simply unobtainable elsewhere.
The luxurious suites are all a spacious 720-plus square feet with kitchens, modern-yet-natural decor and amazing ocean and city views – the perfect refuge after an activity-filled day. Enjoy room service or an exquisite, guilt-free meal at Canyon Ranch Grill™, featuring gourmet specialties by Executive Chef GiovanniArias. Think pasture-raised beef tenderloin, seared scallops and vegetarian haute cuisine. Everything you could possibly wish for in a world-class beach vacation is right here at Canyon Ranch Hotel & Spa – the only question remaining is when to go. We've got a suggestion: Come during the "One More Night" promotion that offers a fourth night free when you stay three nights. This special promotion is available when you book your stay May 1 through December 20, 2014. Call 866-284-4850 or learn more at canyonranch.com.
outdoor-dine-couple-with-wine
restaurant1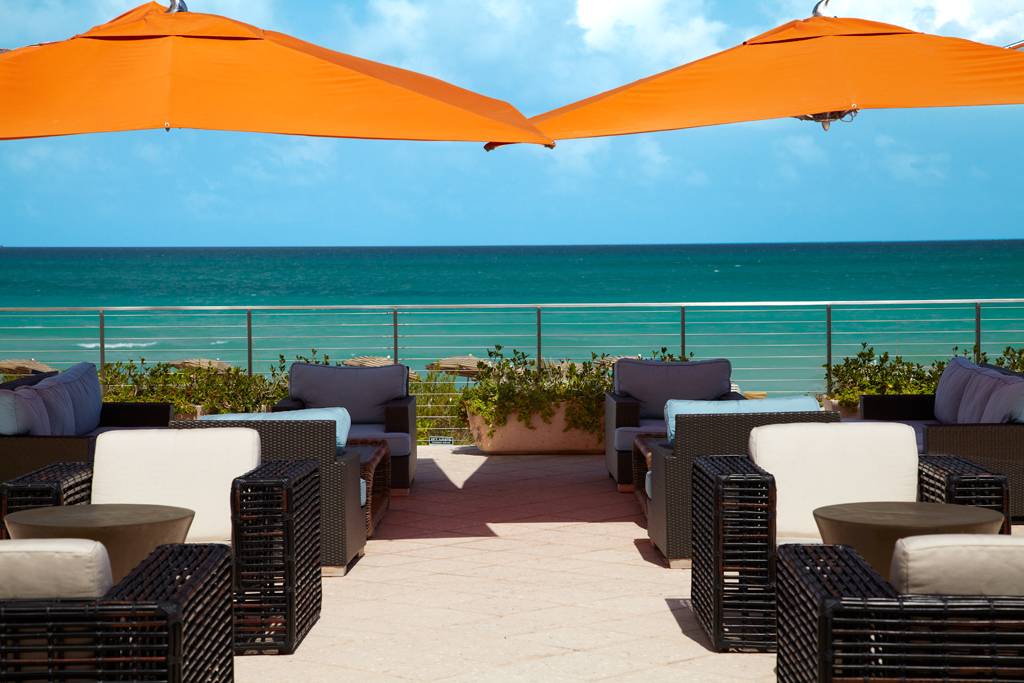 CRM_OCEAN_TERRACE_4161RT
CRM_YOGA_0021_REV
Canyon Ranch Miami Beach Splash Pool
1200x1200-CanyonRanchMiamiBeachAtlanticSpa
1200x1200-CanyonRanchMiamiBeachProperty
1200x1200-CanyonRanchMiamiBeachPalmCourt
1200x1200-CanyonRanchMiamiBeachLobby
1200x1200-CanyonRanchMiamiBeachGym
1200x1200-CanyonRanchMiamiBeachSeaGrapeTerrace
1200x1200-CanyonRanchMiamiBeachHydroSpa
1200x1200-CanyonRanchMiamiBeachEuphoriaTreatment
1200x1200-CanyonRanchMiamiBeachSuite
1200x1200-CanyonRanchMiamiBeachYoga