On Friday, numerous celebrities and socialites gathered for the annual UN Women for Peace luncheon. The event was held in the breathtaking Delegates dining room at the UN in celebration of International Women's Day.
Uma Pemmaraju acted as the master of ceremony. The Co-Chairs were Muna Rihani Al- Nasser, Deidre Imus and Sheikha Paula Al Sabah and Cindy McCain. Since its founding in 2008, the foundation has provided social, cultural, educational and empowerment programs as well as scholarships to benefit underprivileged women to study at the University for Peace. After the luncheon, attendees marched from the UN Headquarters to Dag Hammarskjold Plaza at 47th and First Avenue.
Trudie Styler and Dina Habib Powell were honored at this year's event. Styler received the organization's 2014 Humanitarian Award and Dina Habib Powell accepted the 2014 Achievement Award. The Committee of Honor attendees included Kim Cattrall, Naomi Campbell, Monique Coleman, Rosemary DiCarlo, Rula Jebreal, Lakskmi Puri, Kelly Rutherford and Aldijana Sisic.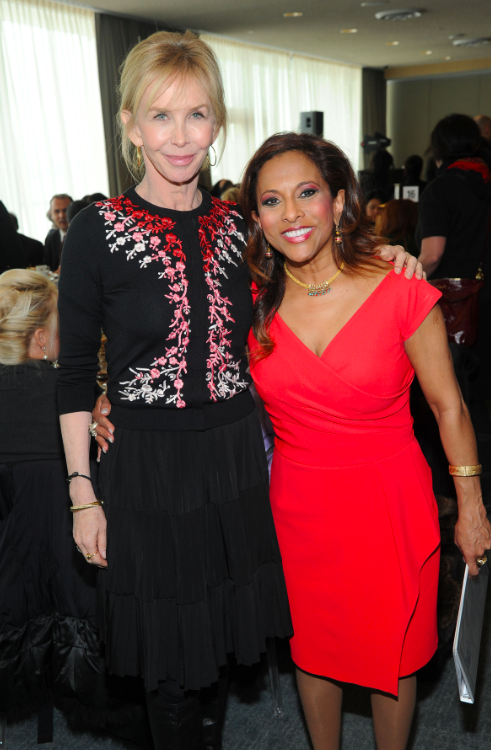 Other luncheon guests included H.E. Mr. Nassir Abdulaziz Al-Nasser, Carole Acunto, Keiko Aiko, Soad Al-Otaibi, Gabrielle Armand, Mariam Azzarm, Sahar Baassiri Salam, Paola Bacchini Rosenshein Mrs. Ban Soon-taek, Jean Christoph Bas, Miriam Belov, Robin Benitz Julia Benitz The Face's, Afiya Bennett, Kristen Boyer, Olivia Bransbourg, Tina Brown, Sharon Bush, Flavia Campi, Angie Ellen Canuel, Lilianna Cavendish, Ambassador Anwarul K. Chowdhury, Aubrey Clark-Brown, H. E. Ms. Mirsada Colakokovic, Donna Corbat, Amb. Sandra Marisol Cruz de Flores, Julia D'Amico Rockefeller, Princess Say De Brancovan, Denise De Luca, Ann De Richemont, Robert and Jan Dilenschneider, Daniella Diserens, Jean-Pierre Diserens, Ambassador David Donoghue, Rema Dupont, Dee Dee Eustace, Barbara Evans Butler, Somers Farkas, Amb. Ahmed Farouk, Olivia Flatto, Dr. Allan Goodman, Susan K. Gutfreund, Dina Hibib Powell, Sharon Handler Loeb, Nicolla Hewitt, H.E. Mrs. Edita Hrdá, Lucia Hwong, Dr. Amalle Keita Daou, Ambassador Yusra Khan, Amb. Masood and Mrs. Zohra Masook, Kristen Lawson Jaffe, Francine LeFrak, H.E. Mr. Riyad H. Mansour, Ayo Megbope, Valbona Neritani, Adrian Neritani, Jennifer Pearlman, H.E. Mr. Desra Percaya, Mrs. Diana Mawarsari Percaya, Jean Shafiroff, Maria Snyder, Jana Stadler Jaffe, Stephanie Stokes, Anita Sumner, Monique Van Vooren, Emmanuella Van Hapsburg, Barbara Winston and May Zawaideh.
UN Women For Peace's Annual March in March 2014 Awards Luncheon
UN Women For Peace's Annual March in March 2014 Awards Luncheon
UN Women For Peace's Annual March in March 2014 Awards Luncheon
UN Women For Peace's Annual March in March 2014 Awards Luncheon
UN Women For Peace's Annual March in March 2014 Awards Luncheon
UN Women For Peace's Annual March in March 2014 Awards Luncheon
UN Women For Peace's Annual March in March 2014 Awards Luncheon
Subscribe to discover the best kept secrets in your city