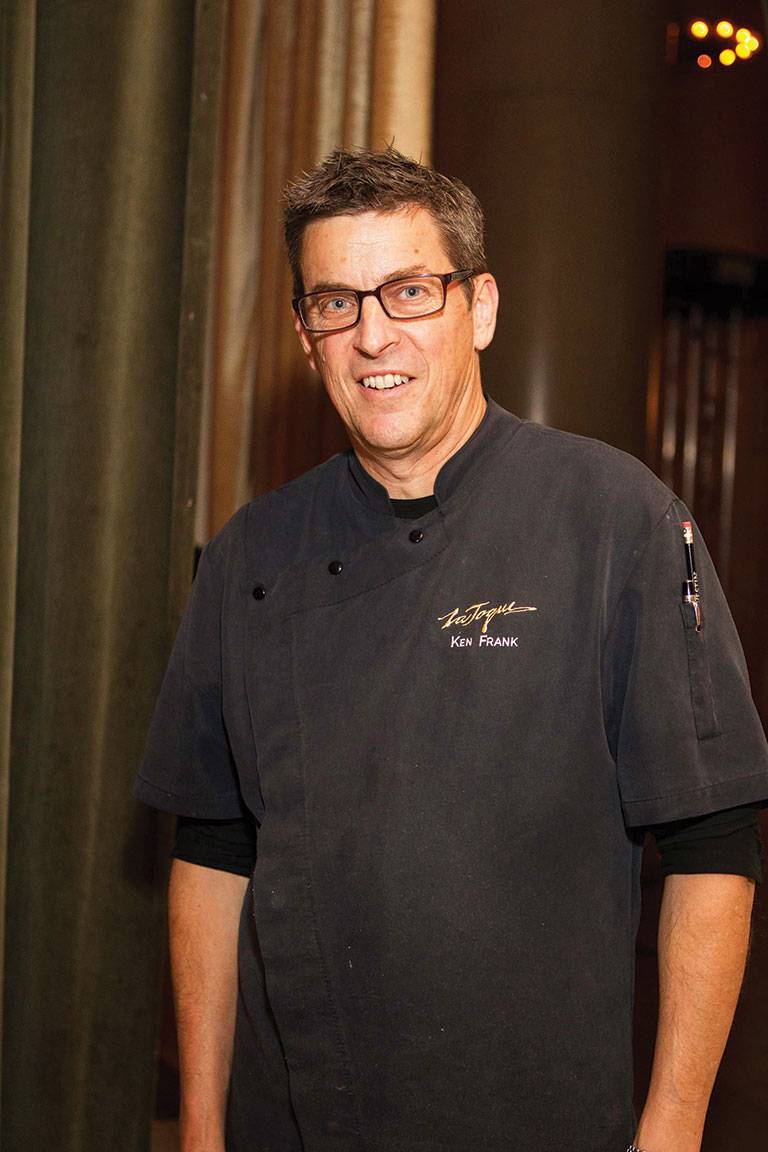 Photography Drew Altizer
From his humble beginnings in the kitchens of France to his Michelin-rated La Toque in Napa, Chef Ken Frank continues to bring the magic of seasonal food to life. The chef and restaurateur opened his first incarnation of La Toque in 1979 on Los Angeles' infamous Sunset Strip before moving to Napa in the late '90s. He then relocated the restaurant to Rutherford before finally making his home in Napa at the Westin Verasa in 2008. Wine country has proven to be a perfect place for Frank to evolve his menu of seasonal and fresh dishes. This sustainable practice isn't just a phase though: for Frank it's a fully committed lifestyle that starts in the garden, continues in the kitchen and ends on the plate.
Describe your style of cooking.
My cooking is rooted in France with international influences, and it is absolutely seasonal.  I depend on the very best ingredients I can find at any time. There is quite a bit of Asian influence because I'm on the west coast. I like good food probably a little more than ever before because exciting things have been happening [in the culinary industry]. France used to be the culinary center of the universe, and now it has serious competition from chefs from the United States, Spain, Italy, Germany and Switzerland. The world of food is broader than it used to be.
How do you incorporate garden-fresh ingredients into your menu?
We're really spoiled to be able to have access to a garden around the corner. It's great to be able to grow things that you can pick fresh daily. We kind of plan the garden around what we want to be able to have.  Our sous chefs are all working on the garden wish lists for this spring and summer.  We've got a number of different kinds of basil, a devoted herb bed and we're also starting to grow some of our own micro greens this year.  If you grow them yourself, then you're the master of your own destiny. 
What are some ways that you incorporate sustainable techniques into your cooking?
Our kitchen is super energy efficient.  We use on-demand water heating and we have two crazy expensive Japanese water heaters.  We also have a system of sensors in all of our hoods that measure heat and the volume of smoke at three times per minute. We run usually not more than 80% efficiency and we've saved almost $2000 a month on our power bill. I run the whole food and beverage department in the Westin Verasa, and they have a brand-wide Green Program, so our lighting is green. We recycle metal and cardboard glass, and we're part of the city's food-waste compost program.  We've eliminated a little over fifty percent of our waste stream that we've diverted into recycling. As a brand, the Westin has been really green-conscious.  
What is the key to keeping your Michelin rating?
Michelin looks for two things: outstanding food and consistency. It's the only award of its type that is really fully anonymous. It's good to be in Zagat, and to have reviews in newspapers and magazines.  But none of those have the gravitas that the anonymous Michelin spectator has.  It's the world's gold standard.  Every chef I know and every cook in my kitchen is more proud of that Michelin star than every other thing that we do.  It is respected worldwide, and you will eat well in a Michelin rated restaurant.
Do you feel pressure to keep your Michelin rating alive?
I wouldn't call it pressure: there is a constant pressure to uphold a certain standard. There's a shared responsibility that I know the staff feels. Losing a star is a terrible thing; I wouldn't wish it on my last enemy.  Going from two to one is horrible and there is nothing good about that.  We take our rating very seriously.
What's next for you?
I'm not an empire builder. I am slowly working on a new book. I haven't written it yet – I'm just thinking about it.  I've talked about it with a couple of people and it's getting closer.
I haven't written a book in 25 years since Ken Frank's La Toque Cookbook. It is very much late '70s, mid '80s style cooking, but the recipes still work, and some of the combinations in the book still cycle. The difference between me now and 25 years ago is that I can't think about cooking without thinking about what we're going to pour with it, so the new book will have a much bigger wine component to it and it will be utterly seasonal. What's available in February is very different than what's available in May and October. It may take awhile to learn what those things are, but it comes from experience when you realize that there's always something great out there.