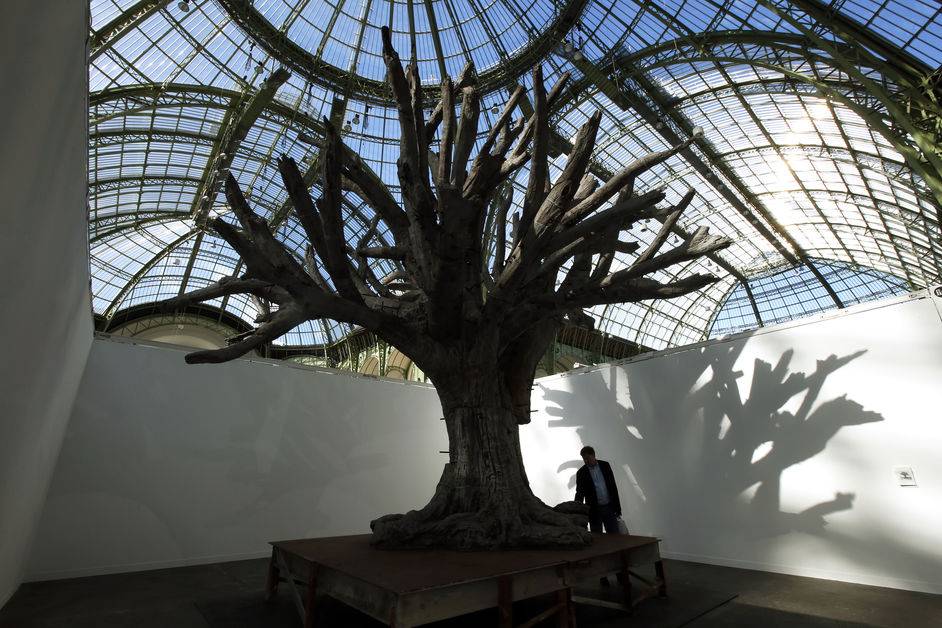 For its 40th anniversary FIAC Art Fair thought on a big scale. Fiac art fair was a success and visitors were welcomed to the main entrance by a monumental sculpture of Ai Weiwei, a giant and majestic tree.
If previous years have seen a certain unity in the organization of the fair (one year German galleries were well represented, another year Mexico had the place of honor, yet another year it was the turn of China …) this year was more eclectic. As if all the galleries presented had decided to show their most beautiful works without worrying about a certain cohesion between them. There was a real buzz. Dynamic energy that emanated from the crowd.
The contemporary art fair, which closed its doors last Sunday, was a success according to organizers who think the idea of exporting abroad. 73,550 visitors came and all major works were sold. The first day, reserved for professionals, VIP and collectors, saw 17,280 entries, an increase of 12.6%.
According to the neugerriemschneider art gallery, "Iron Tree" by Ai Weiwei, that was one of the highlights of this edition, has been sold.
Another master piece was sold: "The Dino" (model made by Ferrari) red rugged entitled "Crashed car" by Bertrand Lavier, which captivated visitors and shown at the Yvon Lambert gallery booth.
"Tao Laughter", giant sculptur made by Yue Minjun and represented by the Daniel Templon gallery was sold for 637.500 euros.
This year the fair was exeptionnal not only by the quality of the works presented but also by the fact that many many art collectors, art dealers, art critics, from all over the world had traveled to be there.