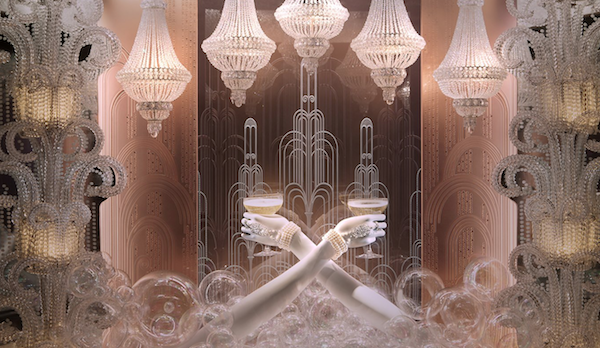 Tiffany & Co. unveiled its opulent, Deco-inspired pearl and diamond creations, inspired by the 2013 film adaptation of F. Scott Fitzgerald's "The Great Gatsby," at the New York Flagship store yesterday. And even gave its window displays a 1920's makeover!
Featuring grand crystal pillars and glass bubbles, the elaborate windows showcase five key party scenes from the upcoming flick — and of course, plenty of sparkly jewels. "They put more than 150,000 craft beads in these windows, and they are all meticulously hand strung, so it was a real labor of love," Richard Moore, vice president of creative visual merchandising at Tiffany & Co. told Luxury Daily.
One window features a four-tier stack of Champagne coups overflowing with bubbly and accented by Tiffany chandelier earrings. In another, two white porcelain hands float in a sea of glass bubbles. Both wrists are decorated with a pearl-and-diamond bracelets from the store's The Great Gatsby Collection.
To complement the Roaring '20s window displays, Tiffany covered the outside of its flagship boutique with 45-foot-high appliqué designs reminiscent of art-deco fountains.
Subscribe to discover the best kept secrets in your city