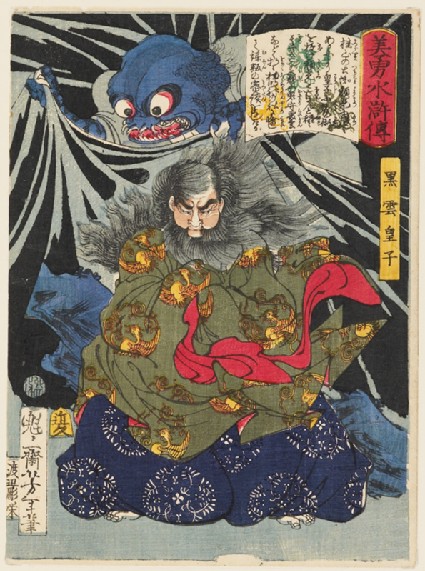 In Japan's native religion Shinto, people share the world with spirits that inhabit humans and animals along with inanimate objects such as rocks and lakes.  The Morikami Museum and Japanese Gardens will open explores these spirits in "Ghosts, Goblins and Gods: The Supernatural in Japanese Art," which opens Tuesday, May 22.
Consisting of paintings, woodblock prints, masks, sculptures and folk toys,  "Ghosts, Goblins and Gods" explores the thousands of spirits in Japan's legends and myths.  Some are regarded as gods while others are seen as harmful demons and tricksters.
The mythical spirits live on today through literature, art, film and philosophy, shows such as Pokémon use the Japanese monsters as inspiration for its many characters.
Along with Pokémon, the exhibit, which runs until Sept. 16, features deities of happiness, good fortune and wisdom, including Ebisu, the god of fishermen, Daikoku, the god of agriculture, Hotei and his feminine duplicate Okame, the gods of cheerfulness.
The museum didn't forget about the pranksters of Japanese myth, on view are the tengu, half-man half-bird creatures who abduct children and anamorphous foxes and badgers in the forest.
Like Haute Living Miami? Join our Facebook page or follow us on Twitter @HauteLivingFL. Want Haute Living Miami delivered to your inbox once a week? Sign up for our newsletter.
Source: PB Pulse
Photo Source: Eastern Art Online
Subscribe to discover the best kept secrets in your city