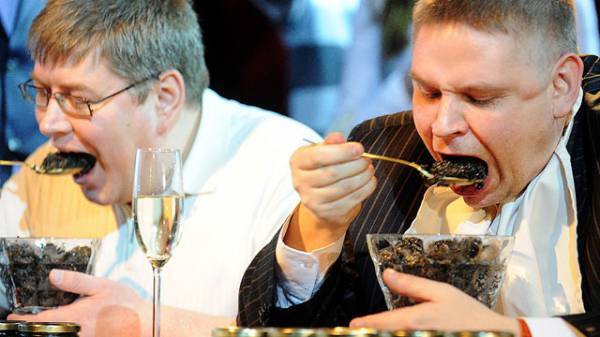 This past Friday, Moscow was buzzing with news of the big winner at a caviar speed eating event at a local restaurant. The event kicked off with hundreds who came to show support for such an interesting competition. The first ever caviar eating event, consisted of twelve contestants that were picked from a lottery to compete.
The pricey dish that we know as fish eggs were devoured in a battle of hunger, stamina and stomach size, leaving one winner standing. Alexander Valov, a 49-year-old man who managed to eat 1 pound of caviar in just a matter of one minute and 26 seconds; making the amount of fish eggs eaten nearly $5,000.
Valov went home with the grand prize of $340 (10,000 rubles) and of course, much more caviar.
Based on organizers of the event, the contest cost a whopping $70,000. Here's what Alexander Novikov, the organizer of the event told Reuters: "I once saw a report on how they made big chocolate truffles in Georgia and organized an eating competition. I remembered foggy Albion where they compete in nettle speed eating contests and hamburger in America. I thought, why shouldn't we do our own, Russian competition? So it happened."
And by the looks of things, it went very well. We look forward to more eating competition to come for Moscow.
Source: abc news
Like Haute Living Moscow? Join our Facebook page or follow us on Twitter @HauteLivingMag Want Haute Living Moscow delivered to your inbox once a week? Sign up for our newsletter.
Subscribe to discover the best kept secrets in your city