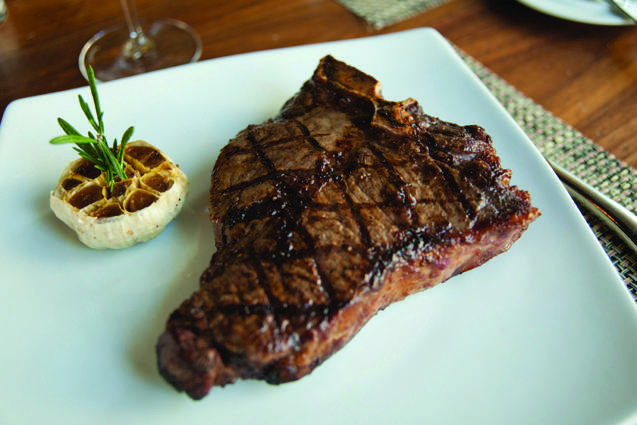 BOA
9200 Sunset Boulevard
West Hollywood, CA 90069
310-278-2050
Ambiance
The avant-garde design of the restaurant exudes modernity while maintaining an air of sophistication that the serious cuisine at BOA demands.
What to order
The 40 Day Dry Aged New York Strip or 21 Day Dry Aged Bone- In Rib Eye with the Table-Side Classic Caesar Salad and Lobster Twice Baked Potato.
Who comes here
A-list celebrities and Hollywood execs.
Sweet Tooth
The S'mores with Warm Chocolate Brownies, Marshmallow, Graham Cracker Crumbs, Warm Liquid Chocolate and Vanilla Ice Cream. You've never seen this around the campfire.
CUT
9500 Wilshire Boulevard
Beverly Hills, CA 90212
310-276-8500
Ambiance
Designed by famed architect Richard Meier, CUT Steakhouse features a skylight, modern décor and an open kitchen. To boot, you may even be amongst the several lucky guests that have been greeted by master chef Wolfgang Puck when he is in town. Lastly, be sure to ask restaurant sommelier Dana Farner for a wine suggestion.
What to order
The New York Sirloin, Filet Mignon or the Rib Eye Steak paired with the Warm Asparagus with Poached Organic Egg and Warm Bacon Vinaigrette. Prepare to indulge.
Who comes here
Hollywood's elite, including Tom Cruise, Katie Holmes, Elton John, Leonardo DiCaprio, Steven Spielberg, David and Victoria Beckham and industry execs such as Jeffrey Katzenberg.
Sweet Tooth
The Dark Chocolate Soufflé with Whipped Crème Fraîche and Gianduja Ice Cream is divine.
The Palm
9001 Santa Monica Boulevard
West Hollywood, CA 90069
310-550-8811
Ambiance
At this famed West Hollywood eatery, fine dining meets a relaxed atmosphere.
What to order
The Bone In Rib Eye is "hands down" the best steak on the menu.
Who comes here
Celebs like Tom Hanks, Rita Wilson, Will Ferrell, Cuba Gooding Jr. and Adam Sandler.
Sweet Tooth
The Signature New York Cheesecake flown in from the city every day.
Mastro's Steakhouse
246 North Canon Drive
Beverly Hills, CA 90210
310-888-8782
Ambiance
The self-proclaimed "steakhouse with a personality" blends sophistication with elegance, energy and unforgettable eats.
What to order
Opt for the Signature Cut 18 ounce Bone In Filet with a side of Lobster Mashed Potatoes. This is one version of "surf and turf" that you've never seen done before.
Who comes here
High-profile celebrities and the Los Angeles elite.
Sweet Tooth
Mastro's Signature Warm Butter Cake is worth every bite.
Subscribe to discover the best kept secrets in your city