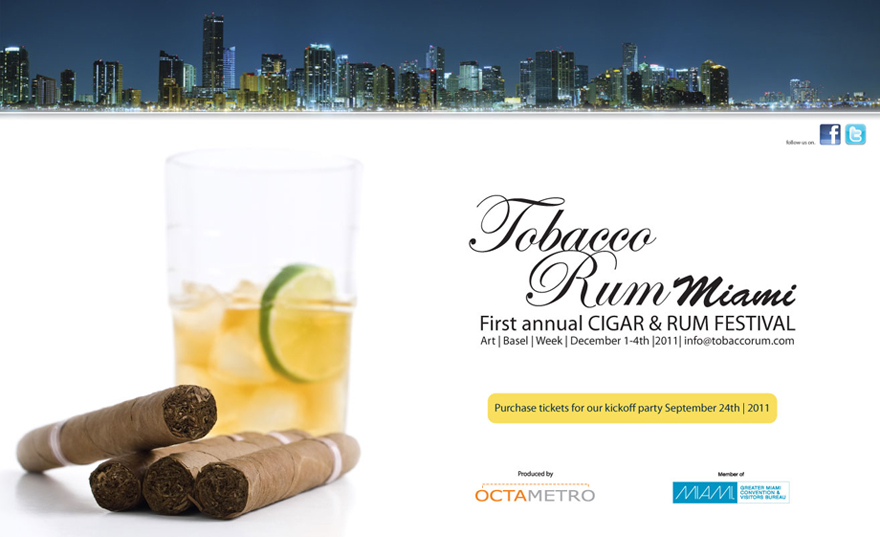 A preview party for the Miami International Wine Fair's 10th Anniversary After Party & TobaccoRum kicks off this Saturday, September 24th. In partnership with Cigar Snob magazine, the exposition, the first of its kind in the United States, will feature cigar brands and rums from the Caribbean, Central America and South America. It is slated to take place this coming December during Art Basel.
Hosted at TEMPO Miami, the swanky open-to-the-public soiree event will begin at 9 pm and welcomes industry professionals, wine connoisseurs, cigar aficionados and rum lovers alike to a night set to the sounds of live music from Bikini Jazz and a live painting performance from the artist GAPAL who paints with cigar ashes and wine. Tobacco and rum enthusiasts will be able peruse the many tobacco and rum exhibitors, sampling each and learning to pair cigars with rums for optimal flavor combinations
Tickets for the Tobacco & Rum Festival, which include all of the above, are $50 per person. To purchase tickets, visit www.tobaccorum.com.
Like Haute Living Miami? Join our Facebook page or follow us on Twitter @HauteLivingFL. Want Haute Living Miami delivered to your inbox once a week? Sign up for our newsletter.