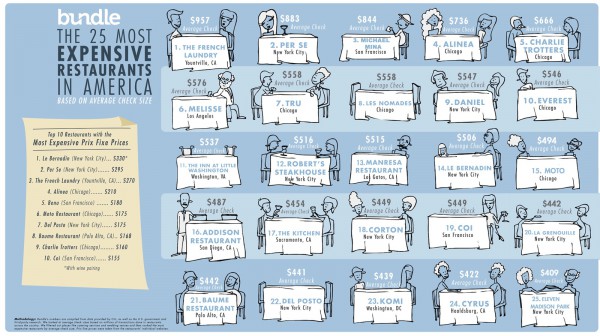 The act of going out to eat all together— is the most amazing feeling in the world (especially with those people you love most). But the next time you decide to go out and soil yourself with some of the finest foods to ever exist, try one of the top 25 most expensive restaurants, Bundle—rounded up the 25 restaurants with the highest check averages in America (examining at the average check sizes based on millions of transactions done nationwide).
Thomas Keller (a.k.a chef and restaurateur), not only made the list coming in at #1 but also took the #2 spot, with his awarding winning restaurants in Napa Valley—French Laundry ($957), and New York hot spot Per Se ($883). Keller and his restaurants are among the world's best places to eat, according to Restaurant magazine.
Others to join Keller, on the top 5 where places like, Michael Mina in San Francisco, California—averaging at $844, and two Chicago restaurants (Chicago actually made up most of the top ten list)—Alinea, averaging $736, and Charlie Trotter, averaging $ 666 per visits.
The list also gives indication that eateries in American tend to divide into to categories of cuisine: #1, French, and #2, American Noveau, which all fall into the top 10 most expensive places to dine at. Other cuisines that come up on the list are Steakhouses like Robert's Steakhouse, located inside Penthouse Executive Club in New York, and Italian—Del Posto, also located in New York City.
The majority of the restaurants on the list where located either in New York, Chicago, and San Francisco, but other cities that made the list where San Diego, Washington D.C, and Washington, Virginia.
With the looks of the "average" prices for a fine meal, you have to be pretty paid to not break your pocket.
Bon appetite!
[Source: www.bundle.com]
Subscribe to discover the best kept secrets in your city