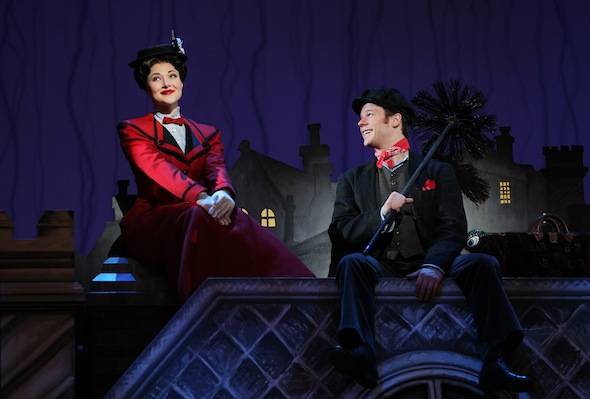 What's practically perfect in every way? Mary Poppins, if you remember correctly — and for those of you who don't remember the classic childrens' tale, Disney's newest musical takes Mary Poppins to the stage. Like The Lion King and Beauty and the Beast, Mary Poppins takes a night at the theatre and sprinkles in a little magic.
High flying, high stepping and highly entertaining, Mary Poppins brings together your favorite songs from the film (in addition to some new ones), mixes in some of the most iconic Disney scenes and brings them all to life. As the Banks family traverses nannies, nagging bosses and more, practically perfect Mary Poppins is there to help out. The songs made famous by Julie Andrews and Dick Van Dyke are all there, but you've never seen them like this. From chimney sweeps to living statues, there's more to this show than you could pack into any film. With kites flying, tappers in unexpected places and unexpected evil — definitely not in the original film — you can believe that the unexpected is the only thing you can expect when it comes to a nanny as mysterious and magical as Mary.
The Segerstrom Center for the Arts is located at 600 Town Center Dr., in Costa Mesa. For more information on future shows, visit www.scfta.org. For more information on Mary Poppins, visit www.marypoppins.com.
Like Haute Living Orange County? Join our Facebook page or follow us on Twitter @HauteLivingOC. Want Haute Living Orange County delivered to your inbox once a week? Sign up for our newsletter.