On Friday, May 20, Oscar de la Renta personally introduced his Pre-Fall 2011 Collection to Miami's elite during a glamorous fundraiser at the InterContinental Hotel. The exclusive event benefited the Sur Futuro Foundation, a private non-profit organization that aims to promote the social well being of communities in the southern Dominican Republic region.
De la Renta, who is himself Dominican, was happy to be able to raise money for the organization, which seeks to reduce the region's crippling poverty by offering residents the opportunity for quality education, environmental protection, and the rational use of natural resources. During the last decade, the foundation has built 245 houses, 11 schools, and has helped 12,600 people on the path literacy – all while providing financing to small-scale businesses, building hydroelectric plants in smaller communities, and guaranteeing basic social services to the country's underprivileged.
The incredible event to raise money for this very important cause was hosted by Chairwoman and President of Sur Futuro Melba Grullón, Nora Bulnes, Amanda Rodriguez, Norma Quintero, and Alina Gallart – and was an enormous success. A luncheon and fashion show began at 11 a.m. in the hotel's grand ballroom followed by a raffle for amazing lots that included a $10,000 gift certificate for the Oscar de la Renta boutique in Bal Harbor, a La Doña de Cartier ladies watch, and a luxurious stay at the AAA Five Diamond Tortuga Bay at the Puntacana Resort & Club in the Dominican Republic, with villas designed by De la Renta himself.
_Jana Soefker, Barbara Hevia, & Lydia Touzet
Alina Gallart, Melba Grullon, Oscar de la Renta, Nora Bulnes, Norma Quintero and Amanda Rodriguez
Denise DiMare & Michelle Pucci
DSC_3961
DSC_4203
DSC_4261
DSC_4270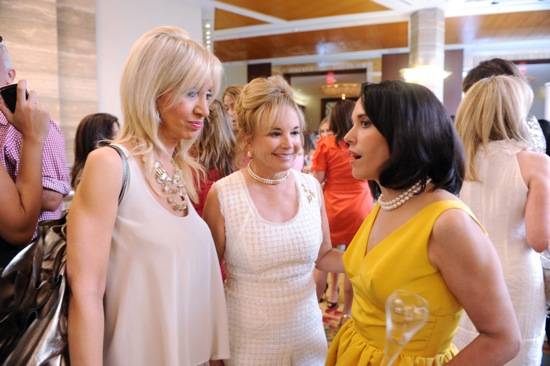 Jonie Sabo, Swanee Dimare, & Norma Quintero
Mailynn Mcgilo
Melba Grullon & Oscar de la Renta
Melba Grullon speaking
Melba Grullon, Oscar De La Renta, & Jimena Navarette