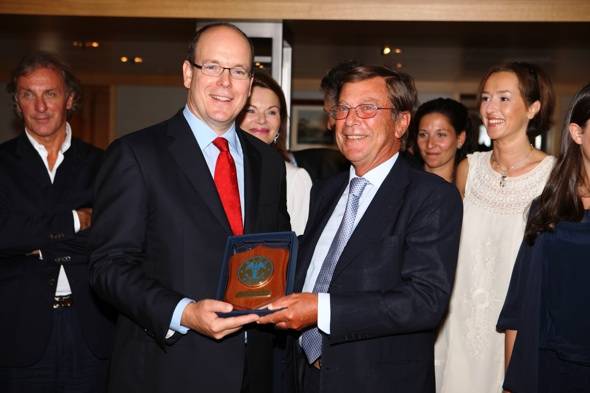 There's a lot of talk these days about being eco-friendly, and both yacht owners and yacht builders are doing their share to protect the environment. A good example is the motoryacht Exuma, which received two big honors last month: Green Plus Platinum certification and the Green Yacht of the Year award. In a nutshell, these two signify that Exuma is one of the cleanest, most environmentally friendly yachts in existence.
Pictured here are Prince Albert II of Monaco (left) with Giancarlo Ragnetti, the CEO of Perini Navi Group, which built Exuma at one of its shipyards in Italy. The award was given in Monaco during the annual Monaco Yacht Show; the prince is an avid conservationist, particularly when it comes to the ocean.
So what exactly is Green Plus? It's a notation created by RINA, one of the oldest vessel classification societies, meaning that RINA establishes guidelines for the proper construction and safe operation of yachts and commercial craft. Green Plus is granted to new vessels that incorporate design solutions, onboard equipment and operational procedures that exceed international standards for environmental consciousness. It's purely voluntary, so the owners as well as build and design teams that submit their boats for Green Plus notation are truly committed to keeping the air and water as clean as possible.
Specifically, there are 12 main causes of pollution that Green Plus focuses on, and depending on the extent to which a yacht complies, it receives Green Plus, Green Plus Gold or Green Plus Platinum notation. The contamination causes include sewage, garbage, ozone-depleting substances, greenhouse gases and pollutants, and sea-pollution sources like anti-fouling paint, which is used to keep vegetation from adhering to underwater surfaces. Exuma was awarded Green Plus Platinum for its efforts.
Exuma was conceived right from the start as a "green" yacht. Measuring 164 feet, it feature a hull design that was tank tested for optimum performance. Tank tests help the design and build teams evaluate speeds and even drag, which is resistance on the boat's structure as it tries to move through the water. Even minor adjustments to the design helped make the yacht more efficient, particularly in terms of fuel burn, and therefore helped reduce carbon dioxide emissions. In fact, according to Exuma's project-management team, the yacht burns only about 2.6 gallons per nautical mile while traveling at a speed of 12 knots. This is better than any other motoryacht in its size range.
Other steps taken include using fuel with very low sulfur content and anti-fouling paint that is not harmful to the marine environment. "Wet" and "dry" garbage (meaning banana peels and other food items vs. paper and packaging) are also sorted and kept separately.
Subscribe to discover the best kept secrets in your city