French cuisine is characterized by the extreme diversity and style of its regions. Well known for its sparkling wine, the Champagne region boasts delectable ham and mouthwatering game, while Normandy is filled with fruit orchards for cider and other various spirits. Like its island neighbor to the west, Brittany is renowned for herring, sea bass and a plethora of scrumptious crustaceans. And who could forget Paris? With more than 9,000 restaurants, the food choices are seemingly endless and range from regional French cuisine to Asian, Spanish and South American, with a bevy of choices in between.
Thankfully, Orange County has plenty of superior restaurants to satisfy even the pickiest Francophile. Haute Living has selected the top five French restaurants based on authenticity, culinary ingenuity and overall customer loyalty. We implore readers to visit the restaurants and sample the chosen fares, and we guarantee you'll be hungry for more. Bon appetit!
Bistro Le Crillon
Executive chef Chantal Berton doesn't just create notable French cuisine, he lives and breathes it. His unique menu features a heart-stopping cassoulet, wild boar tenderloin casserole and the ultimate taste bud pleaser — roasted elk. The soft lighting, warm wood tones and traditional Provencal décor might seem a tad de rigueur, but promises an authentic French atmosphere.
Bistro Le Crillon is open from 4:30 to 10 p.m. Monday through Saturday. Bistro Le Crillon is located at  2523 Eastbluff Dr., Newport Beach, Calif., 949.640.8181.
Studio at Montage Laguna Beach
It's widely believed that a great view compensates for an inferior meal. At Studio, the ocean view complements Executive chef Craig Strong's enticing menu. The sautéed La Belle Farms duck breast is succulent and flavorful, while the pan-seared turbot is a savory and rustic house favorite. Using daily-caught seafood, farm-raised meats and game and seasonal produce, the restaurant creates a dining experience that far exceeds even the view.
Studio is open from 5 to 10 p.m. Tuesday through Sunday. Studio is located at 30801 South Coast Hwy., Laguna Beach, Calif., 949.715.6420.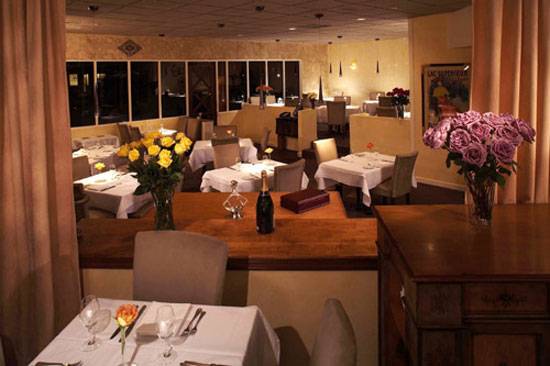 Tradition by Pascal
One can't mention chef Pascal Olhats without giving stellar reviews and/or continuous respect. As president of the French Chef's Association and 2006 inductee to the Restaurant Hall of Fame, Olhats and his restaurant have been named one of Zagat's Top Restaurants in Orange County for the past 10 years. The braised veal sweetbreads with leek meuniere taste fresh from northern France, while the chilled Champagne poached oysters with caviar sauce provide a  brisk yet fresh flavor combination. Head to Tradition and taste for yourself.
Tradition by Pascal is open from 5:30 to 9:30 p.m. Monday through Friday and 5:30 to 10 p.m. on Saturday. Tradition by Pascal is located at 1000 Bristol St., Newport Beach, Calif., 949.263.9400.

Marche Moderne
Chef's Florent and Amelia Marneau prove that two heads are better than one. Having worked separately for decades in kitchens across France and Orange County, Florent and Amelia combine their culinary talents with Marche Moderne at The Penthouse at South Coast Plaza. Though diners praise the cold foie gras torchon and rave about the oysters du jour, it's the wonderful juxtaposition of traditional French recipes with modern American cuisine that makes this bistro worth trying.
Marche Moderne is open from 5:30 to 9:30 p.m Monday through Saturday. Marche Moderne is located at 3333 Bristol St., Costa Mesa, Calif., 714.434.7900.

French 75
Situated in a 60-year-old country cottage in the heart of Laguna Beach, French 75 is more intimate than a chateau. Executive chef David Shofner may be known for his butternut squash and roasted chestnut bisque with white truffle cream, but his full menu offers a wonderful selection of hearty French cuisine. The Tasmanian sea trout is finished with a sunchoke puree and blood orange vinaigrette, while the Study of Shellfish includes enough lobster, scallops and shrimp to make every shellfish skeptic a devoted fan.
French 75 is open from 5 to 11 p.m. Tuesday through Sunday. French 75 is located at 1464 South Coast Hwy., Laguna Beach, Calif., 949.494.8444.
Subscribe to discover the best kept secrets in your city