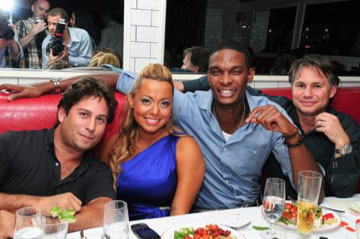 I started off a busy weekend with a relaxing dinner at 75 Main, where we enjoyed a delicious lobster dinner on Thursday evening. Its always a pleasure to come here, the owner, Zach is a gem.
Friday morning started with a drive through town to meet my friend Alex for coffee in Bridgehampton. We enjoyed a walk in the rain through the town of Amaganset with its lovely antique stores and grabbed lunch at Montaulk.  On the way home, I stopped at Blue and Cream in Easthampton, where Jeff, the owner, helped dress me for St. Tropez. Later that day, Alicia Helegua, owner and creator of Metalskin, stopped by to drop off some of her beautiful leather bracelets. For dinner we joined basketball player Chris Bosh at Phillipe's, where Jill Zarin and her son dropped by.
Saturday afternoon, at The Blue Star Jet Polo field, I interviewed photographer Patrick McMullen, Think PR's Zev Norotsky and One Model Management's Scott Lipps for WVVH TV and caught a glimpse of the Karadashian sisters. The evening continued with a stop at Georgica for Micah Jesse's birthday, where I ran into Russell Simmons, and culminated at AXE Lounge, which was abuzz with excitement at the guest appearance of Chris Bosh manning the DJ booth.
Subscribe to discover the best kept secrets in your city