This past weekend in the Hamptons was great. It started Friday with an amazing lunch at Jennifer Miller Brown's house with Jennifer Raines. After a great afternoon barbecue and chopped salads, we made a quick stop at Debra and Harlan Peltz's house, and then we were off to Daniella Rich and Richard Kilstock's house for hors 'd oeuvres.
Friday night we stopped at The Palm for dinner in East Hampton. We dined with Jennifer Raines, Jennifer Miller Brown, Donny Deutsch, Rob Wiesenthal, model Nikki Cohen, Shallon Lester from MTV's "Downtown Girls," actor Jamie Patricof, co-president of MySpace Jason Hirschhorn, John Mason, Stephanie Hirsh and Arthur Altschul Jr.
When I got back to the Rich's house, Megan Odabash and I had a fun time playing with all of her gorgeous jewelry.
On Saturday, Lizzie and Jonathan Tisch hosted a lunch at their home. Afterward, I headed to Valery Joseph Salon where I did a TV shoot with Plum TV. I got in a quick game of tennis with Denise Rich and then I was off to the Phoenix House Summer Party, which honored Tony DiSanto, president of programming at MTV, and Lauran and Charlie Walk, CEO and founder of CWE Media and chairman of RJW Collective. The star-studded event was held at the beautiful home of Margie and Michael Loeb. Phoenix House has been a beacon of hope, serving the most vulnerable men, women and children by rebuilding shattered lives, reuniting families and strengthening communities affected by substance abuse and dependency. Actor Nick Cannon and Jason Binn of Niche Media were all on hand.
Then it was off to Charlotte Blechman's birthday party at the Bridgehampton burger institution Ziggy's thrown by her husband David. I ran into a lot of my friends, including Chris and Richard Mack, Kelly and Steven Mack, Jennifer Minkus and Scot Lerner. This party turned into a late night.
Stef Hirsh
Shallon Lester Nikki Cohen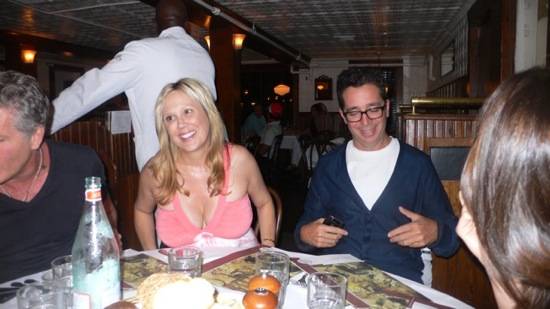 Rob Weisnethal
Phoenix House
L1020550
L1020543
L1020538
L1020535
L1020531
L1020528
L1020520
L1020511
L1020502
L1020495
L1020494
L1020485
L1020482
L1020479
L1020476
L1020475
L1020471
L1020469
L1020461
L1020458
L1020457
L1020456
Jon Mason
John Mason, Jarret and Pam Posner
Jim Miller and Stef Green
Jen Raines Donny Deutch
Jason Hirschorn
Jason Binn
Jamie Patricof and his father
Hope Sidman
Haley Binn and Just Jarred
Dori and Charlotte Biechman
Denise Rich
Denise Rich tennis
David Aaron
Arthur Atshui
L1020459
L1020460
L1020462
L1020463
L1020470
L1020491
L1020527
L1020523
Subscribe to discover the best kept secrets in your city