Not everyone is on the road to Wimbledon, but that doesn't mean you can't put on your tennis whites and swing a racket at a ball every once in a while.  For all those days when you regret converting your tennis court into a guest house for that one child who just won't move out, don't fret – Los Angeles is home to many tennis courts ready for any combination of serves, volleys, and lobs you can come up with.  This is our haute 5 list with one bonus, out-of-town court in case you feel like double faulting outside your area code.
Barrington Recreation Center
For those long, hard months between the Australian Open and the French Open, courts like this are what keep Angeleno tennis fans satiated.  Whether you prefer to play a fierce "round robin" type game or a hyper-competitive one-on-one match, the Barrington Recreation Center's tennis courts are ready for you.  There are 4 public courts that you can reserve in advance and you can head into Brentwood to sign up for the New Player Programs or Team Tennis.  Just make sure you and your tennis partner decide who's who in advance: which one plays Roger (Federer) and which one is Rafa (Nadal).  It's not tennis without a great rivalry.
Barrington Recreation Center is located at 333 S. Barrington Ave in Los Angeles (310) 476-4866
Cheviot Hills Tennis Courts
Take a break from being a talented tennis spectator, get yourself some white tennis, and schedule a lesson.  With the French Open set to start on May 23, you've got just over a month to really get your game in order.  Okay, so you probably won't be sliding around on the red clay courts in Paris this year, but it will make the tournament that much more engaging if you're struggling with your serve just as Andy Roddick's perfecting his.  The Cheviot Hills Tennis Courts, located across the street from Fox Studios, and in fact next door to the Rancho Park Golf Course we mentioned on Tuesday, are incredibly affordable and well maintained.  Weekdays before 4pm, you pay $5 per hour and weekends are $8.
Cheviot Hills Tennis Courts are located at 2551 Motor Ave in Los Angeles (310) 836-8879
West Hollywood Park Tennis Courts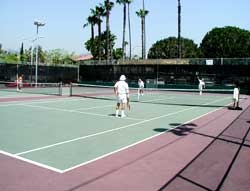 If you love tennis not just for the competition and the athleticism, but for the style and glamour inherent in the game, the court for you is definitely West Hollywood Park Tennis Courts, if for no other reason that you're a stone's throw from the Pacific Design Center.  These courts are the best place to get fit and argue about whether the ball was in or out.  If only there was a linesman to fight with or a trainer you could call out for that "knee injury."  Open from 7am to 10pm daily, these public courts can be reserved in advance and are lit up at night, so your fourth set tiebreaker can go on and on.
West Hollywood Park Tennis Courts are located at 647 N. San Vicente Blvd in West Hollywood (323) 848-6534
UCLA Tennis Courts
You know the difference between clay courts and hard courts, and what that means for the speed of the ball.  You know what a Western grip looks like and you know what it means if a player uses a two-handed backhand or a one-handed backhand. You also know there's no place like the enormous tennis center at UCLA to start screaming a la John McEnroe.  With eight courts, a clubhouse with locker rooms, and stadium style seating, the UCLA Tennis Center plays host to the Mercedes Benz Cup every August, meaning where you merely practice your serve, Juan Martin del Potro has battled Andy Roddick and Andre Agassi has shown a whole cast of characters from Tim Henman to Pete Sampras who's boss.
The UCLA Tennis Center is located at 555 Westwood Plaza on the UCLA Campus in Los Angeles (310) 825-8699
Beverly Hills Tennis Center
When you play tennis, everything has to be just right.  Just like the pros, you've got to strictly maintain your ritual or it will throw you off your game completely.  Time to head to the Beverly Hills Tennis Center on La Cienega and decide which of the sixteen courts has the best energy.  Schedule a private lesson, reserve a court for you and a partner, or join one of the adult leagues to really show your muscle. The courts are beautiful and have a sort of country club feel to them.  Just don't forget to throw your hands up and look into the stands while screaming "and the crowd goes wild!" when you hit that forehand winner down the line.
Beverly Hills Tennis Center is located at 325 S. La Cienega Blvd. in Beverly Hills (310) 550-4767
Indian Wells Tennis Garden
We think its high time to get out of dodge in the name of fitness.  If a yoga retreat sounds like torture, perhaps you'd prefer sneaking off to the desert for a spot of tennis.  At the Indian Wells Tennis Garden, you've got access to a full service tennis club with 13 championship courts, 6 practice courts, a pro shop, and professional locker rooms.  The Tennis Garden is host to the BNP Paribas Open each year in March (you just missed it), which attracts all the top-seeded players whose names and games you know and love – Federer was here this year, as was Nadal, Roddick, and the 2010 winner Ivan Ljubicic.  You may not play like them, but you can definitely play where they do.
The Indian Wells Tennis Garden is located at 78200 Miles Ave. in Indian Wells, CA (760) 200-8400
Subscribe to discover the best kept secrets in your city