Who would have ever thought that New York City-based gourmet food outlets renowned for their impeccable quality and innovative creations would have made their way all the way East— to Dubai?  From zesty chicken to chocolate bars and colorful cupcakes, Dubai foodies are easily in seventh heaven with the arrival of the following delectable food joints.
Magnolia Bakery
As Sex and the City Fans know very well, Magnolia Bakery simply has the best cupcakes in town at least since Carrie Bradshaw discovered them. The renowned bakery has recently opened in Bloomingdale's at the Dubai Mall and it lives up to the same standards as its trendy New York City sister. Grab a delicious cupcake with lovely buttery frosting on top and enjoy the same New York City sensation yet without the long queues.
Bloomingdale's, The Dubai Mall (04 350 5333)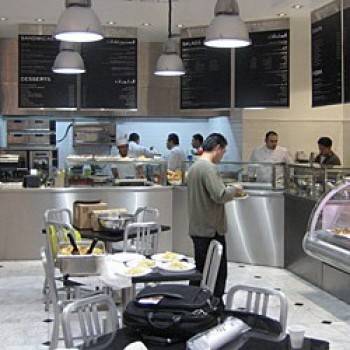 Dean  & Deluca
The upscale gourmet supermarket which made its name in New York back in 1977 is now in Dubai. Unfortunately, the Dubai branch is not yet open and from the look of its space seems hardly able to hold the same rich variety that East Coasters have grown to love. We are still in hope for this promising new addition to Dubai's culinary landscape.
Souk Al Bahar (04 420 0336)
Alison Nelson's Chocolate Bar
This much loved chocolate bar first opened in the West Village in New York City in 2002 by mother of two, Alison Nelson. It then branched out to a fancy little chocolate joint inside the sophisticated Henry Bendel Department Store and to a third location on Long Beach Island, New Jersey. Today it has made it all the way to Dubai and is housed at Fashion Avenue in the Dubai Mall and Souk Al Bahar. The chocolate creations are just as fantastic as in New York. Try the graffiti bars with wrappers designed by prominent New York City graffiti artists and chocolates from the Atomic collection, home-made digestive cookies with marshmallow and dark chocolate. Definitely worth an after dinner visit.
Souk Al Bahar (04 438 0297)
Bon Chon Chicken
The New York City South Korean fried chicken joint has just opened its first Middle Eastern branch on Trade Center Road in Bur Dubai. What differentiates it from other fried chicken outlets is the method by which the chicken is fried. Bon Chon boasts that it serves the purest form of Korean fried chicken. It is not greasy even if the chicken is deep-fried twice. The Korean version uses an Asian style frying technique with trans fat-free oil which takes the fat out of the skin and leaves a thin crust. Addictive and apparently much healthier than KFC, you will go back for more.
Trade Centre Road (055 266 2466)
Subscribe to discover the best kept secrets in your city